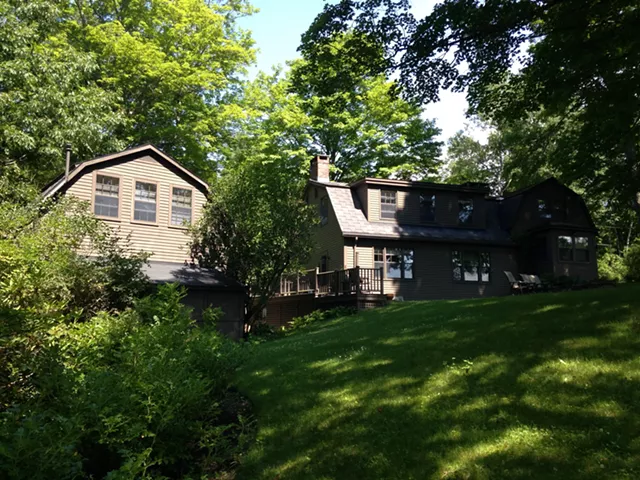 Courtesy of Harry Bliss
The former Salinger residence
Harry Bliss
is a funny one. The cartoonist, known for his humorous strips in
Seven Days
and the
New Yorker
, as well as illustrations for numerous children's books, recently bought J. D. Salinger's former house in Cornish, N.H. But he doesn't want to talk about the reclusive midcentury author. Bliss is more interested in building on the legacy of a turn-of-the-20th-century group called the Cornish Colony.
While he concedes that the house's legacy — as home to the
Catcher in the Rye
author — is interesting, Bliss says the town and surrounding area have long attracted creative types. The aforementioned colony, a summering congregation of some 100 artists and writers, centered on sculptor Augustus Saint-Gaudens. His former home and gardens now comprise a
national historic site
.
Like those former colony members, Bliss comes to the area part time. His family still lives in Burlington, but he uses the Cornish house as a studio where he can focus on his work. And now he wants to share it.
Bliss is partnering with the
Center for Cartoon Studies
to offer a
one-month residency program in the garage apartment at his new home
. This will be the pilot year.
Artists have until November to submit
applications
for the February residency. It comes with a stipend of $600 and the opportunity to lecture at CS. In exchange, the artist will be asked to help with light chores. The artist will also have access to the center's studios in White River Junction, as well as Bliss' private collection of illustrations, housed on the first level of the garage.
The artist will also work alongside Bliss — sort of. "I'll be here in the main house most of the time. I'm super private. We'd both be working here, [but] I tend not to leave my studio all day," he says.
"To be able to provide a residency for a cartoonist and have them be a part of our community in White River Junction as well — it strengthens our community and adheres to our mission," says CCS cofounder James Sturm. "I'm grateful to Harry for being so generous and offering up his workspace and ... this very kind of iconic property. It's pretty astounding."
So far, the center has received a half dozen inquiries and two completed applications for the program, after some buzz created by a
recent article
in the
New Yorker
.
Bliss is excited about the potential of the space. "We just hope that whoever applies ... that they're established cartoonists [or graphic novelists] who have a desire to work in this place of beauty that has this history and [sense of] solitude," he says.