Courtesy of Martha Barnette
Martha Barnette
Martha Barnette, who cohosts the public radio show "
A Way With Words
" with Grant Barrett, is headlining a fundraiser for the
Burlington Book Festival
later this month. When I interviewed her, she was generous with her time and loquacious in her answers. Not surprisingly, the woman likes words themselves, their origins, and the sometimes quirky ways people put them together.
She also has strong opinions on why language matters. It was an interesting conversation, but we didn't have enough space for all of it in print (now, of course, that's also online), so I'm sharing the rest of it here.
SEVEN DAYS: How would you explain your fascination with language?
MARTHA BARNETTE: I suppose it derives from a natural curiosity and a drive to follow it — just wondering why things are the way they are. When you start wondering why we use the words we do, you discover they're a great portal for learning about all kinds of other things: history, science, music, art, literature, folklore, mathematics, human psychology and much more. Word origins can give you a kind of X-ray vision; it lets you see things that are hiding right there in plain sight.
SD: Did your parents, or anyone else in your family, spark this interest?
MB: My mother taught middle-school English and my dad was a minister who read Hebrew and Koine Greek and decided to learn Japanese when he was in his eighties. My brother Wayne is a professional translator who earned a degree in Russian while living in Sweden and now reads Icelandic for fun. So, yeah, come to think of it, probably some osmosis involved.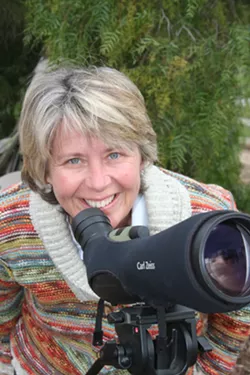 Courtesy of Martha Barnette
Martha Barnette
SD: Fill in the blank: The lion's share of our callers asks about ________.
MB: We do get a lot of questions about word and phrase origins about regional dialects, as well as what we call "manners questions": How do we conduct ourselves in a world where we all need to do a better job of communicating and disagreeing in a way that's constructive and respectful of the other person? We also get lots of questions from folks who want to know where to draw the line when it comes to language evolving — "I was taught to say something happened 'by accident,' but it seems everyone under 30 [says] 'on accident.' Am I wrong to correct them?"
If you look at it a different way, what they're asking is, "Am I alone in thinking or feeling this way?" "Why are things the way they are?" There's something about encountering something or experiencing a feeling, and then you realize that you're not the only one who's had that experience — that others have been there before you and named it. Something about that kind of thing that makes you feel connected to your fellow humans, no?
Oh, and at least a couple of times a week someone asks about the sentence-initial "So," only they don't know it's called that.
SD: Speaking of blanks, I assume you've played Mad Libs? Do you pull from your body of obscure words to play?
MB: Actually, I've not played that, but it sounds like a great idea. Most of the time I just keep longer words to myself.
SD: How are you at Scrabble? Does anyone even want to play with you?
MB: People don't want to play with me, and don't believe me when I say I'm actually terrible at it. There's a lot of strategy that I don't know, and apparently some of that includes making smart plays with short words. I probably trip myself up by holding out trying to make longer ones.

SD: "Word people" may find it difficult to comprehend people who do not care about language, who speak and write carelessly, who really don't give a crap about using "just the right word." What would you say to the latter group to persuade them that language matters?
MB: Well, of course, Mark Twain put it this way: "The difference between the almost right word and the right word is really a large matter — 'tis the difference between the lightning bug and the lightning." And I just talked to someone who showed up a week early for a meeting that was supposed to be "next Tuesday." Not to mention all those examples of when the lack of a comma or serial comma completely changes the meaning of a sentence.
But in a bigger sense, I do worry we're on a slippery slope when it comes to clarity of written communication and demanding it. Precision is makes your prose powerful. Clarity in writing helps you be even more persuasive. Not to mention that creating and savoring beautiful sentences is a gloriously, uniquely human activity that, again, connects us to each other. And I don't even want to try to imagine how desolate our lives would be without that.
SD: I was moved by the story I read on your website about [an early teacher] Professor Latkovski. Clearly you were interested in language before you met him, but how did studying/talking with him forward your passion for etymology, and do you think you would have "gone there" without that experience?
MB: What an interesting question. No one's ever asked about whether I'd have gone there otherwise! I may not have, but I suppose I'd have tried to find other portals for learning about a variety of things. That's why I was drawn to journalism and the opportunity to dip into and out of a lot of different topics and worlds. But when I was working in journalism full time, I always felt I had this unfinished business with etymology.
SD: This is crazy, but do you have a favorite word in the English language?
MB: Hmm … like choosing my favorite (celestial) star. I'd have to say that today my favorite words are "mellifluous" and "preposterous," both because their etymologies are so picturesque. And you can discern the faint outline of the word for "honey" in some other languages (French and Spanish, for starters) in the first syllable of the former.
SD: What's a word that you really don't like?
MB: Besides the usual racist and sexist examples, I have a hard time thinking of any. Oh: I started to use the word "listicle" today and realized I didn't like it. I suppose it's useful, but there's something so self-consciously clever about it, and I just don't like the sound. Your mileage may vary!
SD: How do you keep up with the rapidly changing vocabularies informed by technology, pop culture, etc.?
MB: I try to read widely, mostly online. I try to keep my social media feed smart and diverse, but of course trying to keep up is a challenge.
SD: A recent episode of the program asked people what's on their bucket list for learning new things (said learners being called opsimaths). Did anything you heard from listeners particularly intrigue or impress you?
MB: An acquaintance heard that conversation on the air where I mentioned that I'd wanted to learn ASL and said she, too, had always wanted to learn it — so why don't we, after all? So we're going to our first class next week.
SD: You've published several books about words. Are you working on another, and if so can you reveal the theme or topic?
MB: I get a lot of requests to do a book for kids to encourage their love of language. I'd also love to do a "Best of AWWW" book. We have a ton of material, having been at this more than 10 years! Just a matter of finding time, and a publisher, in between cranking out episodes.
SD: Has anyone ever completely stumped you about a word or phrase? If so, what was it?
MB: There are lots and lots of words and phrases for which we just don't know the origin, so it's hard to single out just one. It's always so dispiriting to look up a word only to see "Orig. unknown."
SD: In addition to the radio program, you make public appearances, such as the upcoming one for the Burlington Book Festival. How many speaking gigs do you have per year?
MB: I used to have a horrid public-speaking phobia, but I got over that, partly because I'm so passionate about the topic, and partly thanks to improv. Ironically, now getting out of the studio and meeting listeners and kindred public-radio spirits is my one of my favorite parts of the gig. I always end up learning at least as much from them as they learn from me. Ideally, I'd like to be doing appearances at least once or twice a month.
An Evening With Martha Barnette is Saturday, September 17, 7 p.m., at the Burlington Book Festival, UVM Dudley H. Davis Center in Burlington. Opening act is the Boston Typewriter Orchestra.