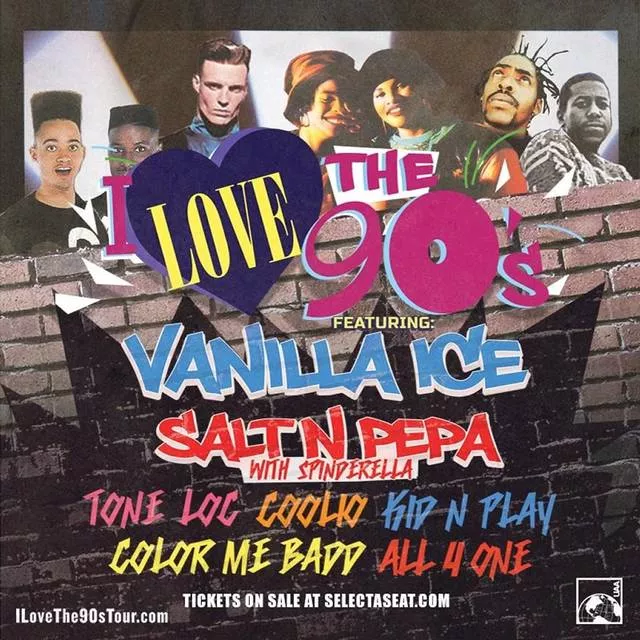 Champlain Valley Fair
'I Love the '90s': the poster!
I'm a '90s kid, meaning I was born in the '80s but came of age in the '90s. My concept of cool was informed by Zach Morris, Hypercolor and the Fresh Prince. Hip hop was all of a sudden everything, even though I was oblivious to its origins and cultural significance until near adulthood. So, when I found out that
I Love the '90s
, a concert tour of classic hip-hop artists, was closing out the 2016
Champlain Valley Fair
, I made it my business to be there.
My first instinct was to get a quintessentially '90s outfit together, which was easier to do than I'd expected:
multicolored
fluorescent crew-neck sweatshirt, Umbro-style shorts, high tops, tropical printed cap, fanny pack, slap bracelets, one magnetic diamond stud earring and a Ring Pop. Whoop, there it is. I was expecting to see a similar effort from other attendees, but, sadly, most people did not feel compelled to dress '90s. Oh, well.
What the crowd lacked in style it made up in enthusiasm.
Young MC
was the first artist to take the stage, and people were beyond psyched to help carry the hook from
"Bust a Move."
The crowd was warmed up and ready to take it to the extreme.
Tone Loc
was next and surprisingly excellent. I found myself doing the "running man" through almost his entire set. Loc closed out with his 1988 single
"Wild Thing,"
and it was totally tubular.
Next came the group with which I was least familiar,
Color Me Badd
. Color me unimpressed. Their synchronized dance moves were kind of adorable, but with every song I found myself thinking,
Huh, I always thought this was Boyz II Men
.
Coolio
kicked it up a notch by adding live guitar, drums and saxophone, a nice change from prerecorded backing tracks. Thousands of hands waved back and forth during
"Gangsta's Paradise,"
a clear high point of the night.
After about 90 minutes, I was soaked through with sweat and starting to get a little tired (I'm not nearly as limber as I was during the actual '90s). But then three bodacious babes took the stage, and suddenly everything felt better.
Salt-N-Pepa
, along with
DJ Spinderella
, won the night. Flanked by two very fly Fly Boys, S & P delivered one of my favorite sets of 2016. They played all the hits:
"Let's Talk About Sex,"
"Whatta Man"
and
"Shoop,"
obviously. What made the show such a delight was the ladies' personalities and entertaining patter. They talked about self-empowerment, performing together for 30 years and the joy of complementary friendships.
At one point, the ladies suggested it was about time for a female president. This got quite a mixed reaction from the crowd, but thankfully didn't derail the performance. They said farewell with
"Push It."
And it was radical.
Last up was a man who's always stood tall and proud despite being the butt of endless ridicule:
Vanilla Ice
. It was obvious that, before coming on stage, he had made up his mind to bring the party, and that he was amazing, and that anyone who disagreed could get the hell out of there.
One thing the Ice Man had going for him was production value. Two-story plumes of fog, sparks, random inflatable monsters and programmed LED lights made it hard to look away. And though I tried really, really hard, I just couldn't get into it. His sound was all over the place stylistically, which is at least true to his career, but it just didn't fit. One song sounded like DMX, the next sounded like modern EDM. After a few less-than-appealing cuts, I was stoked to hear
"Ninja Rap."
I was even more stoked to hear
"Ice Ice Baby"
as I was pulling out of the parking lot.
If the aim of a nostalgia tour is to remind us of the good times we had during the first go around, mission accomplished. The fact that the performances were actually good made it all the better. For a show that could've gone horribly wrong, it proved that my original concept of cool is still cool today. Cowabunga, dude.