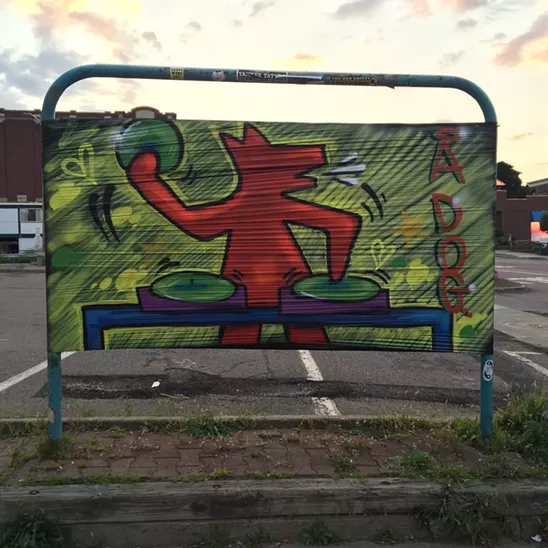 8 slides
There's no question that Burlington loves Andy "A-Dog" Williams, the DJ who passed away of leukemia in 2014 at the age of 38. Last Saturday, August 27, community members rallied to collectively honor the artist during the third annual A-Dog Day, organized by
Friends For A-Dog
.
The center of the action took place at the new waterfront skatepark named for Williams, where his longtime partner Jozie Furchgott Sourdiffe
unveiled a new permanent mural
in his memory.
Blocks away, in the center of downtown, local arts group
Anthill Collective
took a more ad-hoc approach, wrapping four of the city's community bulletin boards with eight panels painted on cellophane — "like really big fliers," Anthill member Scottie Raymond told
Seven Days
by phone.
Three of the eight spray-painted installations were distinctly inspired by the irreverent, joyful graphics of Keith Haring. In one, an orange dog was spinning records. In another, a skater dude whose chest was emblazoned with an "A" was surrounded by the slogan: "Think less, live more."
The cellophane memorials disappeared almost as soon as they went up. "They got cleared as per the city's usual rounds," said Raymond. By Monday, they were gone, though the memory of A-Dog lives on.