Courtesy of Jozie Furchgott Sourdiffe
Detail of mural for skate park
DJ Andy "A-Dog" Williams died of leukemia in December 2013. Since then, Burlington's music, art and skateboarding communities have continued to demonstrate just how beloved he was, how expansive his influence. The city's new skate park was named in his memory. The
Friends for A-Dog Foundation
, a devoted group of volunteers, has organized annual tribute parties, produced tribute albums and, perhaps most importantly, kept up bone-marrow registration efforts.
Perhaps no one feels A-Dog's loss more keenly than his longtime partner, artist
Jozie Furchgott Sourdiffe
, 29. This Saturday, August 27 —
A-Dog Day
— at the skate park, she'll unveil her unique tribute to Williams: a mural whose brilliant colors and imagery celebrate life and love.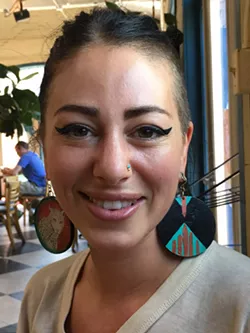 Pamela Polston
Jozie Furchgott Sourdiffe
"I've never done anything this size before," Furchgott Sourdiffe says of the 4-by-8-foot mural. Indeed, her métier is much smaller pen-and-ink drawings — including an evocative series made in
Williams' hospital room
— as well as jewelry and tattoo designs.
Painted with acrylic and ink on wood panel, the untitled mural is being installed by the Burlington Parks, Recreation & Waterfront department and will be protected with a Plexiglas cover. Furchgott Sourdiffe says the mural was made possible by a grant from
Dealer.com
via Friends for A-Dog.
As for her artistic inspirations, she says, "It's in honor of Andy, so I was thinking about who he was, [and] to communicate his passions. Andy had talked to me about this tattoo he always wanted — a [biomorphic] turntable, plants growing from it. It represents the growing skating community, as well.
"I thought I'd bring a little color to the skate park, too," Furchgott Sourdiffe adds.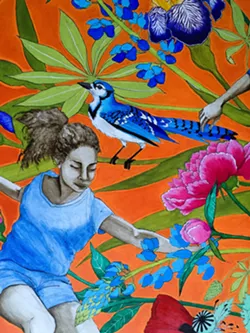 Courtesy of Jozie Furchgott Sourdiffe
Detail of mural for skate park
A licensed tattoo artist who occasionally does "guest spots" at
Aartistic Inc
., Furchgott Sourdiffe has been "kind of a nomad" lately. Born and raised in Lincoln, Vt., and a graduate of Hampshire College, she lived in Burlington for seven years. After Williams' death, she says, "I packed up the apartment I shared with Andy. I've been in California and Miami — Miami the last six months." She's kept busy designing album covers and making other art on commission, as well as crafting jewelry.
"But now I'm focusing on tattooing and doing my own work," Furchgott Sourdiffe says. That work is a delicate but powerful hybrid of anatomical and botanical motifs — what she calls "a juxtaposition of human culture and the natural world." While much of her recent drawing centers on illness and death, her website reveals a variety of work in watercolor, pen and ink, collage, artist books and more.
The public can see her latest — and largest — creation this Saturday on
A-Dog Day
at the Andy A-Dog Williams Skatepark.