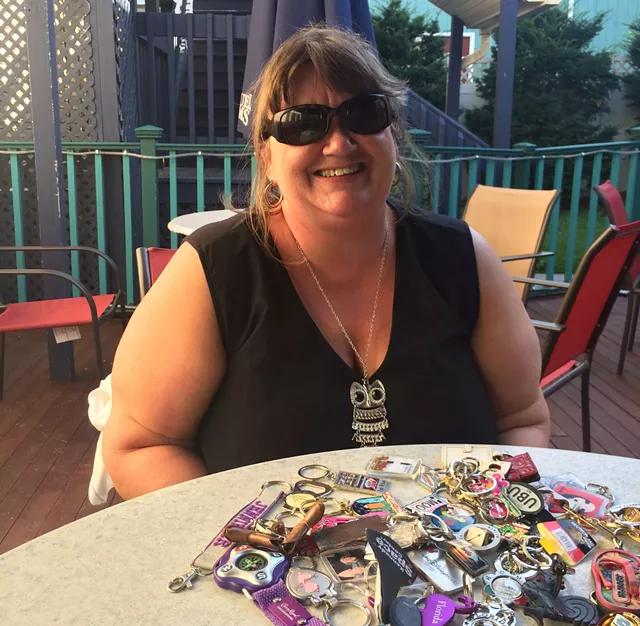 Rachel Jones
Jennifer Brinkman
Burlington resident Jennifer Brinkman describes herself as a "bread and buttered" Vermonter. She grew up in Colchester, and both her mother and daughter attended Vergennes Union High School. Travel is not particularly appealing to her, though she does visit family outside of Tampa, Fla., with relative frequency.
I meet Brinkman at North End institution
T. Rugg's Tavern
— my first time there — to see and chat about her collection of keychains. For someone with so little interest in travel, she has keychains from locations flung across the U.S. and a smattering of international ones, too. She empties these from a metallic pink cosmetic case onto the plastic patio table in front of her, looking like an ace poker player who just won the whole pot.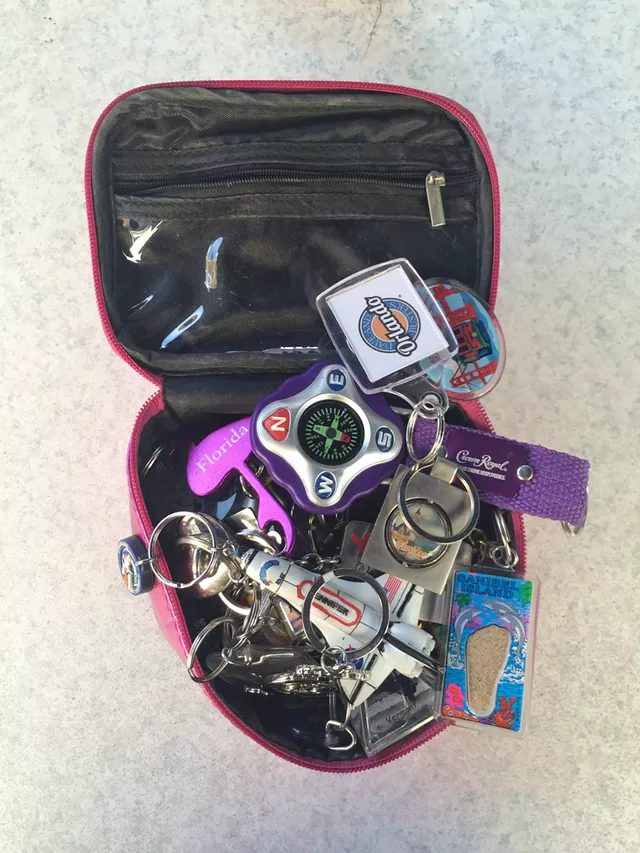 Rachel Jones
Brinkman's collection
"I know it's crazy," says Brinkman, "but they all mean so much to me." She shows me a compass that her fiancé, Ryan, gave her — "so you can always find your way." The couple plans to marry in October of next year. A plastic Dave & Buster's Orlando keychain encases a picture of Brinkman with her sister.
Rachel Jones
Keychains from Brinkman's collection
Brinkman's collection began more than five years ago. In an earlier life, she was DJ Jenny Lynn on the overnights at country station WOKO. Later, after walking out on a dead-end job, she started vocational programs at
Vermont Works for Women
. In 2010, Brinkman landed a job as an administrative assistant at the State's Attorney's Office. When folks would leave the office to get coffee, they'd ask if she wanted anything — and she'd say, "Yeah, bring me back a keychain."
I ask why. "I don't know," Brinkman says. "It was flip; it was sassy. Obviously you're not gonna get a keychain at Dunkin' Donuts." Eventually, the offhand comment "just kind of spilled over into people's vacations."
Rachel Jones
Personalized keychains
Together we count the spoils, landing on a miraculously even 50 keychains. Many came from Chittenden County prosecutor Ben Chater, and Brinkman tells me I need to read
"A Man of Conviction,
" his 2012 profile in
Seven Days
. A particularly elegant of the Chater-chains has two handcrafted miniature leather cowboy boots — from California, Brinkman guesses. Another one, hilariously, blinks with the name "Benjamin."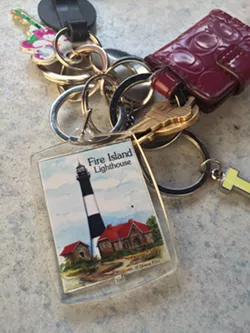 Rachel Jones
The "main chain"
Brinkman arranges the keychains by a system of her own devising. She has a "main chain," which holds her actual keys, plus four permanent "mainstay" keychains. When she receives a new one, it gets a two-week rotation on the main chain before being "retired" to the collection. Right now, a Fire Island lighthouse souvenir occupies that temporary place of honor. She also has an "international section" with keychains from Mexico, Italy and Germany, among other countries.
"I really feel lucky that these people who have such busy lives think of me on their vacations," says Brinkman. Over the course of our meeting, it becomes abundantly clear that she is a woman practiced in counting her blessings. She shines with gratitude. And she's been known to pay it forward. After a cruise in Mexico, she brought each of her boss' three children a souvenir keychain, enclosing a little note with each.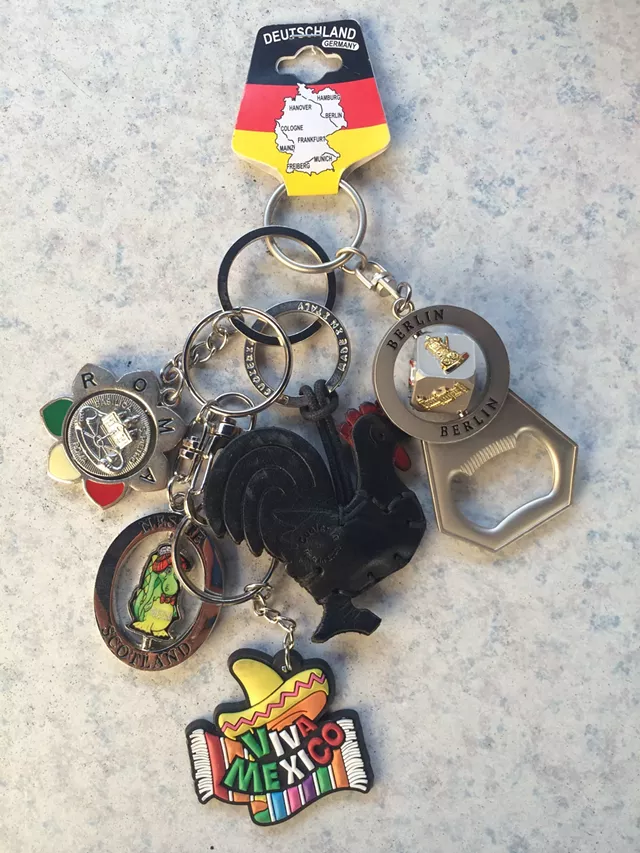 Rachel Jones
The "international section"
"Some of these are typical cheesy plastic keychains," Brinkman comments. For her though, they're treasured symbols of being remembered by friends, family and colleagues. At their best, that's exactly what they're made to be. In her appreciation, Brinkman elevates the souvenir-shop staple to its highest potential.
Special Collections is a blog about collections and collectors in Vermont, as well as the peculiarities and politics of material culture writ large. From institutional archives to your grandma's miniatures, we dig into how things become more than just things. Are you a collector? Have a tip? Email rachel@sevendaysvt.com.