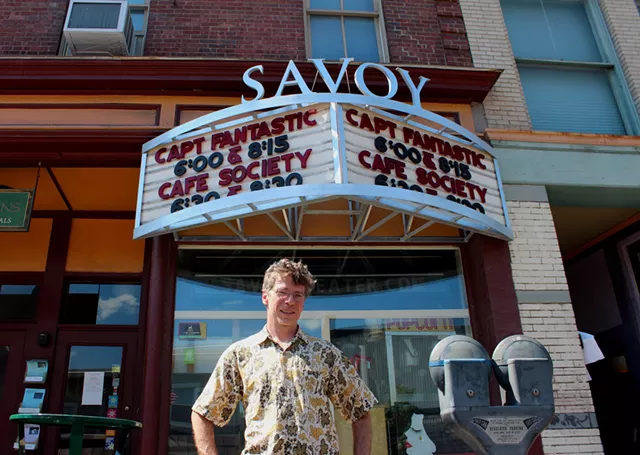 Tristan Von Duntz
James O'Hanlon at the Savoy Theater
The Savoy, Montpelier's 35-year-old art house cinema, will change hands this month. And the soon-to-be owner says he's committed to preserving the "unique experience" the theater offers.
Current owner Terrence Youk
purchased the theater
in December 2009 from long-timers Rick Winston and Andrea Serota. Youk renovated the theater, turned the basement into a second screening room, and closed the companion business
Downstairs Video
. (The Savoy has preserved more than 1,000 classic DVDs from the stock as an "
archive
," lending them out to patrons who pay membership dues.)
Now Youk has new plans, including spending six months in India, where his wife will be a Fulbright scholar. He's selling the theater to James O'Hanlon of Worcester, in whom he has "every confidence that he will continue the mission of the Savoy of bringing central Vermont the finest in independent and foreign film," Youk wrote in an email.
O'Hanlon, who has been the Savoy's projectionist for the past two years, will take over ownership later this month, he said in a phone interview. While he's "not going to touch" the Savoy's programming of first-run independent films, he hopes to find new ways to connect the theater to its community.
Originally from New York City, O'Hanlon moved to Vermont in 2001 and owned a video production company for 11 years, specializing in legal video services. He recalled his first encounter with the Savoy: "The films they were showing were unique. It felt like a real gem in Montpelier."
When he took the projectionist job, "I had a lot of ideas about the theater and things I would do to it," O'Hanlon said. "I had actually talked to Terry about buying the theater pretty early on, but he wasn't looking to sell back then."
Like all art houses, the Savoy has weathered serious challenges over the past decade, from the costly necessity of switching to digital projection to the threat posed by competition from streaming services, which tend to attract younger film fans. There have also been Montpelier-specific challenges, such as a May 2011 flood that
caused a "geyser"
in the basement theater.
In 2012, Youk asked members for help in making up a $12,000 shortfall that might
force him to close the theater
. In 2013, he announced "
drastic cuts
" to his staff after a slow summer. (The theater currently has 10 employees, said O'Hanlon.) In May this year, in a newsletter to members, Youk said he faced "tough choices as attendance is still way down."
How will O'Hanlon address the challenge of filling seats? A self-described "fan and enthusiast of independent cinema," he envisions expanding the Savoy's special programming with "more one-night showings of niche films," such as issue-oriented documentaries. Weekly or monthly repertory programming is another possibility he'll explore, he said. So is screening the work of local filmmakers.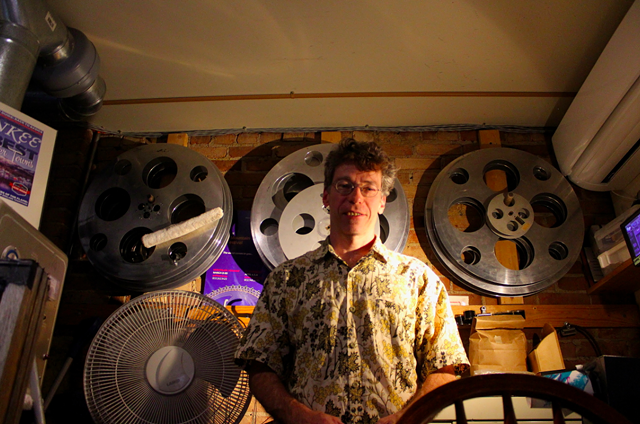 Tristan Von Duntz
James O'Hanlon at the Savoy Theater
"After working here for two years, I've seen the ups and downs, and it's a tricky balance of how do you improve access to these things and still keep the theater financially viable," O'Hanlon said. "Terry's done a lot of legwork to streamline processes, keep the revenue stream moving and keep it alive."
One perennial challenge for the Savoy has been attracting new, younger viewers as its membership base grays. That base is a loyal one that he has no desire to alienate: "They show up rain or shine," O'Hanlon said. But he's also interested in reaching out to the town's teens, who might show up for a timely flick such as the Edward Snowden documentary
Citizenfour
. "If they know they can come here and see something a little different, they're going to come and bring their friends."
The Savoy, O'Hanlon pointed out, offers an experience that Netflix can't: "It's very different from watching it on your computer or your device to sit in a dark theater with other people." And the theater still doesn't run a block of ads before the movie, as most area multiplexes do.
O'Hanlon emphasized that buying the theater is "not so much of a personal venture for me. I consider the theater somewhat of a public trust and a cultural resource in this area ... There is a lot of fondness in our community for the Savoy and I feel very honored to be a part of that."
He said he'll continue to work a few projection shifts, because "that's a part of the job I really like. Talking with people and meeting the people here."
Ah, but the most important question — will the popcorn still be freshly made? Yes, O'Hanlon assured: "All the good things will stay. I feel blessed to have good people working here who really care about this place."