Courtesy of Burlington City Arts
"Voices of Home" painting by Corrine Yonce
Burlington City Arts
has announced the winners of its first-ever round of Community Fund grant awards. Sixteen arts initiatives were awarded a grand total of $35,000, with individual grants ranging from $1,000 to $3,000. Winners were chosen from 64 total applicants, a number that BCA assistant director Sara Katz suggested during a phone interview "is only going to go up" in coming years.
Funded projects include theater, music, media and visual and interdisciplinary art, and most contain a strong element of direct community engagement. "There was definitely a desire to ensure that disciplines were represented from across the board," said Katz, "and to ensure that there were as many people as possible benefiting from each project."
Courtesy of Burlington City Arts
Print from Public Works Press
Both Allison Cannon ("Imagining Home") and Corrine Yonce ("Voices of Home") will work with local homeless people and affordable housing residents, respectively, to combine interviews with visual art centered on the meaning of home.
New City Galerie
has received funding for its ongoing residency program. Meghan O'Rourke will take the "emotional temperature" of public spaces in Burlington through the creation of time-lapse videos, and Public Works Press will use its grant to host a South End steamroller (!) printmaking event.
Sloan Collins and
Mary Lacy
will engage local kids in creating the first of four ONE Mural Project murals. Other youth engagement initiatives include 10 youth scholarships to
Wingspan Studio
and the Myrtle Street Community Avant Garden, as well as Megan J. Humphrey's "Birds, Bees, and Butterflies." This project at the
Integrated Arts Academy
is meant to teach students about conservation and recycling, and will culminate with a public artwork made of recycled materials.
"
Intersections
," which debuted in 2015, will continue to transform raw narratives of experiences with the prison system into theater. Other grants to music and performing arts include the
Burlington Chamber Orchestra
,
Vermont Performing Arts League/North End Studios
and
Vermont Stage
. Joy Elan Cohen is at work on a play for
Theatre Kavanah
about
the Lost Shul mural
at Burlington's Ohavi Zedek Synagogue.
In media, Meredith LeCompte will work to create little libraries specializing in gardening and healthy eating books for six gardens. The
Vermont International Film Foundation
will put its award toward its 31st annual film festival.
VCAM
has received funds to put toward developing WBTV-LP, a new low-power community radio station.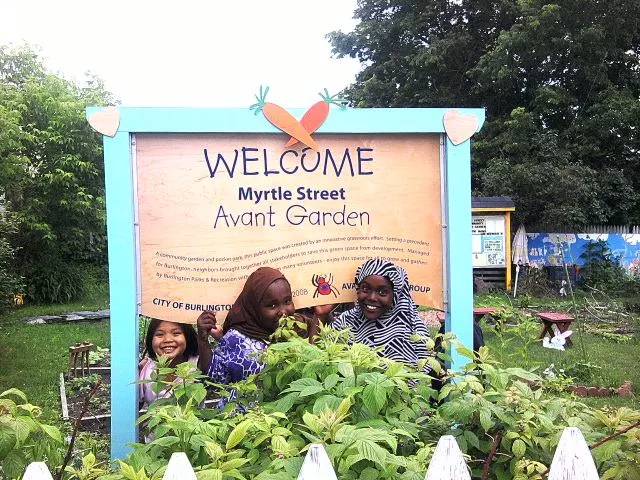 Courtesy of Burlington City Arts
Myrtle Street Community Avant Garden
Grantees were selected by a panel of seven community members, who scored proposals based on criteria of community benefit and accessibility, quality, creativity and feasibility. To be eligible, applicants had to demonstrate that they had lived in Burlington for at least one year, and that more than half of their proposal's programming would take place within the Queen City. Panelists included Lee Anderson, Tom Ayer, Jen Berger, Phet Keomanyvahn, JJ Long, Lydia Ode Slauson and Danielle Thierry.
Katz said that applications for the second annual round of community grants will be due in February 2017. A new panel will be selected, and Burlington community members are
invited to nominate panelists
online.