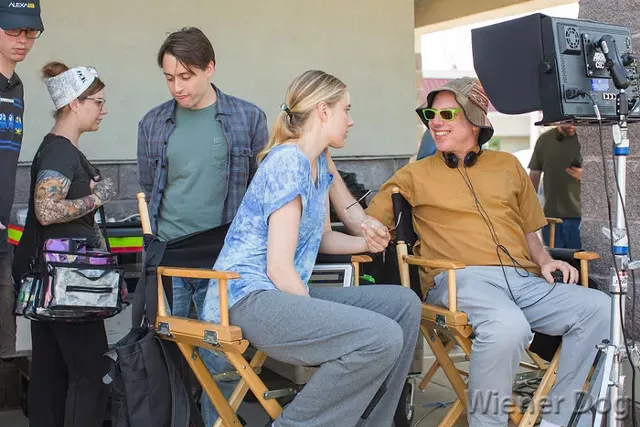 Courtesy of IFC Film
Director Todd Solondz (far right) talks with Greta Gerwig on the set of Wiener-Dog.
On Friday, July 1, I had the rare opportunity to speak by phone to Todd Solondz, the controversial creator of
Welcome to the Dollhouse
,
Happiness
,
Palindromes
and now
Wiener-Dog
, at his hotel in Germany. For a guy who grew up in New Jersey, he speaks with a strangely European accent. And for a guy as famous for his dark, depressive worldview as for his eight feature films, Solondz was thoughtful, generous with his time, funny and even warm.
My review of his new film appears July 6, online and in the paper. You can read my interview with this fascinating, one-of-a-kind filmmaker right now.
SEVEN DAYS: I loved
Wiener-Dog
. Watching it, I had to wonder: How surprised was Ellen Burstyn to get a call from you?
TODD SOLONDZ: I think a long time ago she'd actually written to me that she wanted to work with me. So I know she was aware of me, but I didn't have a role that made sense for her until now. So it seems to have worked out.
SD: To say the least. In writing the new film, were you by any chance inspired by Robert Bresson's
Au Hasard Balthazar
(1966), in which a donkey goes from owner to owner, as opposed to a dachshund?
TS: Yeah, very much so. I watched it again before I made the movie and I think, because it had a very oblique narrative, it gave me a certain confidence to devise the structure the way I did.
SD: Danny DeVito s absolutely fabulous as the film's frustrated screenwriter. Most people think your first feature was 1995's
Welcome to the Dollhouse
, but in 1989 you wrote and directed
Fear, Anxiety and Depression
. Like
Wiener-Dog
, that was an episodic comedy. It also featured a frustrated playwright. In making your latest movie, were you completing some sort of thematic or stylistic circle?
TS: I don't really see the connection quite as much as you do — certainly not structurally. But, you know, there are a lot of things I don't see that others see, so I can sometimes learn something from speaking with a journalist.
SD:
Wiener-Dog
premiered at this year's Sundance, where it was purchased by Amazon. I wonder what it feels like to have Amazon buy something from you rather than the other way around?
TS: Oh, I don't know what I could buy from Amazon, but I'm happy that they responded to the film and got IFC involved as a distributor. Everyone's been very pleasant. I have no complaints.
SD: In 1998, the
New York Times
' Janet Maslin called you "one of the most lacerating, funny and distinctive voices in American film." Last Thursday, A.O. Scott reviewed
Wiener-Dog
in the
Times
and wrote, "Mr. Solondz's eye for the petty hypocrisies and delusions of American life has lost some of its sharpness." You've been making films for 27 years now. How would you characterize your evolution as an artist?
TS: I leave that to others. Everyone's got a different opinion, a different response. I don't really have any control over that. People change their minds. You never know how someone will respond to your work, but I believe that I'm very happy with the movie and gratified that I've gotten to make all the movies I've gotten to make over the last 27 years.
SD: This was the first time you've worked with Greta Gerwig. She's really blown up over the past few years. How'd you happen to cast her in this film?
TS: She had read for me on another movie and we had met a couple of times, and I sensed that she might be responsive to the material. I was very taken with her quality of vulnerability, which I thought would be appropriate for the part.
SD: How close did you actually come to directing the sequel to 2000's
Charlie's Angels
?
TS: Oh, I had a conversation with Drew [Barrymore, star and producer], but I don't think either of us seriously thought a studio would hire me. If they'd have hired me, it would have made $3 million instead of $300 million!
SD: It would have to have wound up a far more interesting movie, though. The intermission in
Wiener-Dog
is priceless. What inspired it?
TS: Well, I had written a doggie montage and, because this movie was made on such a low budget, I wanted it to have a feeling of expansiveness — a sense of the dog traveling all over the country and being on a quest for home. So this was a somewhat stylized way of doing that.
SD: That's a poignant way to view
Wiener-Dog
's incredible journey. What do you consider the film's primary theme to be?
TS: The dog
is
on a quest for home. But, of course, the movie is not really about the dog. Really, for me, it's a movie about mortality and the way it shadows and hovers over each character's story.
SD: Sorry, it's movie critic law: I have to ask who you'd name as influences.
TS: Well, there are so many. For this film, the Bresson movie obviously, as well as his film
Mouchette
(1967). And
Weekend
(1967) by Godard. For each movie, there are different filmmakers I find relevant to use.
SD: You're pretty much a genre unto yourself. Is there a director working today you'd consider even a distant filmmaking cousin — John Waters, perhaps? He once said, "I've always been drawn to forbidden subject matter." That would certainly apply to your work.
TS: Certainly he had an impact. So did Andy Warhol. I guess I'd leave it to others to say who my cousins in film might be.
SD: When I say "Philip Seymour Hoffman," what comes to mind for you? (The late actor played a self-loathing deviant in Solondz's 1998 film
Happiness
.)
TS: It was just such a monumental loss for cinema. He was a great artist and a special soul.
SD: What was he like to work with way back when?
TS: Well, he was very prepared and very serious. He made a kind of leap of faith with me. We always imagined, I think, that at some point we'd work together again, but things never work out the way you plan them.
SD: What about growing up in New Jersey made you want to examine the dark underbelly of middle-class America?
TS: I grew up in the suburbs, so it's natural that it shaped my life experience. You have your ups and your downs. I think my dream while growing up was to one day live in New York City, so I suppose, in that sense, I'm living my dream!
SD: Think you'll ever make a movie in 3D?
TS: I have no such plans. Godard has already made an art-house film in 3D [2014's
Goodbye to Language
]
,
so I don't think it would be quite as surprising for some people as you're suggesting.
SD: I don't know, I think 3D Solondz might be a whole different ballgame. Anyway, there's a really funny scene in
Wiener-Dog
in which dismissive, know-it-all film students make a crack about boxed sets of "Curb Your Enthusiasm" and "Seinfeld." Is it possible you don't hold those shows in high esteem?
TS: No, it's really not about me. Younger people often have to throw down the idols of an earlier generation to stake their own claim to new terrain and to create new works of art.
SD: So, to be clear, you're a fan of Larry David and Jerry Seinfeld's work?
TS: Oh, absolutely.
SD: "Wiener-dog" was Dawn Wiener's nickname in
Welcome to the Dollhouse
. Anything you'd like to say to the confused?
TS: Well, I killed her in
Palindromes
, and for many years wanted to have the opportunity to provide an alternate life trajectory — something a little sunnier and hopeful. This seemed like a good opportunity.
SD: You're approaching 60. Do you see yourself making movies about rape, child molestation, recreational drug use and masturbation when you're 70?
TS: Not really. I always try to approach projects so that they feel fresh.
SD: You teach filmmaking at the [New York University] Tisch School of the Arts. What do you imagine it's like to have Todd Solondz as a professor?
TS: You'd have to ask my students, I guess. I love the job and my wonderful colleagues. I love the students. It's a great respite from filmmaking.
SD: Any message for Vermonters and super-bummed supporters of Bernie Sanders?
TS: I am a great admirer of Bernie Sanders. I only wish he were 20 years younger. He'd have more of an opportunity of rising to the presidency.
Wiener-Dog
opens Friday, July 8, at Merrill's Roxy Cinemas in Burlington.