Matthew Thorsen
Eiko Otake at the Moran Plant
Japanese artist Eiko Otake was long known as one half of the husband-and-wife performance team
Eiko and Koma
. For the past two years, however, Otake, who has lived in New York since 1976, has been going it alone — all over the world. Her ongoing work "A Body in Places" places her dancing body in atypical performance locations, beginning with the irradiated site of the 2011 Fukushima Daiichi nuclear meltdown.
In October 2014, the Pennsylvania Academy of Fine Arts hosted the debut exhibition "A Body in Fukushima," featuring exquisite photos by William Johnston of Otake's pilgrimage . In conjunction with this show, Otake developed "A Body in a Station," a site-specific performance in Philadelphia's 30th Street Amtrak Station.
Since that launch, Otake has danced in locales including Hong Kong, Santiago, New York's Fulton Street Station, a library, an observatory and a farmers market. This week she'll add to that list an abandoned industrial building: Burlington's own
Moran Plant
— aka the city's former generating station.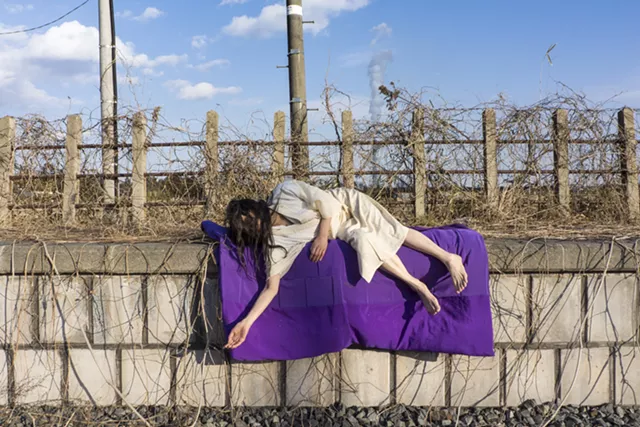 Courtesy of Flynn Center
"Komagamine Station, 17 January 2014, No. 146" by Otake and William Johnston
Otake has arrived in Burlington to offer programs coinciding with the final week of "A Body in Fukushima," on view at the Flynn Center's
Amy E. Tarrant Gallery
. On Monday, May 23, she gave a free gallery talk, and on Tuesday led her "Delicious Movement" dance workshop.
Matthew Thorsen
Eiko Otake at the Moran Plant
Tomorrow, Otake will dance in the area surrounding the lakeside Moran Plant, which is emerging as an arts venue. (In a couple of weeks, the Moran will host an exhibit of paintings by Burlington artist
Katharine Montstream
, and, later this summer, the next installation of
Overnight Projects
with work by Cologne-based artists
Vesko Goesel
,
Peter Miller
and
Viktoria Strecker
.)
The site was initially selected by Otake and Flynn Center artistic director Steve MacQueen. As Otake noted in her gallery talk, venues for "A Body in Places" are chosen in collaboration with the presenter. Since her Monday arrival, she has visited the plant each day to prepare for her performance. Otake will dance between between the plant and the lake, and guests will have the opportunity to tour the interior of the plant beginning at 7 p.m.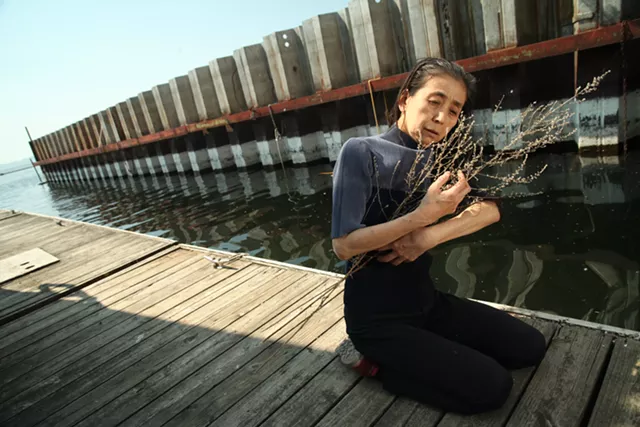 Matthew Thorsen
Eiko Otake at the Moran Plant
While she will use costumes and props from her visit to Fukushima, Otake asserted that she is "not doing a Fukushima dance." "My idea," she said, "is to connect the two places."
Viewers can likely expect slow, contemplative movement imbued with gravity, grief, absurdity and what one
New York Times
writer dubbed
"unassailable intensity."
There will not be music.
"Dance isn't just made in the studio," Otake said. "The studio is only a small part of it."