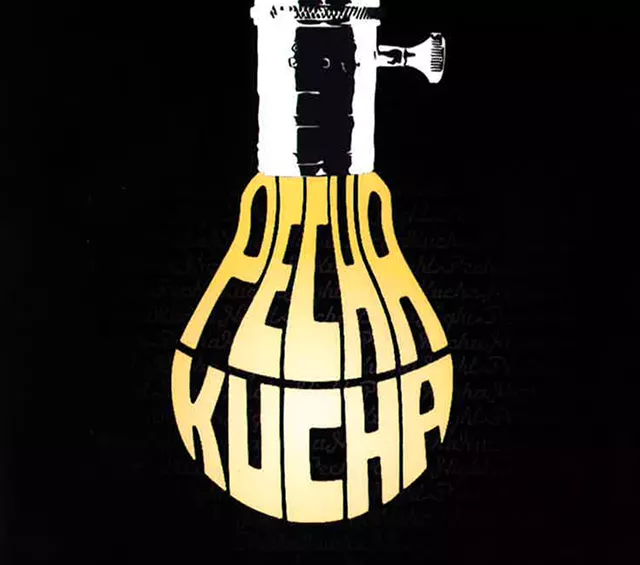 Courtesy of Fleming Museum
PechaKucha Night graphic
For Burlington's 20th PechaKucha Night, Tokyo-based founders of the international presentation phenomenon Mark Dytham and Astrid Klein introduced the event themselves via YouTube video. They reminded attendees that "pechakucha" is the Japanese onomatopoetic word for "chit-chat."
So far, PKNs have taken place in
921 cities around the world
, with more than 7,000 presentations available online to date. In what may be the only time the Queen City has been compared to a Japanese megalopolis, the formulators of PKN's 20 slides/20 seconds each model hypothesized about the event's popularity: "Probably in Burlington, as it is in Tokyo, there are few places to show and share work from designers and architects."
The University of Vermont's
Fleming Museum of Art
, which established PKN in Burlington, hosted the 20th iteration. It featured presentations from nine Vermonters that ranged in topic from migratory bird-banding to architect-built ice shanties to marketing against sexual assault.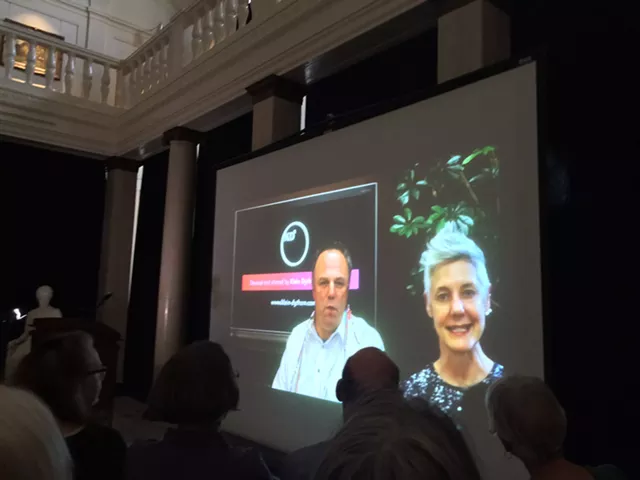 Rachel Jones
Video of PechaKucha founders Mark Dytham and Astrid Klein
Architect
Michael Wisniewski
presented "Roominations," an ongoing series of daily photos documenting his bedroom over time. "It was just a distraction at first," he said, "but then it became an odyssey."
Wisniewski has taken 7,444 photos in the room so far. His presentation traced the evolution of both the room and how he saw it, from a simple documentation to experimentation with light, landscape, form and his own body.
"I wanted to dissolve the room," Wisniewski said as slides of digitally double-exposed images flashed by, merging sky and trees with the bedroom interior. Now, he said, he's trying to figure out how to make the sound of peepers evident in the photographs. The project, however, cannot be infinite: "I'm not going to be in this room that much longer," he said.
Courtesy of Michael Wisniewski
Image from "Roominations" series by Michael Wisniewski
Geeg Wiles spoke as the caretaker of
Captain Ahab
, a wooden statue that was "commandeered" by his grandfather when he was in the Navy. "Every memory of my grandfather is shared with this statue," he said.
Courtesy of Ahab's Adventures
Captain Ahab at Mount Rushmore
Waitsfield photographer Charlie Brown presented images of Tropical Storm Irene's devastation of the Mad River Valley, accompanied by audio of interviews with residents.
Burlington artist
Diane Gabriel
discussed her work, which includes sculpture, photography and printmaking. Some is humorous (such as the pun-titled work "
Hair Suit
") and some is somber. Gabriel's new work, "
Bag of Tears
," features a clutch made from fabric representing every genocide of the 20th century, and a cascade of plastic "tears."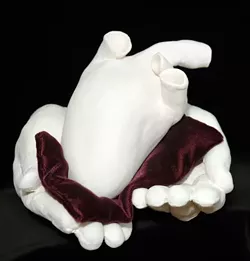 Diane Gabriel
"Cherished Heart," sculpture by Diane Gabriel
Tom Barber informed the audience about the work of volunteer migratory bird banders, who work together at Crown Point every year to track the far-flung movement of songbirds.
Rolf Kielman of TruexCullins spoke about his firm's participation in the
Ice Shanty Project
at Shelburne Museum, presented in conjunction with its exhibition "The Art of Winter." Kielman said this was a "dream project," since architects can't usually afford to be too experimental with clients' money. With a budget of $1,000, Kielman and his team built
a sleek, striking ice shanty
loaded with conceptual intent. He likened the tiny building's bones to the "ribcages of large fish," and said the architects hoped the shanty would suggest the "vastness under the water."
Fleming Museum curator Andrea Rosen gave a sneak preview of the museum's new permanent installation of its Asian collection, which will open in February 2017. She presented a sampling of a surprisingly diverse collection of items.
Artist Valerie Hird spoke about "
Genesis Tree
," an international collaborative origami-based sculpture that's currently installed at the Nohra Haime Gallery in New York City.
Concluding the evening, Andrea Grayson of the
Grayson Group
presented her approach to "social change marketing," as applied to education, public health and sexual assault prevention. One byproduct of that last campaign? Grayson's orgasm-friendly socks, called
O'Sox
.