Sony Pictures
Wilee-cam in Premium Rush
David Koepp's 2012 action film
Premium Rush
was not much of a box-office success. Worldwide, the $35 million film
s
topped a little short of breaking even
(though I'm sure that video and other second-run markets eventually made it profitable). And, from what I can tell — because I always have my ear to the ground on such matters — nor does the film have anything like a cult following.
I'm having a hard time understanding why this film is not better beloved. It's exciting, funny, clever and visually appealing. I saw it recently for the second time, and my fondness for it had not diminished.
Premium Rush
is not generally reviled, or anything like that; indeed, it rates pretty well with critics as well as viewers at review-aggregator sites like
Rotten Tomatoes
and
Metacritic
. But even the favorable reviews tend to treat the film as something of a lightweight. Not that
Premium Rush
is our era's answer to
Citizen Kane
or anything, but it's about as good a piece of popular entertainment as I can imagine.
When I mention "popular entertainment," I do so to draw a distinction between that mode and so-called "fine art." This is more than the mere distinction between, say, a Hollywood action film and a foreign art film, though that comparison provides an easy and accurate shorthand. I'm actually referring to a much larger split in art in general. Across all media — music, painting, film, literature — you will nearly always find both these traditions. In most cases, a work from one tradition will share certain fundamental characteristics with a work from the other, but those two works will be more different than alike. This is because works of the two types require very different responses from their viewers (or listeners, or readers).
Works of popular entertainment are, by definition, aimed at a wide audience. That does not mean they are "dumbed down," but that they try to be as appealing as possible to as many people as possible. What that entails (and henceforth I'll stick to movies as my examples) is that they tell straightforward stories that are easy to understand, and that they leave few, if any, questions unanswered. More broadly, such films use all available artistic devices — cinematography, editing, acting, etc. — for the purpose of telling those straightforward stories. Such works may be said to be, above all, clear and coherent. They make sense, and the pieces all fit together.
Works of fine art are, in general, less clear and coherent, but they do not necessarily traffic in obscurantism. Such films are far more likely than popular films to use artistic devices in a way independent of the narrative that may (or may not) guide the film. It's useful to think of style and story in fine art films as two systems that occasionally intersect, but that are not bound together as tightly as they are in popular films. Often, such works will encourage their viewers to ask questions, but they do not always provide answers. Because they are not maximally clear, they tend to be appreciated by smaller, more selective audiences that are interested in being challenged.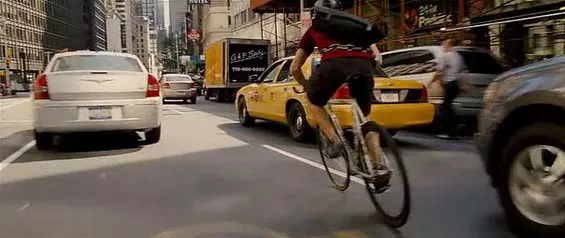 Sony Pictures
Premium Rush
These are not value judgments (I love films and artworks of both types), but historical facts. The roots of popular film can be traced to other popular entertainments: vaudeville, carnivals, street performance. The roots of fine art film can usually be traced to art movements that, historically, arose as alternatives to popular art. The latter's key influences include some of the lengthy, complex orchestral pieces of the baroque and romantic eras, Impressionist and post-Impressionist painting techniques, and the various avant-garde deconstructions of the novel that gained in favor in the 18th and 19th centuries.
My point is this:
Premium Rush
is an exquisitely good work of popular art. It cleverly uses cinematic devices to tell a clear, coherent story in a lively, exciting way. I would even go so far as to call it a model popular film.
My concern here is not so much to ask why more people don't love this film as much as I do — haters gonna hate — but to show how
Premium Rush
embodies everything we should expect from a work of popular art. For me, the film's most iconic device attains its iconic status precisely because it conveys important story information in a clever — and maximally clear — way.
Premium Rush
is about bicycle messengers in New York City who get wrapped up in the dealings of a crooked cop. Joseph Gordon-Levitt plays Wilee, the film's protagonist. In some of the scenes where he zips through Manhattan traffic, Wilee narrates the film in voiceover. On several occasions, we not only hear his thoughts but are granted access to a kind of alternative visual framework that he possesses. When Wilee comes to a particularly gridlocked intersection, the action of the film slows to a halt, and we "enter his head" to see him map out a series of possible routes for his bike.
Sony Pictures
After the crash.
Director Koepp (whose films I admire in general — yes, even
Mortdecai
) employs a memorable device to accomplish this task: a digitally animated yellow stripe that indicates each possible path in turn.
Once the stripe has been "three-dimensionally" placed into the live-action scene, we see a projected/imaginary version of Wilee zip along it. We typically see three alternate paths for each trouble spot; in the first two hypothetical scenarios, Wilee will crash into an obstacle or cause some other kind of traffic accident. The third allows him to bike through the snarl without causing harm to himself or others. When the action resumes its normal speed, Wilee pursues and executes that third path flawlessly, and the story continues.
I appreciate this device because it conveys potentially complicated information — the slowing-down of real time to rehearse conflicting, alternate future scenarios — in a clear and memorable way. The yellow stripe is unusual and striking, and the "three alternatives" structure pays off in several ways.
First, it tells us that Wilee is a smart, savvy rider with uncommonly good "road vision": exactly the skills he'll need to solve the film's main narrative dilemmas. Second, it contrasts him — favorably — with his two rivals in the film. One, Manny, is another bike messenger, a little more hot-headed than Wilee, who has designs on Wilee's on-again-off-again girlfriend, Vanessa. The other rival is a crooked cop, hilariously named Bobby Monday, who gets around the city in that most cumbersome of un-New-York-y conveyances, the car.
Finally, the "three alternatives" device sets up an even larger three-part narrative structure. The third time we see Wilee use his visual hypothesis-testing, it fails. He runs through several scenarios, and they all end up with bike crashes. When he inevitably launches himself into the accident that he foresaw, we know that the narrative ends toward which Wilee is working are in serious jeopardy.
Just as I believe
Premium Rush
to be a model popular film, I believe this "yellow line" device to be a model for the clear, dynamic and meaningful conveyance of information of all kinds: visual, character, narrative. It's a simple device, yet it's used so cleverly as to have ramifications for the entire film. That's popular filmmaking at its best.