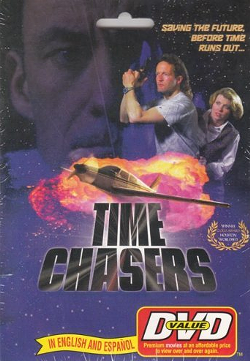 Edgewood Studios
DVD art for Time Chasers.
A Castleton University professor has made a startling invention. It looks like a normal small airplane, but it's actually … a time machine!
After taking a jaunt to 2041 — full of cellphones, bikes and tall buildings! — the prof signs a contract with a Sinister Corporation to exploit his invention. But he soon starts to suspect that time travel might not be as fun, harmless and profitable as it appears. When he and his reporter girlfriend make a second journey to the 2040s, they discover a dystopian wasteland. Even worse, moans the prof, in this tainted version of the future, "Castleton T-shirts might not be cool!"
That line isn't actually in the screenplay of
Time Chasers
, the 1994 debut of Rutland writer-director-producer
David Giancola
. It was an ad-lib from the wags at
RiffTrax
, who provided mocking running commentary for the film at a screening broadcast live last night by Fathom Events.
Theaters nationwide hosted the
Time Chasers
riffing, but that "Castleton" line got an especially big laugh from the audience that packed South Burlington's Palace 9. So did a joke about how the Sinister Corporation's HQ, introduced with stock footage of NYC, was actually "an office park in Montpelier."
Giancola shot
Time Chasers
(originally titled
Tangents
) in 1991, when he was just 19. With his Rutland company, Edgewood Studios, he went on to produce and direct many more films, including Anna Nicole Smith's swan song,
Illegal Aliens
, and a documentary about the hectic making of that film called
Addicted to Fame
. (I interviewed him about the latter
here
.)
Edgewood Studios
Matthew Bruch wears the famous Castleton T-shirt in a scene with Martin Guigui.
Today, Vermonters may or may not recognize the faces of
Time Chasers
stars Matthew Bruch and Bonnie Pritchard (recently seen onstage in
Who's Afraid of Virginia Woolf?
). But they may be startled to see rough-hewn dairy farmer/actor
George Woodard
, of all people, playing the slick corporate villain. In a
behind-the-scenes documentary
created for the film's DVD re-release, Woodard noted that Giancola didn't know him when he auditioned for the movie, so "he had the flexibility to imagine me in a suit and tie."
Time Chasers
got its first spoofing on a 1997 episode of "Mystery Science Theater 3000" (whose comedian-stars later created RiffTrax). While the show brought the movie to a larger audience, and helped kickstart a cult, some of the jokes stung. In the doc, Woodard called the episode "painful to sit through." For his part, Giancola espoused a philosophical attitude: "You learn to laugh at yourself in this business and have a sense of humor, or you're dead."
The Vermont audience at the RiffTrax show seemed happy to appreciate the film's ingenuity even as they laughed at its low-rent locations and campy dialogue. Clearly made by an action-film junkie,
Time Chasers
showcases the athletic Bruch in chase scenes by plane, motorboat, foot, bike
and
horseback. One of the comedians wondered aloud if he was watching a sci-fi adventure or a triathlon.
The
Palace 9
will encore
Time Chasers '
RiffTrax'ing on
Tuesday, May 17, at 7:30 p.m.; tickets are $12.50.
Meanwhile, check out the two-part behind-the-scenes doc:

Edgewood Studios
has plenty of
Time Chasers
merchandise for sale, including a special anniversary DVD. And, yes, you can even buy a replica of that very special Clinton-era Castleton T-shirt. Pro tip: It's way cooler if you wear it with a mullet.