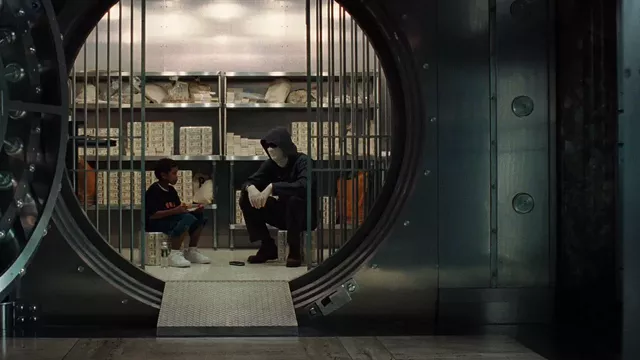 Universal Pictures / 40 Acres & A Mule Filmworks
A man inside the vault in Inside Man
Years ago, after a chance viewing on cable of Spike Lee's early short film "
Joe's Bed-Stuy Barbershop: We Cut Heads
," I started paying close attention to the career of this important director. Lee's first eight features — from
She's Gotta Have It
(1986) through
Do the Right Thing
(1989), right up to
Clockers
in 1995 — constitute a diverse, challenging, visually exciting body of work that should make any filmmaker proud.
Conventional wisdom holds that Lee's work began a steady decline in quality with his next feature,
Girl 6
(1996), though I think that film is underrated. I'm no fan of the broad, sloppy
Bamboozled
(2000), but several of Lee's subsequent features —
He Got Game
(1998),
Summer of Sam
(1999) and especially the fantastic
25th Hour
(2002) — suggest that he was still full of cinematic ideas at the beginning of the 21st century.
Still, around that time, I found myself less and less interested in Lee's films. Around 2000, he started making more documentaries than fiction films; I think he's better at the latter. I guess that disinterest carried over, for me, to his features, the last of which I saw in the theater was
She Hate Me
in 2004. It wasn't until last week that I finally got around to seeing
Inside Man
, which makes me an outlier.
Inside Man
, released in 2006, made more at the box office than any of Lee's other films; t
he closest is Malcolm X (1992), which pulled in $48 million to Inside Man's $88 million
. Seems like everyone else started watching Spike Lee movies right around the time I stopped.
I found
Inside Man
to be rather uneven but intriguing. On the surface, it's a standard heist film, with clever bank robbers pitted against wily cops. Just beneath the surface, though, lies an unusual approach to the revelation of story information.
Like most good titles,
Inside Man
has a double meaning. The twisty significance of the title isn't revealed until the film's last few moments, and I won't reveal it here. But the standard crime-film definition of the phrase "inside man" — someone who works in the facility that a band of criminals plans to rob and provides them with vital "inside" information for their heist — is relevant here, too. Viewers are challenged to figure out which of the "hostages" taken by the robbers of a Manhattan bank are in fact criminals themselves. Which seemingly innocent person is the inside man?
The phrase "inside man" is actually misleading, though, in two ways. We eventually learn that more than one of the purported hostages is a conspirator — and one of them is a woman.
For much of the first half of
Inside
Man
, Lee uses a variety of narrative and cinematic techniques to emphasize the importance of learning the identity of the inside man. He deploys hoary old devices like red herrings, seemingly unreliable testimony and partially obscured actions to give us just enough information to suspect and wonder, but not to confirm.
Curiously, while
Inside Man
expends a lot of effort to encourage viewers to work out the identity of the inside man/men/woman/women, the question is ultimately answered rather perfunctorily. No shocking revelation, no "gotcha!" moments, nothing. Lee doesn't even use a close-up, say — or a particular lighting technique — to single out the insiders and reveal their significance to us. We just sort of eventually figure it out because some of the "hostages" start speaking to their "captors" in familiar terms; next thing you know, they're in the other room, helping with the logistics of the heist.
Universal Pictures / 40 Acres & A Mule Filmworks
Criminals? Or not?
That's an oddly undramatic manner of solving one of the film's chief mysteries. It's made even odder by the fact that Lee uses a striking, relatively rare narrative device to strongly encourage viewers to devote their sleuthing skills to this question.
Inside Man
is an unusual film in that it employs the device of the flashforward. The flashforward is the "opposite" of the flashback: It gives viewers a brief glimpse of a future stage of the narrative before returning to the main narrative line.
The flashback is by far the more familiar of these two devices, being used very often in mainstream films for the purpose of drawing on a character's past to allow us to understand his or her present. We typically understand the flashback to be the rough equivalent of a memory or a dream.
If you think about flashbacks for a moment, you realize that they hint at the presence of an omniscient narrator: an entity that manipulates time for the benefit of our narrative comprehension. Flashforwards do the same thing, but much more palpably.
Because they jump forward in (story) time, flashforwards have the potential to be disorienting. When shown a flashback, we can usually figure out from context roughly when the depicted events took place. But flashforwards typically give us no such temporal context. They can feel a little strange because they purport to "foretell the future" (even though a film's entire narrative is pre-planned), a gesture that seems to us, on some intuitive level, impossible.
Spike Lee employs numerous flashforwards in
Inside Man
. Every one of them takes place in an interrogation room, where detectives Keith Frazier (Denzel Washington) and Bill Mitchell (Chiwetel Ejiofor) question numerous people who were in the bank when the robbers arrived to pull their heist. We know that these conversations take place after the heist because the interviewees all refer to it in the past tense. The detectives are trying to figure out which, if any, of their interviewees are inside operatives.
The very presence of some of these interviewees answers one question we may have about the heist storyline: Did they survive the robbery? Beyond that, though, the flashforwards open up more questions than they resolve, as each interviewee has an imperfect (or, perhaps, deliberately misleading) memory of the heist. Increasing the ambiguity, the detectives are alternately strict and jokey with the interviewees, an attitude that encourages us to think that maybe they know something we don't.
Universal Pictures / 40 Acres & A Mule Filmworks
The scenes in the interrogation room in Inside Man are overexposed and have a green tint.
Because flashforwards have such potential to disorient us, Lee marks them very strongly so that they stand out from the main storyline. The flashforwards have a visual consistency: They are shot with a greenish filter; the film is slightly overexposed; the camera is often off-kilter ("
Dutch angles
"); and all of the scenes take place in a single room, so as to minimize our spatial disorientation. It's a striking approach, and it accomplishes the desired purpose of separating these scenes from the main narrative. These are Hollywood-style flashforwards, in that they use numerous cinematic devices to counter the scenes' potentially disruptive narrative effects.
These flashforwards call attention to themselves. The fact that they exist at all is unusual, and Lee shoots them in a visually striking way. They are granted a certain emphasis and importance within the story of
Inside Man
. Ironically, though, the information offered (or withheld, or obscured) in these flashforwards is nearly meaningless.
The identities of the insiders don't actually matter to the outcome of the film. All that matters is
that
the robbers had inside help. It could have been anyone: None of the insiders play special or unique roles in carrying out the crime.
If this is all an elaborate red herring on Lee's part — that is, if this "wasted" narrative effort is all there by design, to throw us off the scent of the real mysteries and questions of the film — then I am impressed. Most Hollywood films are dedicated to giving viewers meaningful answers to the questions they have about the narrative, but perhaps this one is different. Indeed, since the "message" of the film is (as it is in so many crime films) that "nothing is as it seems," a ruse of this scale would be entirely on-point, thematically.
But the execution of the flashforward device is so strongly marked, yet so haphazard, that it makes me wonder whether it was truly a ruse, or just sloppy storytelling. I honestly don't know. I'm willing to give the benefit of the doubt to Spike Lee, who has proved himself time and time again to be an intelligent, visually savvy director. But the scale and perplexing execution of these flashforwards complicate matters for me.
Inside Man
is a puzzling film — not necessarily for the reasons its makers intended.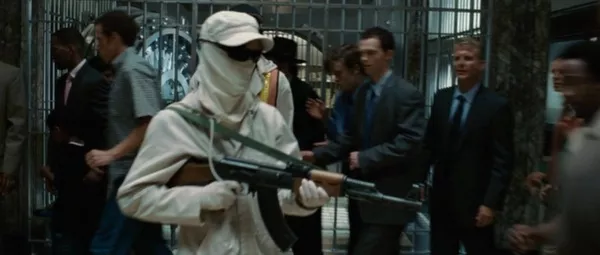 Universal Pictures / 40 Acres & A Mule Filmworks
Rounding up the hostages (and the "hostages")