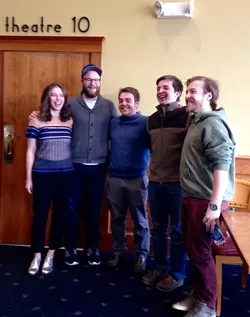 Rick Kisonak
From left: Lauren Miller, Seth Rogen and Ryan, John and Griffen Fox
Signs of April in the Queen City: The last traces of ice vanish along the waterfront. Hundreds of ice cream lovers line up for Ben & Jerry's annual Free Cone Day at the company's shop on the Marketplace. And, dependably as a swallow to Capistrano, the planet's most famous stoner, the man
Forbes
ranks as the 26th highest paid actor in the world, comes to town to thank three students at the University of Vermont.
For the past three years, triplets Griffen, John and Ryan Fox have raised more money for HFC U — Hilarity for Charity's national collegiate competition — than some 100 other student groups across the country. Their prize, as always, is a hang with Seth Rogen, who, along with his wife, Lauren Miller, created the nonprofit in 2012 as "a movement to inspire change and raise awareness of Alzheimer's disease among the millennial generation." Affiliated with the Alzheimer's Association, it's raised more than $5 million.
Saturday morning at Essex Cinemas, the couple held a press conference to talk about the cause, explain why they got involved, and lavish praise on the three brothers, who lost their grandfather to the illness in January 2014.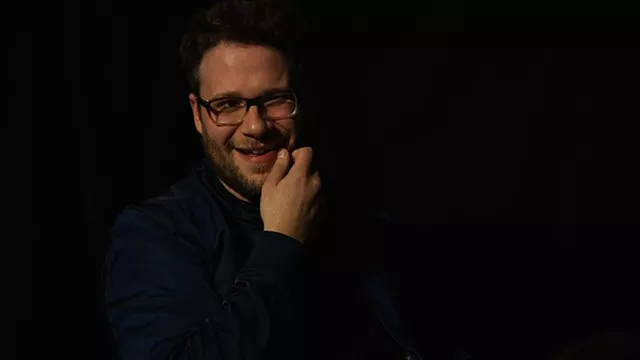 Eva Sollberger
Seth Rogen at Merrill's Roxy Theatre in 2014
The first year the Fox brothers took part in the competition, they raised $27,000 (or "a new Prius," as Rogen put it). Thanks to the generosity of their brothers in the Vermont Pi Kappa Alpha and Alpha Chi Omega fraternities, the total has since grown to $80,000.
The presser started as a lighthearted affair. There isn't a sound in the natural world as distinctive and exuberantly goofy as Rogen's laugh. The honking filled the room as he entered, greeting the young men he's come to know. The actor wasted no time in applauding their hard work.
"It's very impressive," he began. "Anyone who keeps winning anything is impressive to me. They're like the Lakers of charity."
I asked the graduating seniors to share the secret of their success. Did raking in bucks that big require throwing parties, holding elaborate fundraising events, selling cookies door to door, or what? To my surprise, the three concurred that the truth is much simpler. They credit their fellow students with really caring and being happy to donate when asked.
Gradually the mood in the room turned more somber as Rogen and his wife, a gifted actor and screenwriter, discussed events in their personal lives that convinced them to make it their mission to "kick alz in the balz."
"Alzheimer's, unfortunately, has been part of my life as long as I can remember," Miller explained. "My grandfather had it when I was young, my grandmother had it when I was a teen, my mom was diagnosed when she was 55 and I was 25."
Noting that the disease is the sixth leading cause of death in the United States, Miller pointed out that there is currently neither a cure nor even a treatment for Alzheimer's. It affects more than five million people in the U.S. alone; that number is expected to grow to 16 million by 2050 if no solution is found.
Miller shared her fear that the goal to find "some sort of treatment for Alzheimer's by 2025" will never be met if the government doesn't increase funding for research. "So it's important for everyone to talk about it," she continued. "Once everyone is talking about Alzheimer's the way people have talked about HIV and cancer, the government will listen and increase funding."
That brought Rogen to the reason his organization chose to target millennials. "They're the people we had access to, sensibility wise, audience wise, interest wise." The generation consists of "caretakers in waiting," he said, and expressed the hope that progress might come from its participation.
"The people currently in charge don't seem to be [making progress]," he lamented. "If people grow up with this as something on their radar at a socially conscious level, hopefully it will be something they'll be more inclined to try to do something about as they get older and have jobs."
It was time, I felt, to lighten things up just a bit. This was Seth Rogen, national treasure, after all. One of the world's funniest human beings. I attempted to ask a question about a project currently in preproduction, but was informed by a handler that the couple wouldn't be entertaining questions related to, well, entertainment.
Figuring he must have something of interest to say about Vermont's favorite presidential candidate, I started to bring up the election but was voted down again. "No politics,?" I asked. "No politics," the handler replied, looking at her watch.
In my briefcase, I'd brought DVDs of
Superbad
,
Knocked Up
,
Steve Jobs
and a few others, as well as a couple of Sharpies. I was just about to reach for them when the presser was declared over. The Foxes were invited to attend a screening of
Preacher
, a television show based on the actor's favorite comic book that debuts on AMC this summer, and for which Rogen serves as executive producer. Suddenly, the guest of honor was gone.
Check out a video from Seth Rogen's 2015 visit: