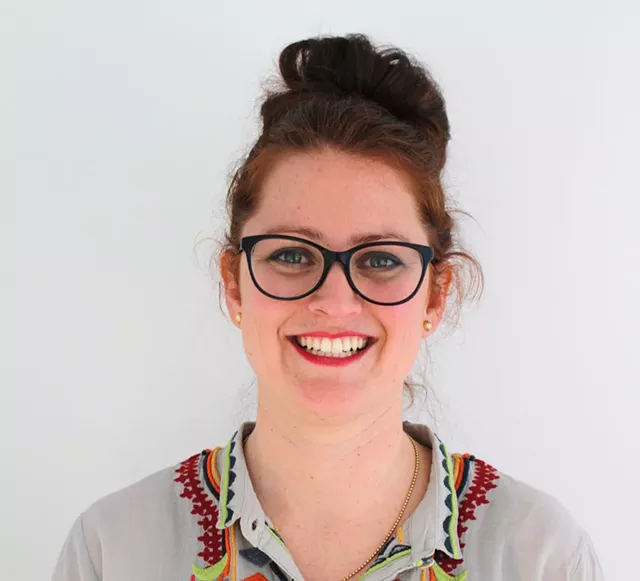 Courtesy of Burlington City Arts
Wylie Sofia Garcia
On Friday,
Burlington City Arts
welcomed new exhibitions at the BCA Center and Vermont Metro Gallery. It also welcomed Burlington artist
Wylie Sofia Garcia
as 2016's Barbara Smail Award winner.
The award, named for a late local artist and maintained by her family, provides a mid-career Vermont artist with a $1,500 stipend, access to BCA's studios and workspace, and a culminating solo exhibition. As it happens, Garcia is married to the 2015 Smail awardee,
Clark Derbes
; his solo show just opened on the second floor of the BCA Center.
Wylie Sofia Garcia
"The Deeper We Dig," painting by Wylie Sofia Garcia
Introducing the award, curator DJ Hellerman commented that Garcia has already worked in BCA's darkroom. "That's something that this community does not know about me," she said, referring to her early studies in alternative-process photography. At age 16, the Houston-born artist won a best-in-show award for her entry in a Fuji student photo competition.
Wylie Sofia Garcia
Rock climber, 1996
Garcia is better known for her sculptural work in textiles and fiber art, as well as her paintings. Her pieces frequently address and incorporate traditionally feminine elements such as intricate patterns and floral motifs.
Garcia's abstract murals are currently on view at
ArtsRiot
. She also participated, with Derbes, in Dealer.com's
Art of Recycling Mural Project
.
Garcia's most recent formal group exhibition was "
Intimacy + Materiality
" at Helen Day Art Center in Stowe. Last year, she was one of five artists who took over St. Joseph's Orphanage for the installation "
An Order
." In December, she was a juror in the Uncommon Thread Wearable Art Show in Baton Rouge, La.
In addition to being a working artist, Garcia is the education coordinator and visual arts instructor at
Shelburne Craft School
and is a mother of two. Returning to photography means coming full circle for Garcia. On beginning to work in the darkroom, she said, "I think I found my happy place again."