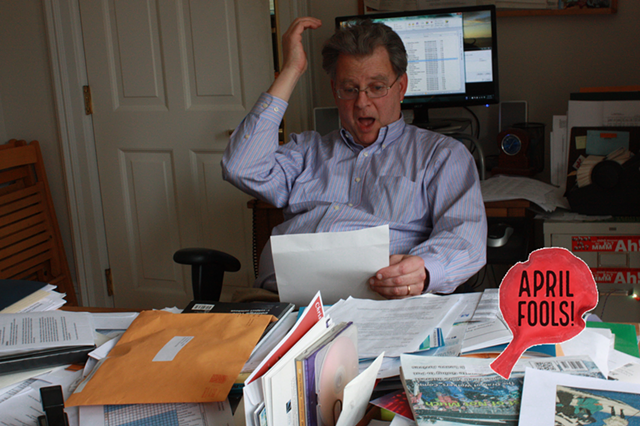 Susan McDowell
Alex Aldrich, Vermont Arts Council executive director
Update: Happy April Fools' Day!
Alex Aldrich opened a mysterious certified letter yesterday afternoon and got the shock of a lifetime. The Vermont Arts Council executive director told
Seven Days
he stared at the page for several minutes in disbelief. "I thought it was an April Fools prank," he said.
But no. The letter, from the
National Endowment for the Arts
, announced that it was allocating all $119 million of its annual funding budget to the VAC (minus $30 mill for administrative costs). Of course, a large string was attached: The Vermont office would have responsibility for dispersing the money to arts programs and agencies across all 50 states, plus seven territories and six regional agencies, Aldrich explained.
Normally, he added, the NEA gives about $71.5 million to programs and $47.5 million to state and regional arts agencies — the latter divvied up among all those arts organizations.
Why would the federal agency entrust the tiny VAC with its role, a massively important one for artists and arts administrators across the country? "It's the Vermont brand, it's about honesty and quality," said an NEA insider who spoke on condition of anonymity. "Vermonters recognize the value of the funding. Plus, when it comes to operating on a shoestring, Alex Aldrich has a lot of experience."
But why did the NEA dump its duties at all? "Frankly," said the source, "we got tired of wrangling with Congress for money and trying to, you know, define what art is." He called the politicians "philistines" and another word we didn't catch.
Aldrich has his own theory: "Vermont has the third-highest percentage of artists and writers of all the states," he said proudly. "That concentration reflects the value that the state places on art."
Well, yes and no. The Vermont legislature has level-funded the VAC over the past few years, which Aldrich views as a victory in a time when many worthy programs are being cut. But even in this, the 51st year of state funding for the arts, the budget is a spit in a bucket compared to $119 million.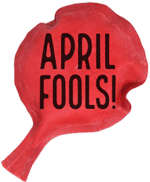 Recovering from the initial shock of this staggering windfall, Aldrich closed the VAC offices for the day, inadvertently locking a random visitor in the Spotlight Gallery, and took his entire staff to Montpelier's Three Penny Taproom for a "strategy session." Walking down State Street, Aldrich was heard to mutter, "With great power comes great … power."