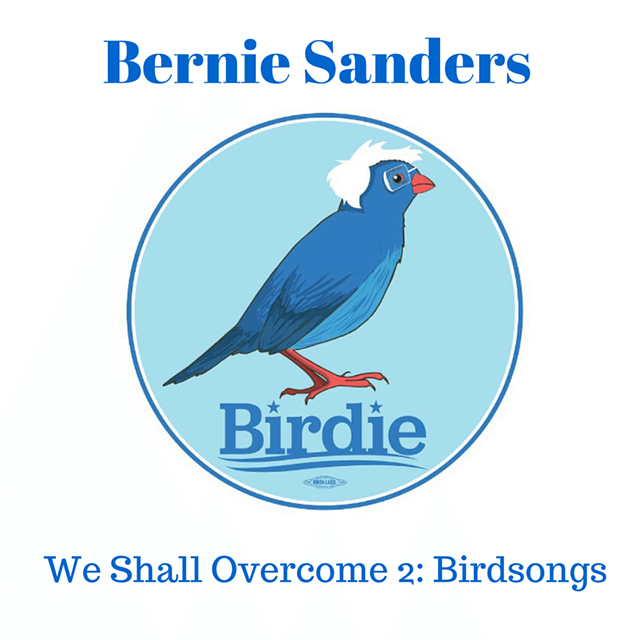 Courtesy of Bernie Sanders
Bernie Sanders, 'We Shall Overcome 2: Birdsongs'
Update: Happy April Fools' Day!
Presidential candidate Bernie Sanders is going back to the studio.
In a recent phone call with
Seven Days
from Sheboygan, Wisc., Sanders' arts, culture and youth-vote manager Luis Calderin confirmed rumors that the Vermont senator is planning to record a follow-up to his 1987 folk and spoken-word album,
We Shall Overcome
. He also offered details on the project, which is tentatively titled
We Shall Overcome 2: Birdsongs
.
"It's basically an updated take on the concept of the first record," explained Calderin. He added that Todd Lockwood, the Burlington recording engineer who produced the original album, will be brought in as an adviser to the project, but that it will be recorded by Jer Coons and Eric Maier of Burlington label
Future Fields
. Calderin said the project has attracted some of Sanders' high-profile musician supporters, including rapper Killer Mike, songwriter Jackson Browne and indie-rock band Vampire Weekend, all of whom will appear on the album.
Though Sanders has attracted numerous big-name supporters from the music world, Calderin emphasized that the album will primarily feature musicians from the senator's home state of Vermont. He has had to politely decline requests from several stars to contribute, Calderin noted.
"We're pumped that so many artists want to be involved," he said. "But Bernie was adamant that we rely mostly on Vermonters for this and limit the number of bigger-name folks."
The original 1987 recording featured 30 Vermont musicians. The new album will boast at least that number and perhaps more. Confirmed appearances as of this filing include
Kat Wright & the Indomitable Soul Band
,
Madaila
, the
Lynguistic Civilians
,
Francesca Blanchard
,
Kelly Ravin
,
Dwight & Nicole
, Brett Hughes,
Phil Yates & the Affiliates
, Learic, the
DuPont Brothers
, the
Wee Folkestra
and
Swale
. Several players from the 1987 recording will also appear, including
Chuck Eller
,
Joe Moore
,
Rick Norcross
and
Danny Coane
, among others.
Also like the original album, Sanders' sophomore effort will include five cover songs and a bonus interview track.
Unlike
the 1987 album, which was composed of older protest and struggle songs, some dating back to the Civil War era, Sanders has selected more recent political tunes to give the record a contemporary feel. According to Calderin, the track listing is as follows:
"There Is Power in a Union," Billy Bragg
"When the President Talks to God," Bright Eyes
"Idiotheque," Radiohead
"How Can a Poor Man Stand Such Times and Live," Bruce Springsteen
"Fight the Power," Public Enemy
"Bernie loves him some
Kid A
, man," said Calderin.
Appearing on MSNBC this morning, Hillary Clinton appeared chagrined when informed of Sanders' plans for the forthcoming album.
"You know, that's funny," Clinton said, smiling uncomfortably. "I, too, will be recording a musical album."
Calderin said the album's release date is as yet unknown. In part, he explained, that's because Sanders' upcoming campaign schedule is particularly hectic, with several key primaries this month including New York and Pennsylvania. That makes finding studio time difficult.
Said Calderin, "Well, it's April, fools."