Matthew Thorsen
The Shelburne Craft School team paints at ArtsRiot
The
Shelburne Craft School
left its mark on Burlington over the past week with a new mural at
ArtsRiot
.
Executive director
Sage Tucker-Ketcham
says the project came about after Felix Wai, co-owner/co-founder of ArtsRiot, saw one of her paintings on Instagram. "Love it," Wai commented on an image posted on March 7. "We're looking for new murals at ArtsRiot. Hit us up if you are into it!"
Matthew Thorsen
Sage Tucker-Ketcham
And hit them up she did. But instead of asking a fee for her work, Tucker-Ketcham proposed a trade. Her staff would create the mural for free (minus the cost of materials, which ArtsRiot covered), and in turn Wai's team would host two events for the craft school in the coming year.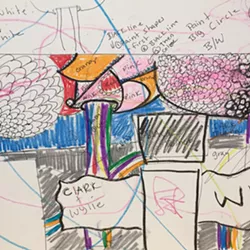 Sadie Williams
Mural concept sketch by Sage Tucker-Ketcham
Dates have yet to be set, but Tucker-Ketcham says the school's popular holiday wreath auction might be moving to ArtsRiot next winter.
"[The craft school] wants to share our energy with Burlington and expand our reach," she says. "We wouldn't necessarily be able to afford events [here], so it's a good opportunity for us."
That energy is apparent in the vivacious, jellyfish-like blobs that Tucker-Ketcham's team has added to the walls this week. According to the petite artist's recent Facebook post, the blobs are "spewing rays of color inspired by music, art and life at ArtsRiot." The new mural intersects with and plays off of another one painted by Burlington artists
Wylie Sofia Garcia
and
Clark Derbes
last fall (with their permission).
Wai says ArtsRiot will continue to integrate art as the venue evolves. "We're finally in a space where we can think about more than just money — I mean, we still have to think about money — and part of that is having art in every space," he says. Sounds downright riotous.