Annika Rundberg
Generator's birthday party
It's only fitting that a drone blew out the birthday candles for Burlington's Generator on its second birthday last Saturday. The young organization — which provides local makers with the tools and community to push their ideas to fruition — is a focal point of Burlington's creative tech environment.
The "Tech and Tux"-themed party was well attended: By 6:20 p.m., Generator member/volunteer Brook Martenis had tallied 252 heads. One of the primary attractions of the night was the photo booth, equipped with props — think laser-cut wooden ties and glasses and sculpted cardboard masks — made by Generator members.
Generator
Guests got a kick out of the photo booth.
Board member Doreen Kraft, executive director of
Burlington City Arts
, looked festive in a lit-up feathered hat. But Martenis stole the show in her LED-illuminated dress. (Never mind that the batteries died halfway through the party.)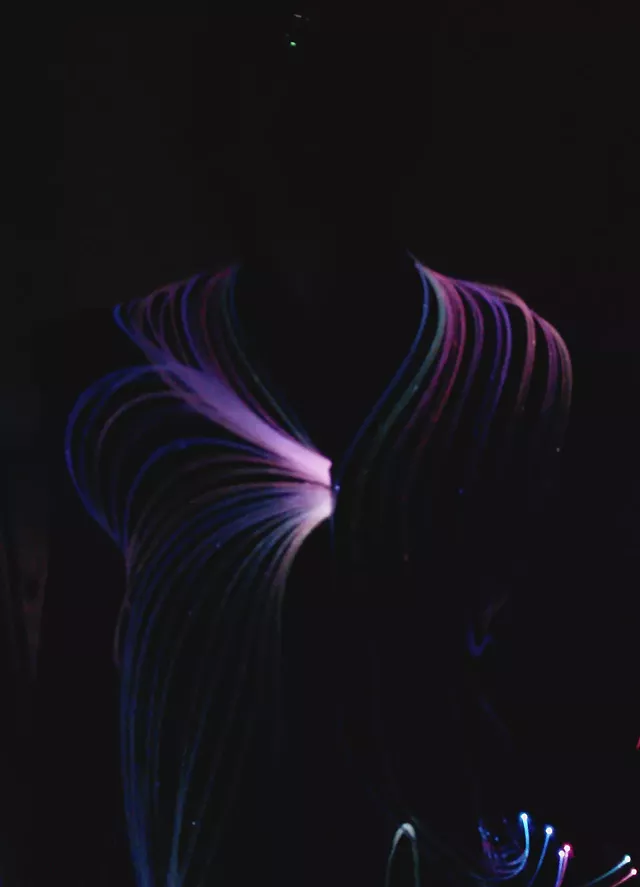 Athena Kafantaris
Brook Martenis
Of course, Athena Kafantaris' electronically modified puppets and accessories were a big hit. Generator's latest maker-in-residence used the party as a sort of soft opening for her labors of love from the past month. Her work was installed in the entry hallway. My particular favorite was a black, horseshoe-shaped collar outfitted with bright red feathers and tiny fans. (It would be perfect beach wear for a hot, sunny day.)
Athena Kafantaris
"Fan Collar" by Athena Kafantaris
Amid the festivities, I caught up with Ken Howell, Generator board member and assistant professor at Champlain College's Division of Communication and Creative Media, who had nothing but kind words for the maker hub. "[Generator] is so much more than people making stuff," he said. "It's people actively working to make a better planet."
That's a broad statement. But considering the efforts of entrepreneurs such as Rob Rock of Pitchfork Farm — who has developed a "prone weeder" that allows farmers to weed relatively comfortably by hand — it's not far off.