Courtesy of Apostrophe NYC
Base 12 artists outside the Whitney
Last Friday, two Vermont artists made it into the Whitney Museum of American Art in New York City — for 40 minutes. But they didn't take the traditional route to get there.
Charlie Hudson and Max Hodgson are members of Base 12, a dozen artists organized by pop-up operators
Apostrophe NYC
that exhibit work in unconventional locations. Previously, Apostrophe has staged guerrilla shows in the NYC subway. Last summer, the group made an appearance at Burlington's
South End Art Hop
, emptying a truck container and turning it into a gallery for the night.
Apostrophe NYC
Max Hodgson's submission to the Apostrophe NYC guerrilla show at the Whitney Museum of American Art
Last week's stunt at the Whitney was the first of its kind. The artists showed up on Friday evening with suction-cup wall hangers and small works specifically created for the museum. Then they hung their paintings from the window of a stairwell.
Former South Burlington resident Jon Erickson, now studying documentary production at the New School in New York, captured the event on camera and contributed footage to the video that's been circulating online.
The show remained on view for 40 minutes before security guards forced the artists to clear out. They slapped Apostrophe NYC cofounders Ki and Sei Smith with a lifetime ban from the Whitney.
"People were walking by, reacting to it like it was any other piece of art," said Apostrophe collaborator Josh Decatur, 22, who stood in for Hodgson at the event. (Hodgson was busy painting a massive recycling container for the Art of Recycling Project in Burlington.)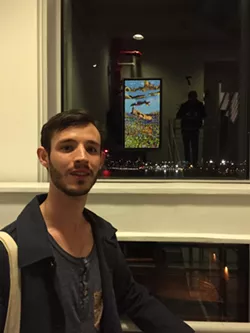 Charlie Hudson
Charlie Hudson with his painting at the Whitney Museum
Visitors would stop, look at the painting for a minute, read the label (which Apostrophe printed in the same font as that used by the Whitney) and then move on to the next piece. That treatment of their work, Hudson says "was the cool part." He asserts that Apostrophe's mission is in part about getting people to see art in a new context.
Both Hodgson and Hudson say they love Vermont. Though the former, a Burlington native, currently lives in Brooklyn, he frequently comes back to his hometown to create his signature cartoonish murals. Hudson, a UVM graduate, says he stays in Vermont for the lifestyle, but thinks he'll have to leave if he wants to pursue an art career.
"As an artist, it's really hard to get the shows I want to be doing [in Vermont,]" Hudson says. "I live here because I love it, but I need to get to NYC." (He currently has an
exhibit at Skinny Pancake
in Burlington, and Dealer.com will be hanging his work in its lobby in April.)
Regardless of where his art takes him, Hudson hopes to return to Vermont eventually. And Hodgson is quick to point out that, even if Burlington lacks the art scene of a larger city, a tremendous number of talented artists live and work here. (His mother,
Wendy Copp
, is one of them.)
Charlie Hudson
The stairwell of the Whitney Museum of American Art
"It's a great place to be an artist," Hudson agrees. While he and Hodgson will continue to exhibit work in Base 12 shows in New York, the collaborators may soon find their way to Vermont. Decatur says they're already working on a show for the Art Hop but declines to reveal details.