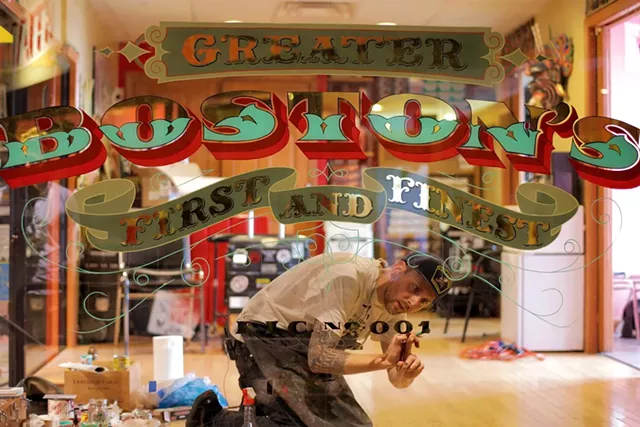 Courtesy of BCA
From the film Sign Painters
Signs are everywhere, so ubiquitous that we rarely give most of them a second glance. But on Wednesday night, nearly 100 people gathered at Burlington City Hall's Contois Auditorium to do just that.
The occasion: a screening of the 2013 documentary
Sign Painters
, directed by Faythe Levine and Sam Macon. The event was part of the
Architecture + Design Film Series
, co-hosted by
Burlington City Arts
and the University of Vermont's Department of Art and Art History. The partners present a monthly film regarding art, design or architecture.
Lynda Reeves McIntyre, an art professor at UVM and organizer of A + D, opened the night with a warm welcome, encouraging attendees to greet those seated around them. She suggested that the event was an opportunity to encourage community building, and that "the people who show up are usually pretty interesting."
Sadie Williams
Lynda Reeves McIntyre introducing Architecture + Design Film Series
Before the film screening, two Vermont sign painters spoke briefly about their experience in the industry: John Floyd of
Design Signs
in Essex and Mike Smith, the in-house sign maker for
Stratton Mountain Resort
. Smith traced his love of sign painting back to childhood, while Floyd said he got into the trade "because I hated my job in retail."
Both cited the guidance of established sign painters as key to their growth. "The craft of signs is a very communal experience," Floyd said. " If you're into [it], you want to share what you know. It's a very collegial group."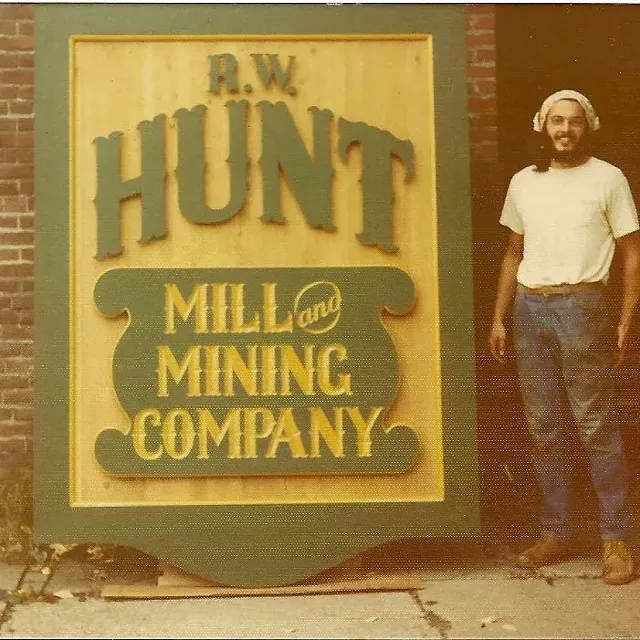 Courtesy of Design Sign
Original Hunt Mill and Mining Company sign painted by John Floyd of Design Sign
That readily became apparent in the film, which primarily focuses on the voices of established sign painters. Keith Knecht, who died in 2011, is depicted as a sort of guiding light for many younger tradesmen. The film's opening shows him asserting that "sign painting as we know it is an American art form."
Much of the film centers on fond recollections of the "good old days," when groups such as Chicago's Beverly Sign Company employed upward of 50 sign painters at once. That was in the 1950s and '60s, before the introduction of computers and vinyl cutters. Those innovations enabled competitors to produce signs faster and for less money.
The film takes a dour turn as the subjects begin recalling that technological shift, which began in the '80s. But
Sign Painters
isn't a tragedy. The film ends on an optimistic note, showing artists such as Steven Powers painting messages on highway overpasses, and shots of sign painters from
Colossal Media
. The latter, a New York City-based company dedicated to hand-painted, full-wall advertising, boasts an impressive roster of clients, including Ben & Jerry's, Netflix and Converse. True to its name, Colossal claims to be the largest such company in the world.
(The film does not mention that in 2004, Powers organized a group of artists — dubbed
The Dreamland Artists Club
— to repaint the iconic signage of Coney Island.)
Sadie Williams
Signs painted by Mike Smith
The film is a beautiful tribute to an often-overlooked craft. After the screening, I stopped by a table Smith had set up in the corner. On it he displayed books on hand lettering and a musty photo album of signs he'd painted over the years. Flipping through the photos, I wondered how many I'd driven past without giving any thought to who painted them.