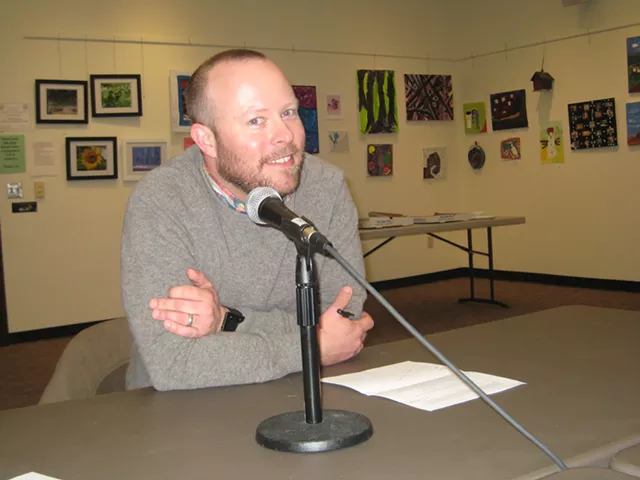 Kymelya Sari
Jensen Beach
You might not expect to write jokes at a writers' workshop. But that's exactly what author
Jensen Beach
encouraged participants to do on Tuesday evening during an interactive video workshop organized by the nonprofit
Young Writers Project
.
Participants in Burlington gathered at the
Fletcher Free Library
, while others attended the talk via interactive live stream at
Rutland Free Library,
Montpelier's Kellogg-Hubbard Library
and
St. Johnsbury Athenaeum
.
The YWP was started in 2006 with a two-year founding grant from the
Vermont Business Roundtable
. It aims to build a "population of respectful teen writing and digital media community to reflect the cultural diversity of the world so youths can learn from each others' differences," said YWP founder and director Geoffrey Gevalt. YWP's website has 2,100 users, mostly from Vermont but also from countries including Austria, France, South Africa and Sri Lanka. Every day, the website publishes about 100 stories written by youths.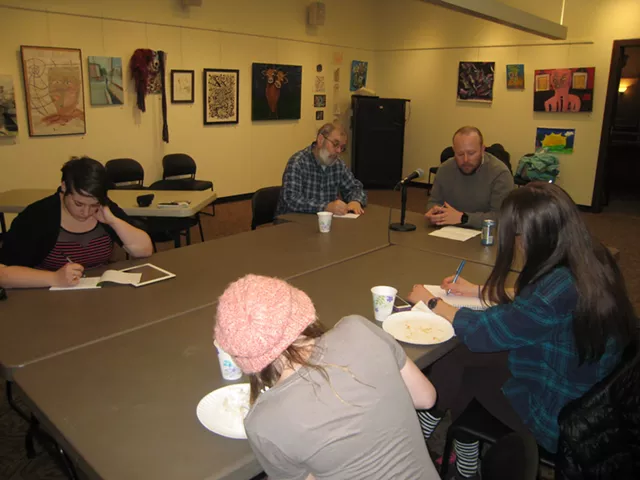 Kymelya Sari
Clockwise from left: Teen librarian Lisa Buckton, Young Writers Project director Geoffrey Gevalt, Jensen Beach, Aliya Schneider and Catie Macauley
About 50 people attended the first pilot workshop that YWP organized in January. Though fewer people came to this week's workshop, it was no less fun.
For most of the hourlong session, Beach, who also teaches at
Johnson State College
and
Vermont College of Fine Arts
, encouraged participants to trade bad jokes and write their own punchlines. Jokes are metaphors for how stories generally work, explained Beach, whose work has appeared in the
New Yorker
.
A joke is funny when it is surprising, but it cannot be too incongruent, he pointed out. Similarly, a good story is one that strikes a balance between "pattern building" — setting the narrative potential as we write it — and "pattern breaking," or introducing elements of the unexpected.
Kymelya Sari
Aliya Schneider (left) and Catie Macauley sharing their punchlines
"A story is just a problem that needs to be solved," Beach said. "And the art of it then is to solve that problem in a way that is
pleasurable
for the reader."
Humans want to find patterns in everything in part because we don't want to live in a chaotic universe, he added. "Our job as writers is to make those connections, to come up with things, like punchlines of a joke, [that] make perfect sense given the information that we have ... but also to surprise and shock us."
The participants just didn't guffaw at bad jokes. They also got to write their own ending to novelist Brady Udall's short story "The Wig." Beach encouraged them to think about the story's "inventory" — details such as physical items and mood — and use them to elicit emotions and facilitate understanding from a reader.
At the end of the workshop, 17-year-old slam poet Aliya Schneider from Rutland said she appreciated the tips on how to write better endings. Catie Macauley, 13, said she learned how to incorporate humor in her writing. The seventh-grader from Charlotte has coauthored a teen book with her father about time travel.
Gevalt said the Young Writers Project aims to organize one more pilot workshop in May, and then schedule a program this fall and winter, with more libraries involved.