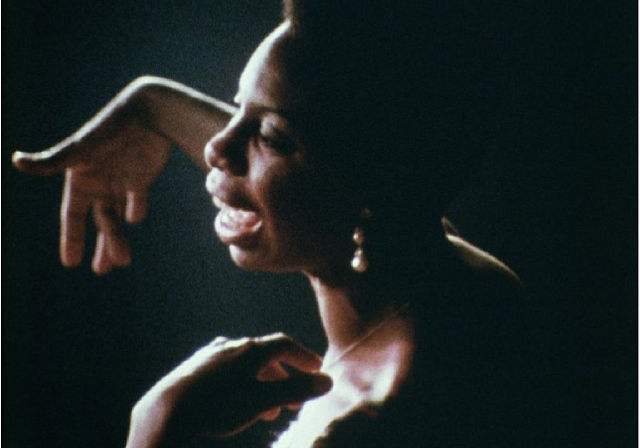 Courtesy of Sundance Institute
Still from What Happened, Miss Simone?
Recently, after I made a passing reference to Nina Simone in my writing, I learned that I am old. Most Millennials and younger folks, I was told, have no clue who this person is.
Perhaps that has changed in the past week. The
trailer
for the forthcoming
Nina
biopic —starring Zoe Saldana with dark makeup and a prosthetic nose — is now making the internet rounds, drawing strong reactions on Twitter
and elsewhere
.
It was that flap that made me realize it was time to correct my own ignorance about Simone. Fact is, almost all
I
knew about her came from references in movies. For me, Simone was the chain-smoking diva Julie Delpy imitates at the end of
Before Sunset
, or the source of the song that Gugu Mbatha-Raw
performs unforgettably
in
Beyond the Lights.
Courtesy of Sundance Institute
Still from What Happened, Miss Simone?
But I had a ready cheat sheet in Netflix, the distributor of
What Happened, Miss Simone?
Last Sunday, Liz Garbus' doc lost the Best Documentary Oscar to
Amy
in a contest stuffed with great films most people haven't seen.
If you loved
Amy
, you owe it to yourself to check
Miss Simone
out, too. (The title comes from a Maya Angelou poem.) Both documentaries make stunning use of archival footage to tell the women's stories through their own words. Both singers had plenty to say and indelible ways of saying it.
Unlike Amy Winehouse, of course, Simone didn't hit her peak of fame in the YouTube era. With less footage to work with, Garbus takes the more traditional path of supplementing the archives with talking heads, such as Simone's daughter, Malcolm X's daughter (who grew up next door to Simone), and critic Stanley Crouch. She also uses passages from Simone's journals to give us a window into the stress of touring, her abusive marriage, and her mental instability.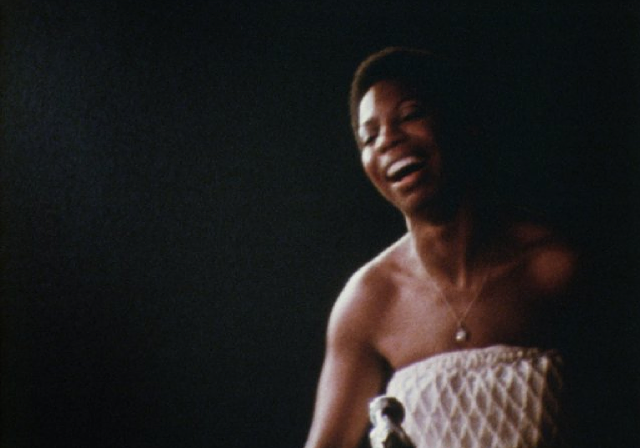 Courtesy of Sundance Institute
Still from What Happened, Miss Simone?
The film opens with footage from Simone's famous performance at the 1976 Montreux Jazz Festival, where she chided an audience member for standing up and openly expressed her ambivalence about performing. There's fierceness and authority in her manner, but also a deep weariness.

That's no surprise, we soon learn. Born Eunice Waymon in North Carolina, Simone spent her entire youth — from the age of 4 — working to become the world's first African American female concert pianist. When she performed for white audiences, her parents were asked to sit in the back. She had the chops, but the Curtis Institute didn't admit her, a decision she believed was rooted in racial prejudice.
Playing in nightclubs to support herself, Simone fell into singing almost by accident. People took notice of her unique voice and styling, and in 1958, she made her first record, which led to a surreal appearance singing her hit version of "I Loves You, Porgy" at the Playboy Mansion.
Unlike
Nina
,
Miss Simone
was made with the full support of the singer's family, but it's no bland praise-fest. Daughter Lisa Simone Kelly speaks openly about the dark side of her parents' marriage and her own testy relationship with her mother. Ex-husband/manager Andy Stroud admits that he beat his wife, blaming the violence on her unstable moods. Simone's own journal attests to her voracious sexuality and to her mounting exhaustion as Stroud pushed her from tour date to tour date.
More importantly, though, the doc puts Simone's role in the civil rights movement front and center, showing us why she's still relevant to the young people driving movements like Black Lives Matter. Her first protest song, "Mississippi Goddam," was a direct response to the 1963 murders of Medgar Evers in that state and of four young black girls in the 16th Street Baptist Church in Alabama. The song is full of raw rage, confusion and dawning resolution — and the singer's delivery is electrifying.
In the years to come, Simone would hobnob with Martin Luther King and perform for the Selma marchers — but she made it very clear that nonviolence was
not
her personal choice.
It was the assassination of MLK — chronicled in a wrenching tribute to him — that eventually made Simone leave the U.S. In the years to come, she would struggle to make a living, at one point experiencing an unlikely comeback after one of her early songs popped up in a Chanel ad.
We talk a lot about "uncompromising" artists, the ones who don't "sell out" and the price they pay for holding on to what makes them unique. Both
Amy
and
Miss Simone
, in their different ways, are portraits of such ferocious originals. Both women had vast natural talents; both were overworked — and, one could argue, exploited — by the men who managed, romanced and lived off them.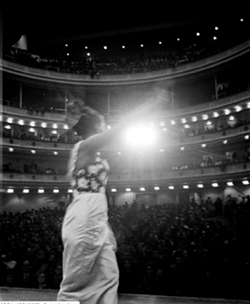 Courtesy of Sundance Institute
Still from What Happened, Miss Simone?
But while Winehouse succumbed to her addictions, Simone found a new focus and broke away, writing and performing protest songs over Stroud's objections that it would kill her mainstream career. Despite the disappointment and career stagnation that followed in the '70s, it's clear that she found satisfaction in using her powerful voice to make a difference.
Miss Simone
led me to YouTube, where I spent hours watching and listening to this amazing performer. Again like Winehouse, Simone had that unquantifiable quality of
presence.
She could make even the most familiar standards into something strange, new and uniquely hers.
And this singer, who rarely smiled onstage and was more likely to intimidate than charm the audience, gives the lie to any notion that anger isn't productive, artistically or otherwise. When I started listening to Simone, I found myself praying she had a version of Brecht and Weill's "Pirate Jenny," perhaps the greatest revenge-fantasy song ever written.
Of course she does
, and of course it's chilling (and very far from nonviolent).
All those seem like good reasons to keep remembering Nina Simone in 2016. (She died in 2003.) And, though I haven't seen Saldana's performance yet, I would hazard a guess that this documentary is a lot truer to the star. Check it out.