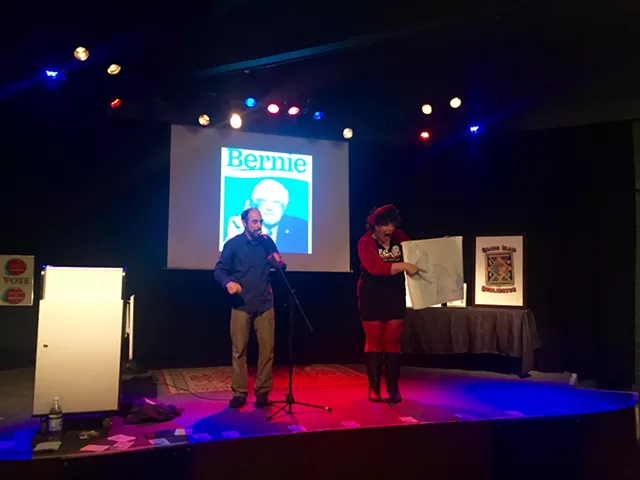 Sadie Williams
Phinneus Sonin, acting as auctioneer, calls for bids with ONE Arts Center staffer Mellisa Cain.
"OK, let's practice stretching those arms out," the auctioneer called from the stage of
ArtsRiot
in Burlington on Wednesday night. Some 100 audience members obligingly raised their hands in the air. It was practice for bidding on art to benefit Sen. Bernie Sanders' presidential campaign.
The Bernie Pop-up Art Show & Auction, organized by Burlington's
ONE Arts Center
, raised $2,275 by the end of the night, and donated all of it to the campaign.
Between 30 and 40 artists donated works to the event, said ONE Arts co-director Margaret Coleman. Most are Vermonters, but she said her call to artists on Craigslist garnered a few entries from as far away as California.
Sadie Williams
Bernie art by Anthill Collective
One of the local artists, Geoff Garrow, submitted nine pieces of art. His smoothly Photoshopped renditions of Sanders as various iconic characters were popular. Bruce Seifer, who worked at Burlington City Hall when Sanders was mayor, bought a Garrow piece titled "Uncle Sand" — depicting the senator as Uncle Sam — for $170.
"I'm supporting him for president so he can do for America what he did for Burlington," said Seifer, referring to Sanders' economic development policies. (Seifer co-authored
Sustainable Communities: Creating a Durable Local Economy
, for which Sanders wrote the forward.)
Sadie Williams
"Bernie Paint by Numbers" by Jean Waltz
Burlington artist Jean Waltz entered a delicately executed "Bernie Paint by Numbers," which sold for $40. Although she wasn't present at the event, Waltz shared an image of her entry on Facebook . She explained how she feels the art-for-all nature of paint-by-numbers works speaks to Sanders' desire to create social and economic equality.
Most of the artworks sold for between $20 and $60. But a quick bidding war drove up the price of one piece to $205. Felix Wai, cofounder of ArtsRiot, walked away from the amicable flurry with a Bernie-themed reinterpretation of Milton Glaser's iconic Bob Dylan poster created by Marnika Weiss, a Los Angeles artist. Wai promptly hung the piece at the entrance to ArtsRiot.
Sadie Williams
Felix Wai with artwork by Marnika Weiss
He noted that ArtsRiot staff collectively spent more than $600 at the auction. Along with Wai, bar manager Ben Rutter contributed heftily to that number. The latter is now the proud owner of a piece of toast scorched with Sanders' face — this created by Maya Urbanowicz of
Encounterworks Productions Salon
. Rutter donated $145 for the tiny piece of art, which is encased in a slick black shadow box.
At the close of the auction, ONE Arts staffers were riding high. As she stepped down from her position as the Vanna White of the evening, Mellisa Cain said, "It's a community effort, all of us coming out for Bernie."
"It's so important to be open and accessible," Coleman said as the crowd filtered out. "I liked the idea of bringing people together around creativity and Bernie."