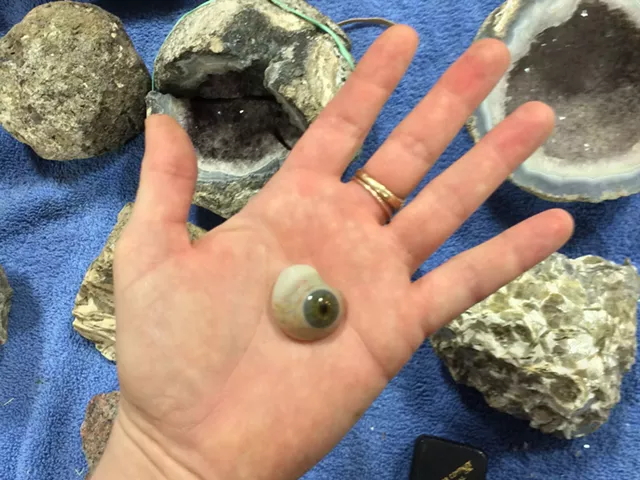 Rachel Elizabeth Jones
Glass eye in the collection of Peter Martin
"Local color" may not get more local or colorful than at a regional collectors' fair. Last Sunday, 20 or so folks displayed their hard-earned treasures atop rows of folding tables in the Orleans Elementary School gymnasium for the annual Collectors Fair. The Orleans County Historical Society and the
Old Stone House Museum
in Brownington hosted the event.
Interests were diverse, from local kids' sundry Pokémon paraphernalia and miniature monster trucks to sparkling costume jewelry to vintage hand tools. The atmosphere was friendly and casual. I began to wonder what
else
goes on in the state's nooks and crannies on any given lazy Sunday.
Wyatt Moseley, who works in the Old Stone House blacksmith shop, noted that collectors are "kindred spirits of museums in many cases — the temperament is shared." The institution's focus, he said, is "historic Vermont" — and that passion seemed to extend, even if by default, to the community gathered in the school gym. At least a handful of the collectors are also involved with the Vermont Gas and Steam Engine Association, a nearly 40-year-old group that hosts an annual summer event at the Old Stone House Museum.
Rachel Elizabeth Jones
Orleans School Gym
Standing next to Bill Thorneloe's booth, Moseley held out his hand and joked that he and Thorneloe are in the same club: They've both had surgery for carpal tunnel syndrome. Thorneloe collects antique locks and keys, among other things (including tools too large to transport), and said he primarily sources his finds from other collectors. He drew my attention to a "trick lock" — that is, a padlock with two keyholes: a fake one in plain sight and a real one hidden behind a metal panel that springs back when a small button is pressed.
"This was back when locks were cool," Thorneloe said, though he was unsure precisely when the trick lock was made. Another heavily aged lock in the shape of a heart brought to mind
love locks
, and the proverb "Love laughs at locksmiths."

Rachel Elizabeth Jones
Left to right: "Trick" lock from the collection of Bill Thorneloe; Bill Thorneloe with his locks and keys; heart-shaped padlock from Thorneloe collection
Standing behind a contraption of spinning metal, Dean Suhr sported a pin reading "Southwest Forgotten Iron Charter Member" and a red "Make America Great Again" Trump hat. The tabletop machine, it turned out, is a Stirling cycle hot air engine that Suhr purchased from a collector in New Mexico. Suhr graciously explained that the machine runs from an external heat source — in this case, a small canister of burning propane.
Stirling engines once provided a "great alternative to steam," said Suhr, "because you could put a fire under them and walk off." After he suffered a stroke last year, Suhr and his wife moved from their 35-year home in Arizona to Vermont, where his wife has family. A member of VGSEA, he offered, "I'm a joiner. First thing I did [in Vermont] was join that engine club."
Rachel Elizabeth Jones
Dean Suhr with Stirling cycle hot air engine
Not all of the collectors present at the fair live in Vermont. Gail and Daniel Bousquet trekked down from Sawyerville, a Québec town closer to Orleans than to Montréal. Daniel displayed a small portion of his collection of postal service first day covers — envelopes with stamps commemorating the first day of a stamp's issue. He estimated he has five or six hundred of them.
Rachel Elizabeth Jones
Left to right: 1981 USPS first day cover; Daniel and Gail Bousquet; 1952 USPS first day cover
One of very few participants showcasing primarily
non
-manmade items was Peter Martin. His geological specimens were carefully laid out on blue towels and accompanied by handmade, collaged signs indicating whether the grouping was igneous, metamorphic or sedimentary.
For Martin, rock collecting is a family affair that dates back to his grandfather. Today, he and his father show their collection to schools and Boy Scouts, and also lead gold-panning trips in Stowe. While not a rock collector per se, Martin's granddaughter Gina Nola was providing moral support at the fair. She perched on a stool reading a book of poems by Charles Bukowski and working on memorizing "
An Almost Made Up Poem
."
Nola giggled as Martin walked me through the origins of various stones, such as the smooth, heavy coprolite (fossilized turtle dung), or a tiny piece of calcite that was removed from Martin's own body. It's otherwise known as a kidney stone.
In a similarly anatomical vein, though more jarring, was the glass eye that Martin proffered from a small black ring box. He revealed that his father had obtained the eye "from the neighbor," but would say no more than that.

Rachel Elizabeth Jones
Left to right: glass eye from the collection of Peter Martin; Peter Martin with granddaughter Gina Zola; fluorite crystals from the collection of Peter Martin
Perhaps the most Vermont-centric collection on view was that of Hale Mattoon, a sugarer from Chelsea who has amassed more than 500 maple spouts. He's even written a book on the subject,
Maple Spouts, Spiles and Taps,
and intends to publish an updated version that will go "more in depth in identifying the sap spouts."
Mattoon explained that he used to tap 3,500 trees using only buckets, and noticed that just one of his spouts was covered instead of open. "One year, I just said,
I'm going to set that sap spout aside.
Next thing you know, I had about 25 different spouts," he said.
Mattoon demonstrated the surprising variety in spouts, including a broad, flat Native American one that looks like a shallow wooden dish; and the first cast spout design, made in the 1800s and shaped a bit like a megaphone.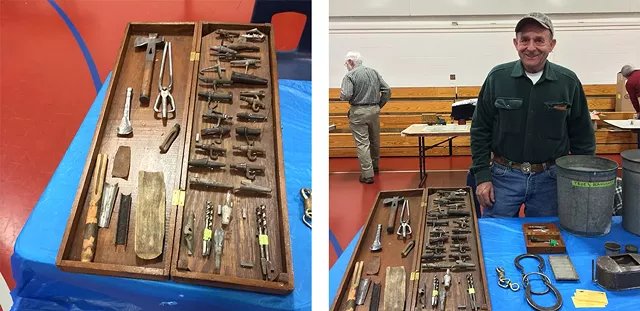 Rachel Elizabeth Jones
Hale Mattoon and his maple spout collection
What seemed to tickle Mattoon most was the spout patenting process, and particularly its accommodation of redundancy. He explained that tap innovators would try to construct their patent so as to include future adjustments to their design. He showed me a few examples of basic spout technologies (an o-ring, for example) that are being presented again a century later, albeit in different materials. Asked if he was the foremost expert on maple spouts, Mattoon demurred. "I don't know about that," he said modestly.
Mattoon's shyness reflected a trait common among the collectors gathered at the fair: a love for the custom-defined search, not driven by a desire for particular gain or accolades. Instead, they engage in this special, idiosyncratic format of socially acceptable exhibitionism for the pleasure of connection and sharing for its own sake. And that's pretty darn cool.
Special Collections is a blog about collections and collectors in Vermont, as well as the peculiarities and politics of material culture writ large. From institutional archives to your grandma's miniatures, we dig into how things become more than just things. Are you a collector? Have a tip? Email rachel@sevendaysvt.com.