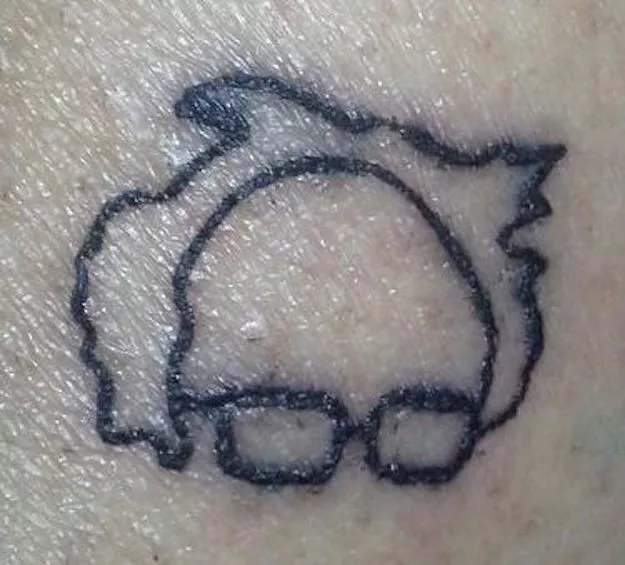 Courtesy of Craig Mitchell
Craig Mitchell's Bernie Sanders tattoo
Sen. Bernie Sanders (I-Vt.) won the New Hampshire primary in convincing fashion earlier this week —
superdelegates be damned
. But ol' Bernardo didn't hog the media love for himself. In share-the-wealth fashion befitting a democratic socialist, he shared the national and local media spotlight with a number of Vermonters in the wake of the primary.
Here's a quick roundup of those getting some shine this week.
Vermont musicians were featured prominently at Sanders events, official and otherwise, in New Hampshire, most notably Kat Wright and Brett Hughes and Dwight & Nicole. A picture of Hughes and Wright made the
print and digital editions of the Washington Post
. And Wright, Hughes and Dwight Ritcher — aka the "Bernie Sanders Singers" — were the subject of the short
New York Times video
below.
Hughes, Wright and Co. were invited along the campaign trail following the release of their stirring, all-star rendition of Woody Guthrie's "This Land Is Your Land" — reportedly Bernie's favorite song. By the way, that tune is now available for
free download
via Signal Kitchen.
CNN filmed a piece
on comedians
James Adomian
and
Anthony Atamanuik
at the Vermont Comedy Club. Adomian is perhaps the country's foremost Bernie impersonator — with apologies to Larry David. And Atamanuik does a pretty mean Donald Trump. The comedians were at the Burlington comedy club last weeked performing their show "Trump vs. Bernie: the Debate Tour 2016." If you didn't catch one of those shows, watch the video below to see what you missed. (Warning: Contains sexually explicit humor.)
Finally, Craig Mitchell is feeling the Bern. Literally. The local house DJ was interviewed in a
WCAX piece
on Winooski and Montpelier tattoo parlors Aartistic Inc. The shops are offering free Bernie tattoos — Mitchell's new ink is pictured at the top of this post. Those Bernie tats certainly give new meaning to the term "gramp stamp."
However, Sanders is not the only candidate who has inspired tattoo artists. In further proof that New Hampshire really is just a backwards version of Vermont, a Seabrook, N.H., tattoo artist is also giving away free tats … based on
Donald Trump
. (So, "Trump stamp?")