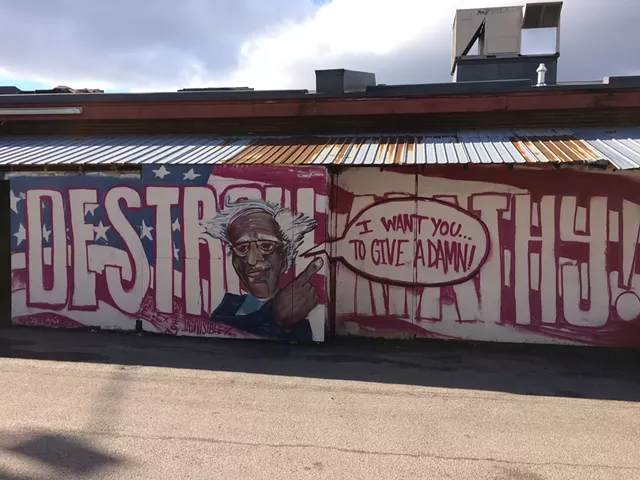 Courtesy of Anthill Collective
Anthill Collective's Bernie Sanders mural behind ArtsRiot
Art can be many things. Sometimes it's
a photograph of a potato that sells for more than $1 million
; other times it's creative expression, political mobilization and marketing all rolled into one.
Last September, Bernie Sanders promised, "I will be
an arts president
. Art is speech. Art is what life is about." Now, with promising results at the Iowa caucus, the Sanders campaign has picked up momentum — and its art game. As musicians including Vampire Weekend, the Red Hot Chili Peppers and
a slew of Vermont artists
have clamored to sonically show their support, visual artists are stepping up as well. And not just by
designing merch
.
Perusers of the Bernie Instagram may have noticed a new logo cropping up on certain images: an eagle clutching pen and paintbrush in its talons. The official logo, created by Burlington designers Marin Horikawa and Dennis Healy, has emerged in conjunction with the traveling exhibition "The Art of a Political Revolution." It was organized by the Sanders campaign's arts, culture and youth director
Luis Calderin
, who issued a call to artists last fall.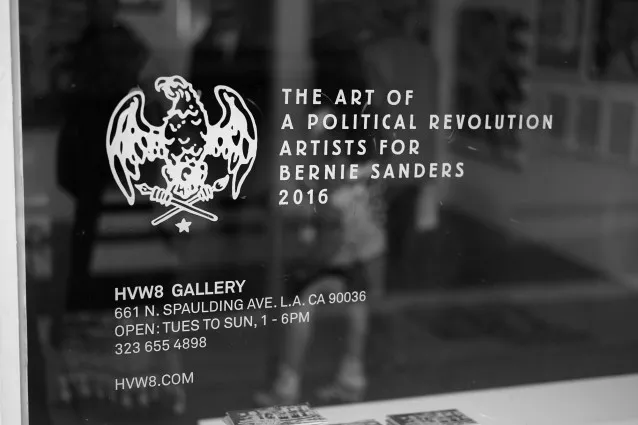 Courtesy of Mike Selsk
HVW8 Gallery, Los Angeles
The show just finished
its first incarnation
, which ran January 23 to 31 at the HVW8 Gallery in Los Angeles and featured works contributed by more than 30 artists, including Shepard Fairey and Vermont's own
d
ug Nap
. Other Vermont-based artists are
Dylan Fant
,
Michael-Vincent Laviolette
, Byron O'Neill,
Jackson Tupper
and
Ellen Voorheis
.
"[The show] has a lot of Vermont artists," Calderin told
Seven Days
by telephone. "It was really important for us to make it a national show, but it was equally important to make sure to bring our hometown artists with us."

Courtesy of the Artists
Artwork from "The Art of a Political Revolution," from left to right: "Gesticulate" by Dylan Fant, "Freedom is a strong seed planted in a great need" by Richard J. Oliver, "A Revolution State to State" by dug Nap
"Throughout history, every good movement, every good revolution has always had a good visual soundtrack to it," Calderin said in
an interview with SoCal public radio station KPCC
, invoking the transmedia sexiness particularly familiar to artists and digital natives. One interesting twist is that folks seeing work from the exhibition via social-media channels may be initially hard pressed to find out who made it — perhaps an extension of the campaign's recently introduced "Not Me Us" slogan.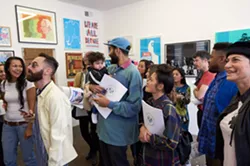 Courtesy of Mike Selsk
"The Art of a Political Revolution" opening at HVW8 Gallery
Nor will viewers be overwhelmed by, say, Bernie's iconic shock of white hair. Calderin explained that in the initial development of the concept with Sanders and wife, Jane, it was decided to focus on — gasp — "issues-based art."
Next stop for the traveling show is Austin, followed by Boston and New York. Calderin noted that artists have been coming out of the woodwork to participate, and he predicts the number of artworks to swell by the time the exhibition reaches the East Coast. "Like this campaign," Calderin wrote in an email, "this [art series] is not about one individual. It's about a movement of people from all walks of life coming together to talk and resolve issues facing this country."
Courtesy of Mike Selsk
"99 Problems, Bein' Rich Ain't One," sculpture by Charlie Becker
Of course, it should come as no surprise that artists living at Bernie's home base of Burlington has composed their own visual soundtrack. In addition to ubiquitous banners and bumper stickers, murals by Anthill Collective and Jelani O'Connor have cropped up, along with more discreet forms of public art.
Scottie Raymond of
Anthill Collective
told
Seven Days
by phone that, thanks to an ongoing relationship with ArtsRiot, the venue's alley wall "has always kind of been ours to paint." The group painted a Bernie tribute early last June: a finger-pointing portrait of the senator declaring in Uncle Sam fashion, "I want you to give a damn!"
The mural, which overlaid the ArtsRiot slogan "Destroy apathy," appeared as the weekly Truck Stop (food-truck Fridays) was gearing up. "It felt like it was the right time to make sure people would be thinking about Bernie," said Raymond.
Burlington resident Jelani O'Connor was at work on a Bernie mural last summer, too. O'Connor approached Ridin' High about painting something for the skateboard shop, and owner John van Hazinga asked him to emblazon the text "Vote Bernie" on its east-facing wall. "There was a bunch of great feedback right after I did it," O'Connor told
Seven Days
by phone. He has work on view at
Nectar's
.
Rachel Elizabeth Jones
"Vote Bernie" by Jelani O'Connor for Ridin' High
Though the work is more subdued, Bernie even makes an appearance in the
ECHO Leahy Center for Lake Champlain
's new permanent exhibition, Champ Lane. The immersive installation is meant to promote science education among youngsters up to age 6, and features a wall-to-wall landscape painted by
Candy Barr
and
Tara Goreau
.
Youth education coordinator
Courtesy of ECHO Leahy Center for Lake Champlain
Bernie Sanders and Hillary Clinton silhouettes in Champ Lane mural
Elizabeth Nuckols explained that, while brainstorming for the exhibition murals, the staff compiled a list of Vermont icons to include — and "Vermont folk hero" Bernie Sanders made the cut. Hillary Clinton is there, as well.
Last but not least is Winooski's
Aartistic Inc.
, offering a different but far more permanent form of public art. The tattoo shop has already received media attention for offering free Bernie tattoos, adapted from Dave Barron's iconic and simple design.
Last Thursday afternoon, Savannah Solomon, 22, of Burlington was leaving with fresh Bernie ink on the back of her ankle just as Chris Gilley, 44, of Skowhegan, Maine, arrived for his own. Gilley, a Walmart employee, was on a road trip with a coworker when they heard about the free tattoos on the radio. "I'm, like, let's go!" Gilley said. "I'm behind [Sanders] anyway," he added.
Aartistic tattoo artist Amy Ginter put Gilley's release form in a stack of papers she calls "the Bern pile" and led him to a dentist-type chair down the hall. Gilley was her 11th Bernie-tattoo customer and, for a little extra, she agreed to give Bernie rose-colored classes — or bifocals, as she joked. Gilley said that if he ever decides against supporting the candidate, he can have the portrait turned into Albert Einstein, or Jerry Garcia.
As she finished the outline, Ginter wiped away some blood and asked, "Does it feel like change? Does it feel like revolution?"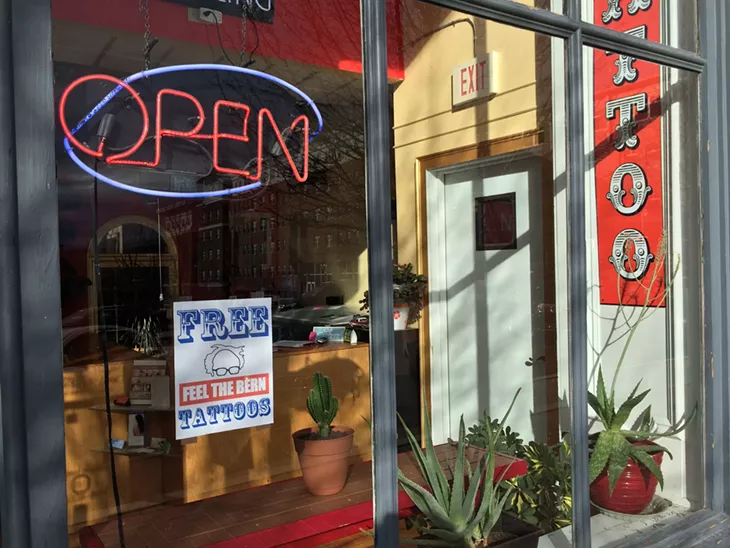 6 slides
Have you seen other public Bernie Sanders art in Vermont? Send it our way: rachel@sevendaysvt.com.