Abbey Meaker
Brehm and Smith with their geometric screens
For their debut temporary exhibition last weekend, Overnight Projects welcomed New York-based artists and couple
Andrew Brehm
and
Jennifer Lauren Smith
to its current location at 339 Pine in Burlington's South End. Brehm and Smith opened "Triangle, Circle, Square" on Friday evening, and followed up with a lecture Saturday afternoon.
Rachel Elizabeth Jones
Outside the Overnight Projects outpost at 339 Pine
Their three-channel video installation was the result of some four years of collaborating, in which the couple collected specific shape-oriented footage. These include images of Florida water skiers practicing their impressive pyramid formation (triangle); a colony of feral kitties among bright orange rubber balls (circle); and two massive dice tumbling across an anonymous horizon line (square). Brehm described the scenes as a way to "manipulate our surroundings for sculptural purposes."
Each vignette was sporadically projected onto a screen in the corresponding shape, rendering the scenes as cinematic sculpture, sometimes playing simultaneously and sometimes not. A soundtrack by Brooklyn-based Luz Mob accompanied the work, intended to lend a "jam session" feel to the experience.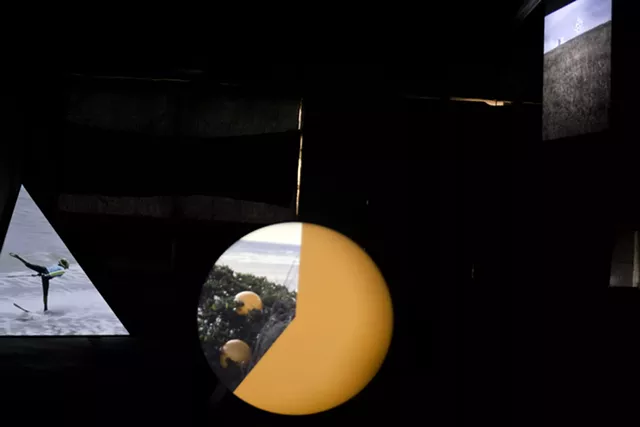 Abbey Meaker
Installation still from "Triangle, Circle, Square"
Abbey Meaker
Installation still from "Triangle, Circle, Square"
During their presentation, Brehm and Smith briefly introduced their individual work. Brehm primarily creates bizarre, humorous scenarios that flirt with the element of control and often including animals. For the 2009 project "
Landman and the Thunderbird
," he placed himself in captivity within a "fake nature" environment of his own devising, in which outside participants could offer an array of variables, from zip-lining models of birds bearing beef jerky to a sleeping bag to a bottle of wine administered by a dominatrix.
The work Smith presented was more somber, the contemplative poetry to Brehm's irreverent experimentation. In "
Tango With Gary
," she created an in-situ cinematic experience for passersby, who could glimpse the soundless tango-ing legs of Smith and her dance instructor from the street below. Smith, who has a hearing impairment, told the audience that tango is the only thing, aside from sleeping, that she is able to do with her eyes closed.
Smith also presented "Woodwind With Kite," in which local musician Geoff Kim provided live accompaniment to footage of a kite — wind being the common element between the sound and the soundless visual projected on the wall.
The opportunity to get a feel for Brehm and Smith's individual work provided a poignant, and arguably necessary, component to "Triangle, Circle, Square." The simple premise of the work was given new dimension when considering it not only as a stand-alone offering, but as the nuanced embodiment of two artists and partners finding and producing a creative point of intersection.
Asked if they intend to continue this collaboration, the answer was yes. "Building the collection of landscapes for these geometries is a really interesting way to travel," said Smith.
And like that, they were gone.