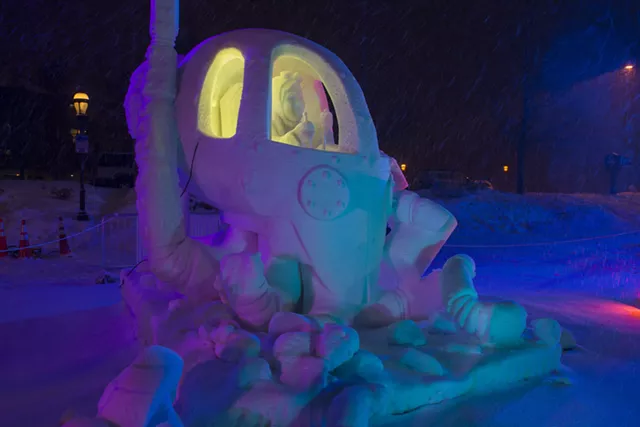 Courtesy of Carl Scofield
Rhonda and Her Recycling Robo-Octopus, Team Vermont's winning sculpture
Team Vermont
wooed judges at the
Budweiser International Snow Sculpture Championships
with their rendition of "Rhonda and Her Recycling Robo-Octopus." The team, consisting of Michael Nedell, Adrian Tans, Brooke Monte and Dave Rothstein, beat out competitors from 15 other countries in the five-day event in Breckenridge, Colo.
Team Vermont has competed in the international competition five times, but this is the first time they've placed in the top three. When Nedell, founder of Localvore Today, was interviewed before heading off to Breckenridge last week, he said he thought Rhonda was the right mix of form and message for the judges. Meaning the 14-year-old maker with her scrappy ocean-cleaning robot not only looked good but also conveyed a positive message.
Looks like he was right. After Saturday's award ceremonies, judge coordinator Jenn Cram said, "Vermont's sculpture is visually delightful. It appeals to the child in all of us while addressing a serious global issue."
From a bus on the way to the Denver airport, Nedell enthused, "We worked really hard, and we're just happy that the judges recognized that work."
And not a minute too soon: Thirty minutes after judging, Nedell said, the tentacles on Team Vermont's sculpture began falling down, weakened in the strong sun and 37-degree weather.