Courtesy of Brian Collier
Three of Collier's Very Small Objects
Sloane Hall is empty, and mostly unlit, when I go to meet
Brian Collier
, an art professor who has taught at Saint Michael's College since 2011. I follow signs with arrows taped to the wall, up stairs and winding corners to his office, a spacious studio whose details I have trouble noticing due to the gravitational pull of "Very Small Objects."
Vials and more vials sit on a wooden table, some with price-tag labels tied to them and others without, and inside each is a single, very tiny object. "I don't know many artists who don't have some kind of collection of something," Collier says. The difference with Collier, however, is that the process of collecting — and tweaking the collecting process' more formal trappings — is itself the art.
Very Small Objects
is an ongoing project of Collier's. He identifies himself as a re-naturalist. "I've always been really interested in the history of natural history," he says, noting "the level of subjectivity in the invention of classification systems." It probably doesn't hurt that Collier's grandfather was a watch repairman.
Rachel Jones
Very Small Objects waiting to be catalogued
Collier gives me a small booklet titled
The Collier Classification System for Very Small Objects.
It contains step-by-step instructions in how to collect, name and classify VSO, as well as directions for how to contribute specimens to his master collection. The introduction explains, "With your help, we can further the goal of maintaining order and control over a chaotic world filled with ever-increasing amounts of unclassified detritus."
Courtesy of Brian Collier
"Onlifrag parkedeco blucircusmothunlik"
Criteria for a VSO is fairly simple: It must be visible to the naked eye, with maximum dimensions of 8-by-8-by-25 millimeters. VSOs must be made from solid materials — no liquids or gases — and must be dead when found.
"Living things should
never
be collected, killed or otherwise classified under this system," the instructions clarify.
To name a specimen, Collier provides eight descriptor categories: status, component, point of origin, apparent purpose or function, general color, general shape, consistency or surface texture and visual comparison.
Onli-
is the status for something that was once living,
Neli-
for something that was never living.
A
cigarette butt
is classified as
Nelifrag Pockepartof yelocyliflexianilik
: a never living fragment, found in a pocket (!), whose function is part of a greater whole or process, mostly yellow in color, generally cylindrical, flexible, resembling a larger animal or animal part.
The naming process, Collier says, is "intentionally ridiculously subjective." (You can play with his classification system
here.
)
Rachel Jones
Very Small Objects in mobile museum display unit
Accompanying the VSOs is a master catalog, a series of accordion-style books handmade by Collier that features the images of all VSOs collected and catalogued in a particular year. It's essentially a chronological encyclopedia of the collection database. "The book can't exist without the objects and the objects can't exist without the book," says Collier.
At the heart of his practice is a deep concern about the human relationship with nature. "I am baffled by the way we interact with the world on a day-to-day basis. It's profoundly unsustainable," Collier says
.

Taxonomy and the collection of biological specimens are inextricably linked, emerging together in Western science as one arm of the human assertion of dominance over nature. Collier points to the violence of natural specimen collections, citing in particular famous ornithologist and painter John James Audubon, who killed many birds in order to depict them accurately.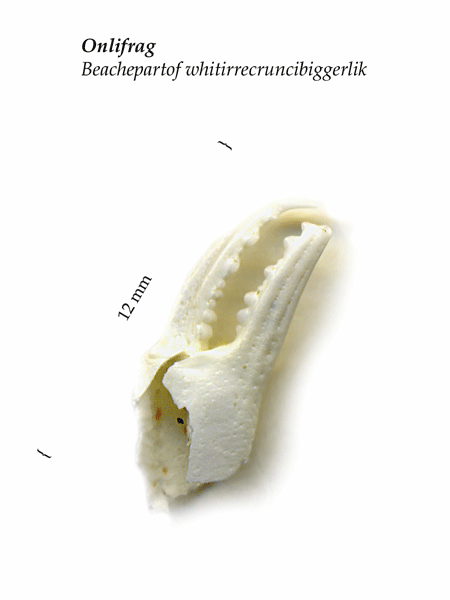 Courtesy of Brian Collier
"Onlifrag Beachepartof whitirrecruncibiggerlik"
Collier is also drawn to the aesthetics of display, specifically how exhibition strategy controls information. "There's an odd disconnect between experiencing something in the natural environment versus decontextualized, in collections," he notes. He poses the question: If a thing is "
so
far removed from context, how can you really understand what it is?"
For Collier, VSO is a form of pushing back in a few ways, combining faux-scientific formality and humor to make a point. He seeks to "play with the appearance of authority as a social experiment," asking, "Why is one classification system better than another?" Furthermore, adds Collier, "We're living in the
anthropocene
— so what's the difference between manmade and natural?"
Midway through our interview, he pulls out a gallon Ziploc bag to show a "special collection of people who fuck with the system." His favorite from this sub-collection is a pebble simply labeled "rock."
Courtesy of Brian Collier
"Neliwhol Housedisgups greneroundecruncunlik"
Ultimately, Collier hopes to "finish the collection and have it travel the world — at both art and natural history museums." A finished mobile museum unit will feature six stackable cabinets with 10 frames per cabinet and 15 vials per frame — a total of 900 Very Small Objects. And maybe someday, says Collier, the master catalog could be published as a distributable art book.
For now, he's comfortable to let Very Small Objects continue to evolve: "It's been in flux forever, it'll be in flux forever," he says.
Special Collections is a blog about collections and collectors in Vermont, as well as the peculiarities and politics of material culture writ large. From institutional archives to your grandma's miniatures, we dig into how things become more than just things. Are you a collector? Have a tip? Email rachel@sevendaysvt.com.