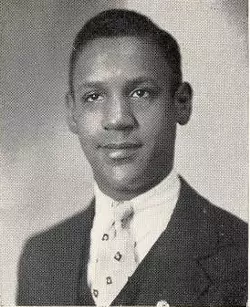 Courtesy of Northfield Historical Society
Yearbook photo of Robert Cole, Northfield High School class of 1938
This Friday, January 29,
Black Angels Over Tuskegee
comes to the
Flynn MainStage
in Burlington. The critically acclaimed
off-Broadway play
by Layon Gray is about the Tuskegee Airmen, the all-black aviator corps that played a critical role in the U.S. air campaign during World War II.
When the curtain rises, many audience members will undoubtedly know something about the corps, and some may have seen the 1995 movie,
The Tuskegee Airmen
, starring Laurence Fishburne. Yet few audience members will be likely to know that the Tuskegee's ranks included an aviator from the Green Mountains.
Robert Cole, who was born and raised in Northfield, was the only Vermonter ever to serve in the Tuskegee Airmen, the first African American military aviators in history. At least one living Vermonter, Bill Lyon of Northfield, personally remembers Cole from his days in Northfield both before and after the war.
Robert Arthur Cole was born in Northfield on March 8,1920, to Alonzo and Martha Cole. According to the Northfield Historical Society, U.S. Census data from 1930 shows that Cole had two sisters and two brothers.
Cole attend Northfield High School where, according to his yearbook, he belonged to the drama club, played basketball, sang in the chorus and played guitar in a dance band called the Blue Jackets. According to Lyon, now 68, Cole's father was himself a musician who played in and around Northfield. Lyon remembers that Alonzo Cole died tragically while his children were still young, after he fell off a trestle bridge in Northfield and drowned.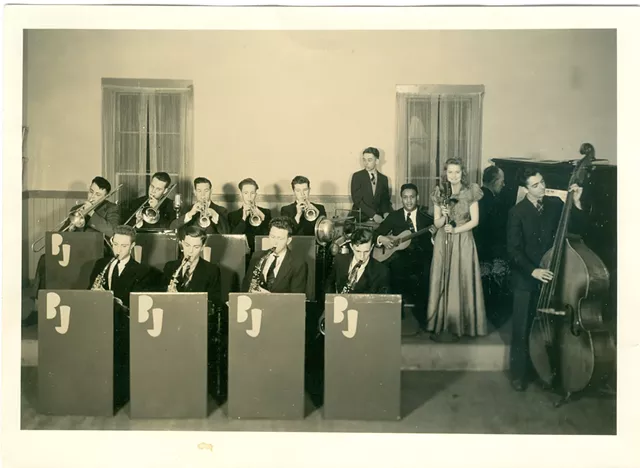 Courtesy of Northfield Historical Society
The Blue Jackets, a Northfield dance band in which Robert Cole played guitar, circa 1934
"When I was a kid, Cole ran a shoe repair shop on East Street in Northfield," Lyon says. "Growing up, we used to take our shoes there to have the soles fixed and whatnot. It was a dark and dingy kind of shop, a little spooky."
After graduation, Cole enlisted in the U.S. military and was one of the 992 cadets who trained in Tuskegee, Ala., from 1941 to 1946. In those years, the U.S. military was still racially segregated and much of the South was under Jim Crow laws. Cole was not one of the 355 Tuskegee aviators who were eventually deployed — he graduated from the cadet program in December 1944, too late to be sent overseas. But according to Lyon's research, Cole spent much of his time in the service flying air shows stateside.
In fact, when Lyon was still a boy, his father, who was also a pilot, often took him to what was then the Barre-Montpelier Airport. There, Lyon's father often pointed out Cole's logbook, in which Cole had kept meticulous records of his flight hours in Tuskegee, including the various aircraft he flew and their horsepowers. Years later, Lyon tracked down that logbook and still owns it.
After the war, Cole returned to Vermont and purchased the Northfield shoe repair shop he'd worked in before the war. On July 29, 1949, he married Irene (aka Irena) Elizabeth Pombar of Berlin. According to VHS records, it was a second marriage for both bride and groom and Pombar was a white woman. Biracial marriages were rare in those years.
"They were a black family that was well accepted in Northfield and well thought of," Lyon remembers. "They worked and didn't ask for anything. They were just good people."
Cole resumed flying again at the Barre-Montpelier Airport, according to Lyon. Despite years of piloting military planes, he even took refresher lessons in small trainer planes to be sure he was comfortable in them.
"Here's this high-performance fighter pilot that comes home and takes lessons all over again just to make sure he can do it," Lyon says. "He was a careful guy."
Cole lived and worked in Northfield until the mid- to late 1960s, when, according to Lyon's research, "He left town and nobody knows where he went." He suspects that Cole may have returned to Georgia, where his family was from. Little else is known about Cole's life, though his name is included on
this roster of Tuskegee Airmen
.
Black Angels Over Tuskegee,
Friday, January 29, 8 p.m., at Flynn MainStage in Burlington. Info and tickets
here
.