Weinstein Company
Cate Blanchett looks like she has a Christmas present for Rooney Mara in Carol.
'Tis the time of year when movie critics receive piles of screeners — films that may or may not have played at your local theater (in Vermont, generally not), but that studios and distributors want to push for year-end awards.
This year, the studios are doing something new, presumably to discourage piracy: requiring a signature for those packages. Let's just say I've become well acquainted with my UPS guy.
So I thought I'd write up five films you can't (yet) see in local theaters — movies to look forward to at the multiplex or art house, or to seek out on DVD or your favorite streaming service.
(NOTE: These are not full reviews, which may appear in later editions of
Seven Days
. They're just brief previews, with my reactions.)
Well, Aren't We Arty: Youth
Fox Searchlight
Caine and Keitel get up to mischief on the grounds of an exclusive Swiss spa.
Have you noticed the trend of movies about navel-gazing creatives (usually men)? It hit its stride with
Birdman
and its nadir (in my opinion) with
Steve Jobs
.
Youth
belongs to that trend, but I liked it much better than the aforementioned, because director Paolo Sorrentino (
This Must Be the Place, The Great Beauty
) lacks the heavy-handed seriousness of an Iñárritu or Sorkin. His films are fleet of foot, full of striking visuals and odd, unpredictable transitions, and low on pretentious rhetoric.
In this one, Michael Caine and Harvey Keitel play a celebrated composer and film director, respectively, hanging out at a plush Swiss hotel and spa. The former has quit creating and no longer takes much pleasure in anything; the latter is eager to make his greatest film, his "testament." That's pretty much the entire plot, as the movie is a string of vignettes about youth and aging that slowly come together to form a beautiful, symphonic composition.
While
Youth
did test my patience at times, it stayed with me in a good way. A blistering grande dame cameo from Jane Fonda, arriving late in the film,
almost
makes up for all those cheesy family comedies she's made in recent years.
When can you see it?
Youth
is currently in just 17 U.S. theaters, so … maybe next year?
A Mad, Bad Christmas Eve: Tangerine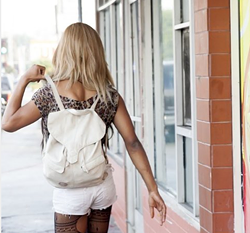 Magnolia
Rodriguez sets out on a Christmas Eve mission.
This movie from Sean Baker (
Starlet
) also has a pretty minimal plot: On Christmas Eve, two transgender prostitutes (Kitana Kiki Rodriguez and Mya Taylor) hunt down the former's pimp, who is also her boyfriend. Just released from jail, she's heard he's cheating with a cis woman, and she's not having it.
Shot on an iPhone 5s with anamorphic adapter lenses (
more info here
),
Tangerine
manages to be hyper-kinetic: It's a hectic, entertaining ride through the mean streets of LA, drawing a diversity of side characters (such as an Armenian taxi driver and his family) into its picaresque structure.
The result is funny and, at times, touching. The two protagonists may initially seem like in-your-face caricatures, but they develop into distinct people with relatable problems. Taylor's quieter performance especially leaves an impact.
When can you see it?
Now, on Netflix Instant or Amazon Prime.
And a Sad Christmas Carol
The Weinstein Company
Blanchett does that Bette Davis smoldering thing as a midcentury woman trapped in a marriage of convenience.
In the 1950s, it was pretty hard to find a gay romance that
wasn't
sad. Director Todd Haynes (
Far From Heaven
) returns to that territory with this adaptation of
The Price of Salt
, a lesbian love story that Patricia Highsmith (creator of
The Talented Mr. Ripley
) wrote under a pseudonym.
Rooney Mara plays an inexperienced shop girl swept off her feet by a glamorous housewife who's living a double life. Cate Blanchett vamps gloriously in period fashions as the latter, so really, who
wouldn't
be swept off their feet? Both have received Golden Globe nominations.

Carol
is a moody, haunting film that looks gorgeous in every way — but I, fan of twisty narrative that I am, wished it had been a little more like one of Highsmith's thrillers. Maybe it will grow on me with a second viewing.
When can you see it?
Currently in 16 U.S. theaters. The Savoy Theater lists it as "coming soon."
"Planet Money" Goes to Hollywood: The Big Short
Paramount
Carell plays Mark Baum, the pessimistic manager of the "world's angriest hedge fund," in The Big Short.
The trailer for this one promises something both unlikely and abhorrent: Will Ferrell's favorite collaborator (Adam McKay) brings you a comedy about the folks who profited from the 2008 financial collapse. They bet against the banks and got rich, while the banks got bailed out, and the rest of us got screwed. ROFL!
That trailer (watch it below) is misleading, though.
The Big Short
makes no attempt to turn these events into a hilarious romp. Sure, it is funny, but it's the pitch-black comedy of anger. Unlike the unrepentant thieves in
The Wolf of Wall Street
, the finance nerds portrayed here (by Steve Carell, Christian Bale, Ryan Gosling and Brad Pitt, among others) have an antihero's sense of self-awareness. They're like hackers who can't resist the temptation to take down a system already doomed by its own flaws.
Despite the stars and the Golden Globe noms (including one for Best Picture — Comedy or Musical), I doubt
The Big Short
will be a mainstream hit. It's fast paced and information heavy (rivaling
Spotlight
in procedural detail), and there's no hero to root for. But it's my favorite of these Oscar-bait screeners so far — energetic, thought-provoking, rage-making and, yes, sometimes fun.
When can you see it?
Released in eight theaters on Friday, scheduled for a nationwide expansion on December 21.
Not Just Another Emo White Boy: James White
The Film Arcade
Mother and son face a painful future in James White.
I almost turned this movie off in the first 15 minutes, when the titular protagonist (Christopher Abbott) was just rambling around listening to his headphones, drinking and vaguely attempting to dance. That goes on for a while, and director Josh Mond keeps the handheld camera tight on James because, yes, this is another NYC indie film about an aimless, privileged millennial.

But it's also a movie about a boy tending to his ailing mother (Cynthia Nixon) — essentially, the only parent he's ever had — with incredible, believable tenderness. And that movie made me cry. There's been talk of awards for Nixon, and with reason. Abbott is utterly convincing, too. When he's alone, it's hard to like James, but when he plays off his mom — who seems achingly vital for the fate she's facing — the movie converts us. I'm glad I saw it, though I doubt I could see it again.

When can you see it? James White has been released in 12 theaters, but I wouldn't hold your breath for this one to come to Vermont. VOD is the best bet.