Courtesy of Shelburne Museum
Scrimshaw objects
Hector the Collector, the protagonist of a totally delightful
Shel Silverstein poem
, and wealthier-than-God collectors of repute, such as
Shelburne Museum
founder Electra Havemeyer Webb, are on different ends of the same spectrum. In Silverstein's poem, "Hector called to all the people, / 'Come and share my treasure trunk!' / And all the silly sightless people / Came and looked...and called it junk." In 1947, Webb founded a museum on 45 acres that Vermonters and visitors alike continue to visit today.
Hector, of course, is a fictional character but can act as a playful stand-in for folks who don't achieve cultural recognition for their collections. Sometimes they're considered hoarders, sometimes just nerds.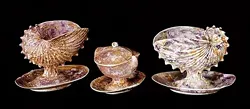 Courtesy of Shelburne Museum
Wedgwood Company dishware, c. 1810-20
In arts blog Hyperallergic, Alison Meier covers
a new book of paper airplanes
collected from the streets of New York by artist Harry Smith between 1961 and 1983. "These incredible collections come from a man who lived mainly in hotel rooms, always surrounded by cardboard box towers of curios," she writes. What, exactly, saves Smith from "hoarder" status?
Courtesy of Shelburne Museum
Glass canes
No matter what, collecting is an activity that gives people meaning (and something to do), and often allows alternative value systems to take center stage. Both place collecting and the closely related field of archival sciences in a sphere that is more political than one may realize at first glance.
In her brilliant
New Inquiry essay
on being a female record collector, Elizabeth Newton writes, "I practice a mode of appreciation that eschews mastery and exclusive expertise, in favor of a collection that is expansive, anyway — one that moves freely in time, untethered to myths masquerading as authoritative fact."
Stay tuned for a very special first "Special Collections" briefing. Meantime,
here are some questions the series hopes to raise: What's the difference between a formal and informal collection? How do we decide what things and documents are special, individually and as a group? And, when does a thing become an artifact?
Special Collections is a blog about collections and collectors in Vermont, as well as the peculiarities and politics of material culture writ large. From institutional archives to your grandma's miniatures, we'll dig into how things become more than just things. Are you a collector? Have a tip? Email rachel@sevendaysvt.com.