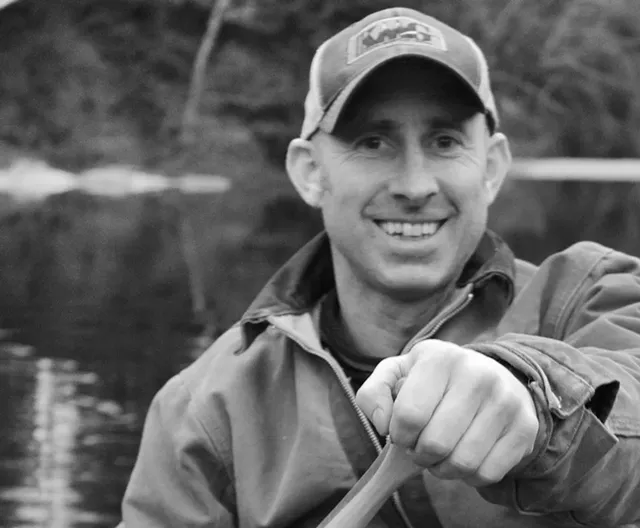 Sarah Hingston
Sean Prentiss
Finding Abbey
, the book by Woodbury writer and Norwich University professor
Sean Prentiss
, has been honored with this year's
National Outdoor Book Award
in the "history/biography" category. Prentiss' lively book, which is as much about radical environmentalist
Edward Abbey
as it is about the author's own relationship to the wild, joins 16 other prizewinners in the 2015 class.
"I had totally forgotten that I was nominated [by my publisher, University of New Mexico Press] for it, and had no expectation of being a finalist or a winner," said
Prentiss
in a phone interview with
Seven Days
. "So to get an email out of the blue, letting me know that I was not only considered but had won — that was a complete shock. … a wonderful shock."
The National Outdoor Book Awards annually recognize the best works in such categories as fiction and nonfiction outdoor literature, guidebooks and natural history literature. The awards are not accompanied by cash prizes, but the winning books will, in any subsequent editions, have their cover emblazoned with the NOBA medallion.
That medallion, and the acclaim it may bring to his book, is reward enough for Prentiss, he said. "The big thing for me is that that audience appreciated the book. It's pretty darn exciting that it helps to keep Edward Abbey in the news, because a big part of writing the book was to make sure that his name and his ideas stick around," said Prentiss. "Hopefully, this helps to keep him in people's minds."
Abbey, the controversial environmentalist who is credited with pioneering the acts of eco-sabotage that he dubbed "
monkeywrenching
," died in 1989. He was the author of numerous works of fiction and nonfiction, most of which address environmental themes. When Abbey died, a group of his friends buried him in a remote desert location in the American Southwest.
Finding Abbey
details Prentiss' attempt to find that grave and, in the process, connect with the natural surroundings that inspired both him and Abbey.
Prentiss said that the publication of
Finding Abbey
has afforded him the chance to meet several friends, family members and admirers of Abbey whom he was unable to reach in researching the book. "I've gotten the chance to meet so many people with so many Abbey stories," he said. "I got a chance to go to his house, to see the wall where you mark your children's heights. I got to go into the writing shack where Abbey died."
With a laugh, Prentiss continued, "I kind of wish this would have happened before I had written the book! I feel almost like an archivist, collecting all these Abbey stories."
In March 2016, Prentiss, who is currently up for tenure at Norwich, will speak on an Edward Abbey panel at the
Tucson Festival of Books
, one of the nation's largest literary festivals.