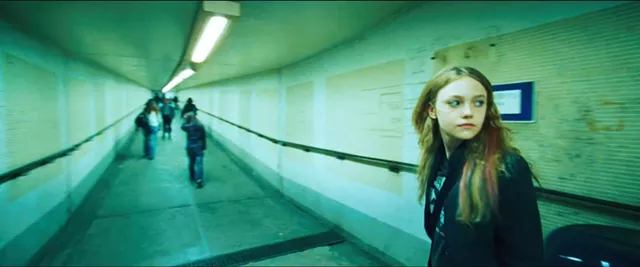 Summit Entertainment
Dakota Fanning in a great wide-angle shot in Push.
Last weekend,
Paul McGuigan
's film
Victor Frankenstein
opened to rather pitiful box office. Its opening-weekend $2.4 million gross was good enough for a meager
12th
-place finish
, well behind several films that had already been in release for one or more weeks.
Critics haven't been any kinder to McGuigan's latest;
Victor Frankenstein
currently rates only 26 percent on review-aggregation site Rotten Tomatoes. Indeed, the seven feature films of Paul McGuigan have not, on the whole,
been particularly successful at the box office or in the critical eye
.
I'm not here, however, to criticize McGuigan's oeuvre. In fact, I'm quite fond of several of his movies. Though I have not seen his latest, and don't have much love for the very silly
Wicker Park
, I like
Lucky Number Slevin
quite a lot, and am oddly fond of
Push
, as well. Though made only six years ago and counting among its cast such likable performers as Chris Evans, Dakota Fanning and Djimon Hounsou,
Push
seems little-remembered and little-loved. I recall seeing it when it came out and emerging from the theater inspired by its visual cleverness and excitement. Having just rewatched the film (thanks, $3 Goodwill Blu-ray!), I find it necessary to dial back my enthusiasm a tad. And I think I've figured out exactly why.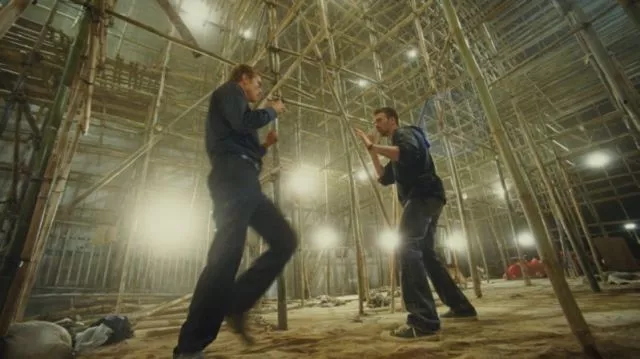 Summit Entertainment
A battle in the bamboo in Push.
The visual cleverness that I recalled from my first viewing of
Push
was the reason I plunked down the three bucks to give it another look. For the first hour or so of my second viewing, I was pleased to find that my memory had not failed me — a rare and pleasing event. But as this (admittedly overlong) film progresses, it gets increasingly bogged down in a convoluted story that, frankly, is a little tedious. In fact,
Push
plays like two different movies, the first of which is driven by its visual inventiveness and the second of which realizes that, oh, yeah, there are all these narrative strands that need to be resolved, so we'd better get down to business. I prefer the "first" film.
To describe what is, to me, the standout moment of visual inventiveness, I need to set up the film's story. Set in the near future,
Push
takes place in a world where many people possess specific superhuman powers. "Watchers" can see the future; "Movers" are telekinetic; "Wipers" can erase other people's memories. The owners of these powers may use them well or poorly; the film's main character, Nick (Evans), is a Mover who, at the beginning of the film, can barely turn the dice to his advantage in a craps game.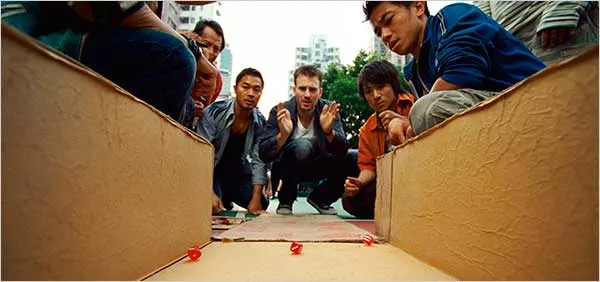 Summit Entertainment
Nick (Chris Evans) fails to get the dice to roll his way in Push.
Most powerful of all are the "Pushers" from whom the film draws its name. Pushers can "implant" thoughts and memories in the minds of others, and, by doing so, encourage those people to perform certain actions. In one clever scene, a Pusher named Kira (Camilla Belle) is kidnapped by two heavies. She frees herself from their clutches by "pushing" into the mind of one of them the idea that his brother was killed by the other kidnapper. The pushee then releases his grip on Kira and turns his gun on his partner, giving Kira a chance to flee.
Those kidnappers are representatives of "the Division," a fiendish government agency whose task is to capture and experiment on these superhumans for the purpose of developing an army of supersoldiers or some such thing. Kira is the only superhuman to have survived Division testing and escaped the agency's clutches — precisely why the kidnappers are sent for her.
Summit Entertainment
Ill-fated Division goons grab Kira on the streets of Hong Kong.
In a flashback, we see Kira's escape from the institution where she was imprisoned by the Division. We see that her escape was abetted by her mother, who also has superhuman abilities and is being kept in the same facility. And now we get to the visually clever bit.
In showing Kira's escape, McGuigan cuts back and forth between shots of Kira freeing herself from an exam table and, curiously, shots of a large glass marble. As a dark-haired woman (whom we later learn to be Kira's mother) is led by orderlies down a hallway, we see her release the marble and let it roll away in the opposite direction; it goes entirely unnoticed. The marble appears to catch a couple of lucky caroms, bouncing off partly opened doors to zip down hallways in an unlikely fashion. All the while, we see Kira desperately trying to find her way out of the building.
When an auto-closing door threatens to prevent Kira's escape, the marble rolls to a stop, at
just
the right moment, to wedge itself between the door and the doorframe, thus propping the door open and allowing Kira to flee. It becomes clear that the marble was guided to its eventual resting place — but how?
Summit Entertainment
Kira flees from The Division.
McGuigan engages us in the film's story by strictly visual means. The interspersed shots of the rolling marble do the lion's share of building suspense, raising curiosity and conveying important narrative information. As we watch, we ask ourselves: Where is this marble going? Who released it? How is it that it seems to be moving under its own power? While we'll only learn the full answers to these questions later in the film, we do learn a lot from this marble: that someone is looking out for Kira, that telekinesis can be used in a highly precise fashion, that the Division is pretty serious business. All of these facts, communicated entirely visually, will increase in narrative relevance as the film progresses.
To me, this is a moment of true excellence in popular narrative cinema, because it relies solely on visual information to convey plot information. That, to me, is when film is at its most "cinematic."
Which is why the second half of
Push
is somewhat disappointing to me. The first half of the film abounds in moments like the marble scene. One standout scene (below), which involves exploding fish tanks, not only uses visuals to reveal the dangerous power of the class of superhumans known as "Bleeders," but also shows us that Nick is slowly learning to control his impressive telekinetic abilities.
But the second half of the film, as stated earlier, gets bogged down in exposition, laboriously — and non-visually — explaining the goals and intentions of a story that's unnecessarily crowded with characters. Too much talk, too little reliance on clever visuals like the marble scene and the fish tank scene. During the second half of the movie, I felt myself losing interest, and I think I saw my wife briefly close her eyes.
Push
— along with
Lucky Number Slevin
— demonstrates to me that Paul McGuigan possesses significant visual intelligence, and I intend to check out some of his other films. I wouldn't be surprised if even
Victor Frankenstein
is clever and underrated. Critics didn't generally look with favor on
Push
, either. Then again, McGuigan's latest has about a 50/50 chance of being visually uninteresting — or perhaps I should say that, based on the evidence, there's nearly a 100 percent chance that half the film will look great, and half the film will fail to delight the eyeballs.