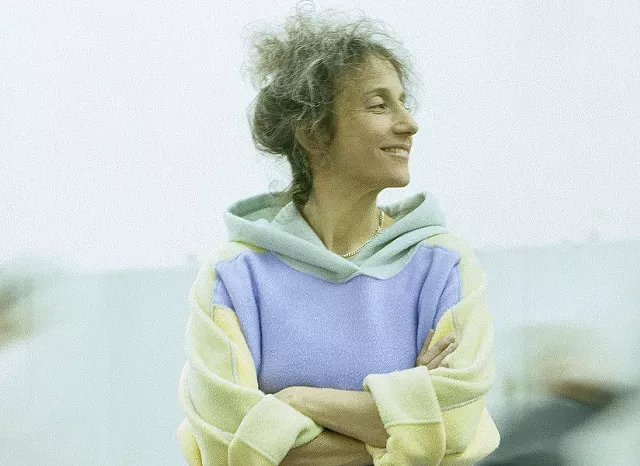 Courtesy of Middlebury College
Liz Lerman
Liz Lerman is a mover and a shaker. To those who know the choreographer's work, that statement might seem reductive at best, but it's fitting on more than the obvious level. Lerman, who received a MacArthur "genius" grant in 2002, isn't just interested in physical movement, but in the movement of ideas across disciplinary boundaries. She's at Middlebury College through Wednesday this week conducting a short residency focusing on just that. Her stay culminates in a lecture tomorrow, November 18, at the Mahaney Center for the Arts Dance Theatre.

Lerman, who is known for working with intergenerational groups of movers, has an open approach to education. In other words, she doesn't believe in forcing her ideas about art upon anyone. "I have a lot of ideas about ways of being in the world, but I feel a lot of those are things [students] have to discover for themselves," Lerman said in a phone interview. "Sometimes I feel like an old-fashioned trader: I'm trading goods for ideas, delivering information from other parts of the country."

She certainly has a wealth of cultural currency, as she was just on a panel at the (brace yourself, it's a mouthful) Art and Science, Engineering and Medicine Frontier Collaborations: Ideation, Translation and Realization conference in Irvine, Calif. The event was hosted by
National Academies Keck Future Initiatives
. In addition, Lerman' most recent production,
Healing Wars
, closed out its yearlong run at
La Jolla Playhouse
in La Jolla, Calif., in October. The show, which Lerman calls "an investigation of the impact of war on medicine," was the centerpiece of that city's
Without Walls Festival
in early October.
In her multimedia work, which incorporates storytelling, dance and music, "Lerman takes the audience to places few of us are comfortable being," writes Tim Smith for the
Baltimore Sun
, "but she makes the journey feel necessary, vital and, in some strange way, uplifting."
Over her career, Lerman has authored numerous books ranging in focus from dance as a vehicle for human insight (
Hiking the Horizontal: Field Notes From a Choreographer
) to a sort of "how-to" guide to creative feedback (
Critical Response Process).
She founded the innovative
Dance Exchange
(conceived in 1974 as the Liz Lerman Dance Exchange), an "intergenerational company of artists that creates dance and engages people in making art," according to its website.
Lerman left the Dance Exchange in 2011.
"It was time," she told Seven Days, adding, "I
want the world to understand that these ideas [about dance] that have evolved
are not personality driven. They don't live just in me. With young people
taking over [the company], there will be a whole new way that these ideas are
going to blossom."


That cultivating attitude toward the younger generation was overwhelmingly apparent when Lerman spoke about her work this week at Middlebury. "On the one hand, you're trying to impart knowledge of things that have been discovered before and, [on the other,] you're trying to honor the activity of the students as they are," she said.
"Discovering your [artistic] voice is a lifelong path," Lerman continued. "It's more about learning how to keep nourishing that part of yourself in spite of the fact that [your] teacher didn't like that last dance, or that the world doesn't care if [you] make a dance or not."
So what's next for Lerman? In addition to her residencies and workshops, she's begun working on her next performance piece with
the Contemporary
, a Baltimore-based museum with no collection and no building that commissions site-specific works from artists. The piece, called "Untwisting History," will feature performers living in installations. "We'll look at how people get so twisted up, and how we untwist some of those threads," Lerman said.
Oh, and in case you were wondering what she did with the cash (more than $600K, paid over five years) from her MacArthur grant in 2002, rest assured it was put to good use. "The joke is, we were pretty strapped at the time," Lerman said. "So when they called and told me, I said, 'OK, now I can take the dog to the vet."
Veterinary bills aside, Lerman and her husband used the money to set up a retirement fund, put their daughter through college, and put some aside for her future work. "It was tremendous. It changed a lot about our personal lives," she acknowledged.
In Lerman's case, the MacArthur grant certainly achieved its intended purpose: She continues to create compelling original works, enrich the lives of other artists through her educational ventures, and share her unique artistic vision with the world.
Liz Lerman speaks and signs books on Wednesday, November 18, 12:15 p.m., at the MCA Dance Theatre. Free.

<!——EndFragment——>