Courtesy of Ian Bailey
Throwdown winner Abby Holden of Maglianero Café
While other folks were likely sipping herbal tea, beer or wine last night, some local coffee connoisseurs were whipping up countless caffeinated beverages for the Latte Art Throwdown at
Scout & Co.
's Winooski location.
Twenty competitors went head to head in Sunday night's laid-back competition, which was judged by Ian Bailey of
Vivid Coffee
(who roasts beans in-house for Scout), chef Owen Hoppe of Scout's new Innovation Center café, and coffee lover Tim Williams. Most of the spectators were there to compete, but that didn't stop them from cheering on their rivals in the somewhat farcical face-offs.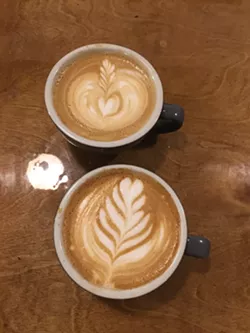 Courtesy of Ian Bailey
Samples from the throwdown
As Bailey aptly stated, "Being a latte art judge is kind of a funny thing, because you're friends with everyone in the event, so you want everybody to win."
The final roundup included Matt Peterson and Logan Bouchard of
Misery Loves Co.
, manager Abby Holden and Nate House of
Maglianero Café
, and Sam Machat of
New Moon Café
.
Among the who's who of the area's coffee culture, Holden came out on top with a beautiful, three-tiered tulip!