Courtesy of Karen Golden
The Sleepless in Burlington judges: From left: Mark Covino, Eva Sollberger, Colin Trevorrow
Lots of film festivals have "film slams" — competitions in which teams of bleary-eyed students struggle to write, direct and edit a short film in, say, 40 hours. Not so many festivals have film slams judged by the director of the year's biggest Hollywood blockbuster to date.
That happened yesterday at the
Vermont International Film Festival
. Colin Trevorrow, director of
Jurassic World
— and a Burlington resident — was one of three judges at the 2015 Sleepless in Burlington competition. The others were
A Band Called Death
codirector Mark Covino and "
Stuck in Vermont
" creator Eva Sollberger.
Also notable (because it's unusual at such events): This year, three of the four student teams had female directors.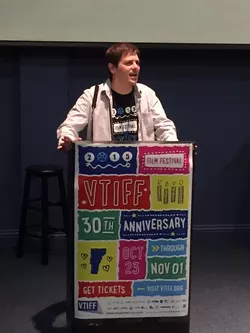 Courtesy of Karen Golden
Seth Jarvis of VTIFF explains the slam parameters.
"You look a bit more tired than you did on Friday," joked Vermont International Film Foundation education and outreach director Seth Jarvis, as the students convened to screen their films. Indeed. Besides being generally presentable and coherent, each short film had to satisfy the following requirements:
Refer to the year 1985.

Refer to the number 30.

Include at least three subtitled lines.

Include dancing.

Use an apple prop.

Showcase the Burlington waterfront as a location.

Include the line "Put down that hat."

The students from Champlain College transformed the third requirement into a creative asset for their film "Sous-Titres [Subtitles]," directed by Sean RF Goodwin. The plot revolves around a dapper Frenchman who picks up a girl on (you guessed it) Burlington's waterfront. But it turns out she's less interested in him than in his subtitles — which magically appear even when he speaks English.
Those subtitles — which hover midair like part of the Frenchman's body — required visual effects that were, as judge Covino sympathetically put it, "a bitch." Caught up in postproduction, the Champlain team failed to finish by the Sunday morning deadline and hence wasn't eligible for any prize but the Audience Award — which it proceeded to win.
Both acting awards went to Middlebury College's production, "Next Caller," directed by Hannah Marks. Its setting was static and theatrical — a radio station hosting an interview with a controversial thriller writer. But its story was satisfyingly twisty, as a faceless caller began asking the guest questions about murder methods that seemed suspiciously specific.
The University of Vermont's contribution, "Quotidian," was directed by Eliza Giles and featured Johannes Ziegler — a familiar face from
VTIFF's 2012 film slam
— as a solitary fellow with habits that have attracted a cult following. He spoke his subtitled dialogue (Japanese) in the grassy field below Williston's Whales' Tails while brandishing a samurai sword.
But the Best Film award went — in a unanimous decision — to Burlington College's film, "Sanctuary," directed by Carol Charbonier. The meditative drama made excellent use of the former
St. Joseph's Orphanage
, the weighty Victorian pile that BC purchased from the Catholic diocese in 2010 (and now plans to sell to a local developer). Mark E. Williams played a monkish type who haunts the building's eerie halls, stairways and lavatories — but is he simply homeless? Or a spectral reminder of the orphanage's former days?
Courtesy of Karen Golden
The BC students pose with their "very heavy trophy," which passes from one winning team to the next.
The double whammy of the BC and UVM films — each centered on a mysterious hermit — prompted Trevorrow to wonder aloud, "Is there a theme of isolated weirdos here? Is there something about living in Vermont that makes us tell stories about people who are locked inside all winter?"
Later, just before the BC students posed with their "very heavy trophy" — as VTIFF executive director Orly Yadin put it — Trevorrow reminded the teams of just how far filmmaking technology has come since he was in film school. Back then, he pointed out, "It was all VHS and tape and record." Today's deft digital cameras and editing systems have made 40-hour film slams possible.
"I'm envious of all of you," said the guy who's slated to direct
Star Wars: Episode IX
to these aspiring filmmakers. And he sounded completely sincere.
(Disclosure: Eva Sollberger is both a Seven Days employee and my sister.)