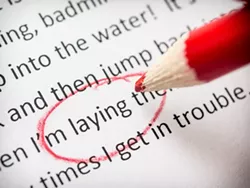 Pop quiz, everyone! In each of these groupings, choose the sentence(s), if any, that use the bolded words correctly.
A1: Cathy
honed
her charcuterie skills working at L'Epicerie du Bordel in Manhattan.
A2: Scientists are trying to
hone in
on the causes of premature balding syndrome.
B1: His hands were
calloused
from his work restoring historic Vermont gravestones.
B2: The zombie apocalypse has not made Rick Grimes
callous
about human life.
B3: If you get a
callous
from snow shoveling, you know you're a true Vermonter.
C1: Legislators tried to
reign
in expenses during the profligate king's
reign
.
C2: Whoa! Please
reign
your horse before he rampages through my gastro-pub.
C3: Kids have free
reign
at the water park.
And now, the answers:
A1. Right.
"To hone" means to sharpen (like a knife edge) or to perfect (metaphorically speaking). The phrase "hone your skills" makes good sense, but if you reach for it, keep in mind you're not using a particularly fresh image. I come across this phrase at least five times in a week of editing, often more.

A2: Wrong. "Hone in on" is a phrase derived from home in on, which refers to homing pigeons (and thence to missiles and other devices that seek a goal, or designated "home").
BUT "hone in on" has become extremely common in American English, to the point where some dictionaries accept it as correct usage. I still correct it to "home in," in part because I'm just so freaking sick of seeing the verb "hone" all over every single story, and I don't think we need another excuse to use that tired old knife-sharpening metaphor when we could think about something weird like homing pigeons instead. Still, here's a
fairly persuasive counterargument.

B1: Wrong.
B2: Right.
B3: Wrong.
A "callus" is a localized thickening of the skin, as from snow shoveling. If you have many calluses, you are
callused
. Note how these meanings are literal — we are talking about actual, visible marks of hard toil on someone's body.
There is no such thing as "a callous." This is an
adjective
describing an
interior, invisible
state of being hardened or desensitized. Your hand can be callused. Your mind can be callous — or "calloused," if we transform that adjective into a past participle verb form.
So, if you're talking about thick, hardened
skin
, don't use "callous" or "calloused." Ditch the -u.
I realize this is a losing battle, because I've seen sentences such as "He had calloused hands" in roughly 90 percent of the current books I read. That's not going to stop me from fighting it in our paper.
C1: Wrong and right.
C2: Wrong.
C3: Wrong.
I'm guessing most people know that a horse is "reined" and a kingdom is "reigned." But here's something they seem not to know anymore: When you want an idiom for the action of controlling something or someone, the phrase is "
rein in
," NOT "reign in."
In other words, this is a horse metaphor for mastery, not a "Game of Thrones" metaphor. By the same token, the phrase is
free rein
, NOT "free reign."
I once had quite an argument with a college student about "free rein" before I convinced him that, as the
Oxford Words blog
points out, "The former central role of the horse in our society is reflected by the influence of all things equestrian on our language." Consider all the car-themed metaphors we use today. Giving your horse "free rein" is the 18th-century equivalent of "taking your foot off the brakes." (Well, that's my best guess. I'm not really a horse person.)
And the TL;DR version:

"Home in," not "hone in." Pigeons have a trajectory, whetstones don't.
People can be callous and have calluses, but they can't have callouses.
"Rein in/free rein," not "reign in/free reign." Long live our residual horse culture.