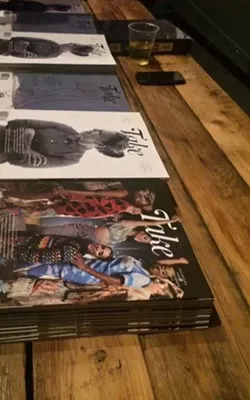 Last night,
Take
magazine's Northampton, Mass.-based publishing squad took Burlington by way of an official launch party at ArtsRiot. The show was headlined by And The Kids (see their rad National Public Radio Tiny Desk concert
here
) with the Villanelles, Henry Jamison and DJ Disco Phantom. Branded as "New England's New Culture,"
Take
is a booster for regionalism that offers stories about "people in New England who are making culture happen in the fields of visual art, music, design, literature, dance, food, fashion and theater."
Free copies of the magazine's first two issues — for September and October of this year — were in ample supply. Just after the table of contents, there's a map. The six states that make up New England are dotted with the subjects of the issue's stories, from a successful Massachusetts sex toy entrepreneur (njoy) to a smattering of circus schools in multiple states. The magazine's social handles are printed over Maine, roughly just northeast of Baxter State Park. I should not admit it, but I immediately honed in on Vermont — an impulse, I believe, that
founders Lauren Clark and Michael Kusek are striving to work against.
In addition to the music and magazines, Burlington couple and owners of the South Gallery Wylie Sofia Garcia and Clark Derbes live-painted a wall panel spanning the eastern side of the bar area, creating white and black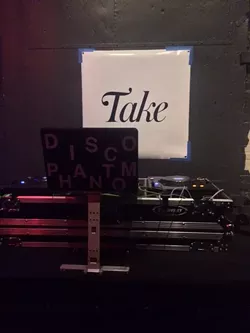 lines like a trippy treasure map. The party was one of a slew of launches — events at the Ashfield Lake House (Mass.) and Boston are behind, and there are more to be announced.
With copies being sold in New England at Costco and Whole Foods, as well as by vendors in northern California and Portland, Ore., it's clear that
Take
intends to go big. If you missed it, you can pick up a copy
($6.95 a pop) in Burlington at
Phoenix Books,
in Middlebury at
Edgewater Gallery
or at the
Bennington Bookshop
.