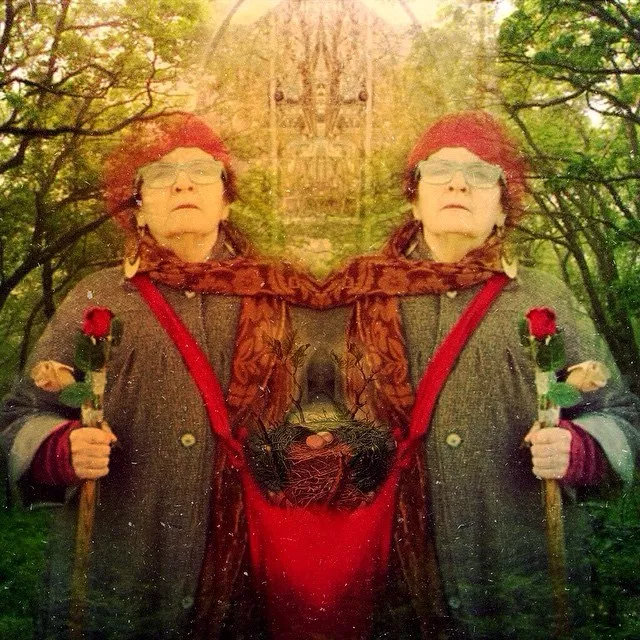 Rachel Hooper
Kathleen De Simone in "Kathleen of Lands Beyond"
Everyone in Burlington seemed to know Kathleen De Simone, who died on Monday, October 12, at her Old North End home; she had recently been diagnosed with terminal cancer.
Kathleen's ever-present rose scent, her brassy laugh, her determined stride and rose topped cane were a fixture in town. She babysat the neighborhood kids, invited people into her cozy home and welcomed new artists to the area. Kathleen
constructed fanciful hats
for the Fools' Gold Art Auction, designed costumes for the
Spielpalast Cabaret
and sewed many intricate wedding dresses. She was a gifted artist, a talented seamstress and someone who loved beautiful things.
When Kathleen spoke to you, she really seemed to see you. She looked directly into your eyes, dispensing with artifice. She was genuine and strong-willed. Despite her petite height, she projected the glamor of a movie star; her personality was larger than life. Kathleen loved you madly and left lipstick kisses on your cheek and the scent of roses on your clothes after an embrace.
To enter her tiny ephemera-filled apartment was to slow down and appreciate the simple moments of life, to enjoy a cup of tea and partake in good conversation with a confidant. Colorful piles of fabric covered every surface and her sewing machine was always at the ready. Every boho artist in Burlington knew Kathleen and her private sanctum well. She welcomed dancers, musicians, painters, poets and cabaret girls into her abode. In later years as her mobility decreased, Kathleen became an avid Facebook commenter and
Pinterest user
. She left glowing comments on everyone's Facebook posts and shouted her love across the digital divide. She stayed connected and collected pages of beautiful pictures and 99,413 pins which show her eclectic influences as an artist.
I first met Kathleen when I joined the Spielpalast Cabaret in 2007. For years, she was the costumer for the cabaret and everyone in the show made trips to her home to get fitted. We were instructed to arrive carrying cookies or chocolate to satisfy her sweet tooth.
Kathleen was a whirlwind of energy and creativity from the moment she opened the door. Her knowledge of art, fashion and culture was overwhelming and her tough New York persona was sometimes a bit rattling to this first-year cabaret member. We bonded over a love for Turner Classic Movies and a Facebook page called
Cult of Aphrodite Vintage
.
Kathleen never missed a cabaret show. You could always find her front and center beaming with pride and joy as her cabaret kids performed their hearts out. After the show she'd kiss every one of us and wax poetic about how stunning the show was, how talented we all were and how she had been transported to the Weimar Republic on gossamer wings.
I can't tell you how old she was — this wasn't information Kathleen cared to share with anyone and you won't find it in her obituary either. That's Kathleen to a T, ageless and willful.
The overwhelming outpouring of grief and love on her
Facebook page
is a testament to her life and the unique place she holds in this community.
A public wake for Kathleen takes place at 7 p.m. on Sunday, October 18, at the
Radio Bean Light Club Lamp Shop
. No doubt there will be music, performances, the scent of roses in the air and many shared memories of this woman who left an indelible mark on Burlington and its residents.
The last time I saw Kathleen was in May at City Market. I was filming a video for
Seven Days
' 20th Anniversary and I captured these short moments with her:
Farewell to the magical Queen of the Burlington Bohemians. This town will never be the same without you.
UPDATE 10/20/15:
Here is a video from Kathleen's wake on Sunday night at the Light Club Lamp Shop which included songs, poems, memories and a room overflowing with love:
Thanks to Rachel Hooper and Phinn Sonin for assistance with this post.