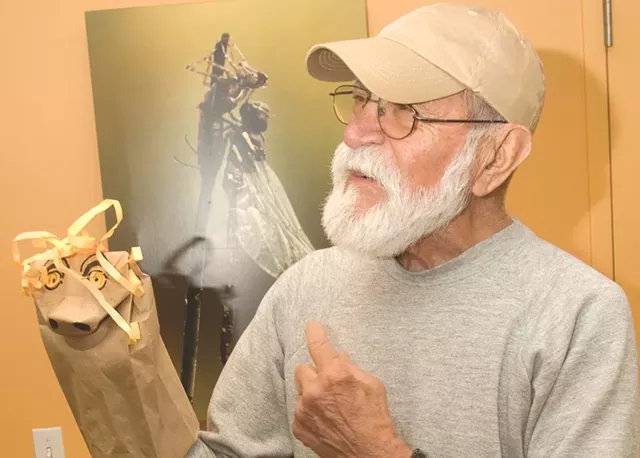 Frank Gonzales in 2009, with puppet.
Born in Burlington on October 20, 1859,
John Dewey
went on to become a major figure in education reform, psychology, philosophy and political liberalism. When conservatives trumpet getting "back to basics" in education and away from techniques that privilege children's creative exploration, they're fighting Dewey's influential legacy.
Tomorrow, locals will have a chance to celebrate Dewey's anniversary in a way he might have enjoyed — with colorful masks made by local kids under the direction of artist and Dewey super-fan Frank Gonzales.
The ninetysomething Gonzales winters in California, but he's always sure to be in Dewey's birthplace for the anniversary, which he's been commemorating for years — often by parading a 10-foot-tall effigy of Dewey down Church Street. Gonzales' background in float making started in his youth in Pasadena, where he'd watch the Parade of Roses. Kevin J. Kelley's
2009 profile of Gonzale
s
has more details.
Mask making will start at 10 a.m. on Saturday, October 17, at the Fletcher Free Library. Last year, the parade was rained out, but you can glimpse the giant Dewey in
this video
.
We heard about John Dewey Day from local educator Nick Ruderman, another "huge fan of Dewey" who met Gonzales last year at the celebration. Since then, he's been convening a Dewey-focused discussion group called the
Vermont Philosophical Society
on the first Tuesday of each month at the Fletcher Free.
More broadly, Ruderman is an enthusiast of American pragmatism, the tradition that informs his provocatively titled yet scholarly book, self-published in 2009,
Why Islam Is Greater Than Your Religion
in Philosophy
. He describes it as an "antiwar book" that explores the connections between Islam and the western philosophical tradition, including the roots of pragmatism.
The VPS attracts people ranging from high school students to "retired folks," says Ruderman, and he hopes to schedule speakers from the philosophy departments of local colleges in the coming year.
As always, fall brings us
lots of new reading material from Vermont authors
— including novels by Castle Freeman Jr., Howard Frank Mosher, Stephen Kiernan and Archer Mayor. So check our features section for reviews, and our
events calendar
for readings.
Now Vermont can celebrate one more indie bookstore to host such readings: If you're near Rutland, stop by the new
Phoenix Books
there.
Oh, and if you're a
New Yorker
subscriber, be sure to check out a short story by Johnson State College assistant professor
Jensen Beach
, published in the
August 31 issue
. These days, inclusion in those pages is a major coup for any writer.
Here's a partial list of wordy happenings scheduled for the coming month:

In July,
we wrote about Christine Hadsel's new book
on restoring historic Vermont theater curtains. She'll speak and sign copies tomorrow at the intermission of the live screening of the Metropolitan Opera's
Otello
at Middlebury's Town Hall Theater;
more info here
.
Poet, farmer and frequent
Seven Days
contributor
Julia Shipley
has a new poetry collection called
The Academy of Hay
. Hear her read on Thursday, October 22,
at the Vermont Book Shop
in Middlebury, with fellow poet
David Weinstock
.
The Vermont Book Shop is also teaming up with the Ilsley Public Library for a
luncheon reading
with mystery writer
Archer Mayor
on Saturday, October 24; he'll discuss his latest Joe Gunther novel.
Have you heard that
Castle Freeman Jr.
's Vermont-set novel
Go With Me
is
now a movie starring Anthony Hopkins
? Hear Freeman read from his new book on Monday, November 9, at the
New England Review Vermont Reading Series
.