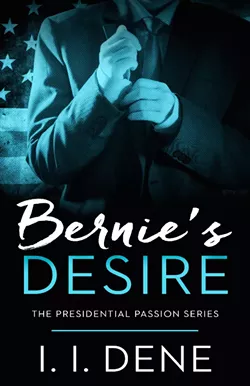 Bernie's Desire by I.I. Dene
This just in: Bernie Sanders gets people hot. And not just in that feverish "We are the 99 percent!" kind of way. As
reported by Jezebel's Ellie Shechet
, the excitement over Sanders' presidential run has reached a climax in the form of a 67-page work of erotic fan fiction titled
Bernie's Desire
.
The eBook, penned by I.I. Dene, is the first in the Presidential Passion Series and follows in a longstanding historical tradition of erotic fan fiction dating back to the 1788 hit
Washington's Cherry
— though the phenomenon truly peaked in 1865 with the S&M novel
Honest Abe's Chains of Bondage
. A posthumous Lincoln sequel,
POTUS Interruptus
, was not as well received, for obvious reasons.
Dene's outlandishly porneriffic novella features the distinguished gentleman from Vermont — and his wife, Jane Sanders — in all manner of compromising situations, including, but not limited to, orgies, drug parties and, in one particularly imaginative passage, shapeshifting sex. But it's meant to be as educational as it is titillating, using salacious scenes as a means of kinda-sorta explaining Bernie's socialist, ahem, positions.
(Rumors of a follow-up erotic novel,
Feel the Bern
, about a perhaps inevitable trip to the VD clinic, are, as of press time, completely made up by me. We suspect its publication will depend on Sanders' ability to achieve and sustain his election.)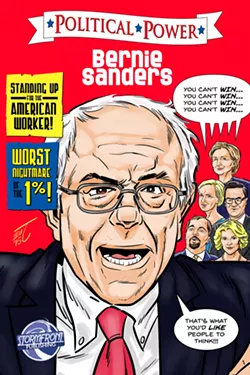 "Politcal Power: Bernie Sanders"
For a different kind of Sanders porn, we turn to the comic book world, where this week graphic novel publishing company
StormFront Entertainment released "Political Power: Bernie Sanders."
The comic is the latest in a series of biographical comics about presidential hopefuls, following books about Hillary Clinton, Donald Trump, Jeb Bush and Rand Paul. Yes, it seems even in the funny pages, as in the national media, Bernie gets, well, trumped for coverage.
Judging by sample pages sent to
Seven Days
, the comic applies the superhero narrative arc to politicking, zealously painting Bernie as a righteous, non-caped crusader for the common man. Writer and illustrator Joe Paradise, who also drew the Clinton, Bush and Paul comics, offers Sanders' humble origin story, his unlikely rise to power and highlights epic battles he's fought against supervillains such as evil-doing Republicans and the NRA — all in the name of truth, justice and the American way, of course. Here's hoping that if he's elected, Bernie remembers that most important of lessons from another comic, "Spiderman": With great power, comes great responsibility.