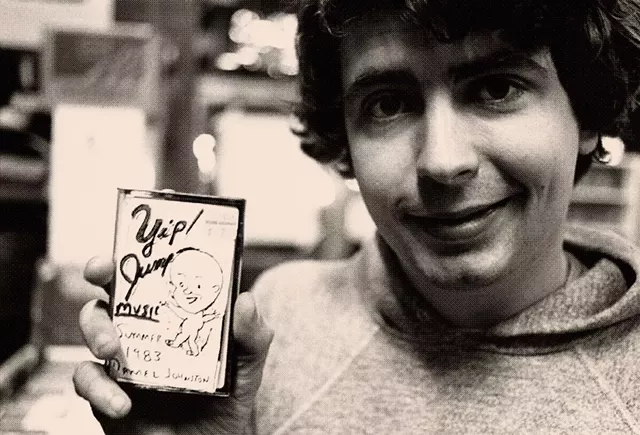 Complex / This Is That Productions
A young Daniel Johnston holding one of his homemade cassettes
In college, I spent a lot of time hanging out with music nerds. At that time, compact discs were seen as most excellent, indeed, and cassette tapes were not so unhip as to be met with scorn. I had — and have — large collections of music in both formats. I have a couple of Edison discs somewhere, too. Not kidding.
It was on a hissy 11th-generation cassette in 1991 that I first heard the music of
Daniel Johnston
, about whom little was then known in the musicophile circles in which I ran. Though Johnston had been recording his unique music for a decade by that point, information about him apparently hadn't reached college kids in New England. We knew him simply as "The Crazy Guy," and gleaned only a tantalizing legend about the origins of his music. He supposedly worked in a Burger King and would slip home-recorded tapes of his music into the fast-food bags of pretty girls. Or so the story went.
As I recently learned by watching the 2005 documentary
The Devil and Daniel Johnston
, that legend wasn't too far from true. Johnston worked at a McDonald's (not a Burger King) in
Austin, Texas
, and, though the film made no mention of him slipping cassettes into patrons' lunchbags, he was surely an avid self-promoter with an eye for the ladies. Indeed, his entire, strange, wonderful, harrowing musical career was more or less launched by his romantic obsession with a female college classmate.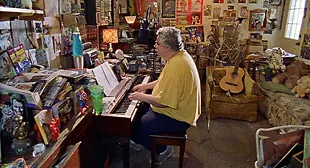 Complex / This Is That Productions
Daniel Johnston in his home studio
Usually lumped in with the practitioners of "outsider art," Daniel Johnston has never fit into that nebulous category too well. His songs can be pretty rough-hewn and
weird
, but they're also
gorgeous
and sincere, like the top-flight pop songs that they are. Johnston's mental illness has contributed to his songs' distinctive oddness, but that condition has also beset many artists who've achieved mainstream success.
Johnston has been pigeonholed — by the music industry as well as by dumb college kids like me — into an "outsider/weird" niche, but he's always been much more than that. I've always regarded him as one of the country's best songwriters, period.
I'm a longtime fan of Johnston's music, but for some reason hadn't seen the documentary about him until just recently; not sure why, as the DVD had been sitting on my shelf for years. I found the film to be a sensitive depiction of an artist whose work and life have been defined by his serious mental illness — in his own mind, Johnston was often literally besieged by demons. Even though I was already generally familiar with Johnston's story, it was still pretty harrowing to see him, over the course of this life-spanning documentary, descend into madness.
He started out as a skinny, artistically inclined kid and is now an obese, deeply troubled man. Along the way, he wrote and recorded some truly beautiful and moving music. It's always been difficult to tell whether that music was a way for Johnston to exorcise his demons, or a kind of artistic holding cell in which the artist simply kept them temporarily at bay.
Complex / This Is That Productions
A teenage Daniel Johnston from a home-movie clip in The Devil and Daniel Johnston
The Devil and Daniel Johnston
would not be so powerful and fascinating had Johnston not given director Jeff Feuerzeig access to his home movies, drawings and artworks of all kinds. Johnston is an illustrator, painter and
comic-book artist
, as well as a musician, but the real gems here are the old, half-decayed 8mm films that he shared with Feuerzeig.
In the excerpts of these films included in
The Devil and Daniel Johnston
, we see the hilariously weird films that a teenage Johnston starred in and directed; footage of the woman with whom he was obsessed in college; literal basement tapes of Johnston, on acid, slipping into what certainly appears to be mental instability. Some of the footage is incredibly raw — in both senses of that word — and even a little difficult to watch.
Through these clips, we see Johnston slowly fall victim to depression, anxiety and delusion. It's heartbreaking — though it must be said that the artist's creative vision shines through at all times, even during the worst acid-soaked freakouts. The man has lived on the edge of artistic genius and mental collapse for most of his life.
Watching the film reminded me of the time I saw Johnston perform at a club on the Lower East Side about 1999. At that time, he'd achieved some mainstream recognition but was still very much regarded as an "outsider" musician. The snarky hipsters in the crowd were horribly unkind, reacting to every song with ironic laughter. It was as clear to Johnston as it was to me that this was not a crowd that enjoyed his music; rather, they "enjoyed" his music.
He responded angrily, if somewhat inarticulately, a strategy that backfired: The most vocal audience members responded with further ironic encouragement, now that this "weird" singer had fulfilled their expectations of acting "weird." Johnston stopped the show and stomped off. I was really angry at these thoughtless assholes, who'd not only deprived me of a concert I'd really wanted to see but probably just compromised the singer's mental health.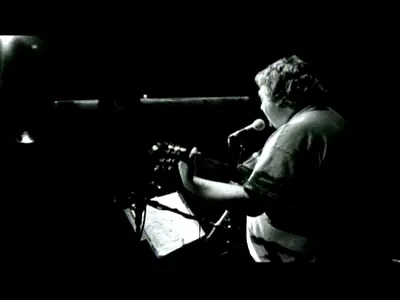 Complex / This Is That Productions
Daniel Johnston in concert, from The Devil and Daniel Johnston
The Devil and Daniel Johnston
is a thoughtful, sensitive, well-structured film that truly offers insight into its subject's unusual life and creative process. I found my admiration for Johnston deepened by watching it, but I also sympathized with him more fully than I thought I would. Not that I had been
un
sympathetic, but the film is as much about the torment of mental illness as it is about the unique artist.
In this regard, it's a valuable, eye-opening film, as it sheds light on a subject that is still difficult to discuss, and that rarely is in mainstream media. I mean no disrespect to Feuerzeig when I say that his film is a success largely because of its intelligent use of Johnston's home movies. Just as in Werner Herzog's masterpiece
Grizzly Man
, the best footage was not shot by the director but was "unprofessional" footage shot by the subject, and then cleverly and judiciously selected and structured in order to elicit the greatest emotional impact.