Courtesy of James Kochalka
An image from "LEAF"
Call it "graphic poetry." Two former Vermont laureates have teamed up — again — on a new project that combines poetry and cartoons.
Outgoing Vermont Poet Laureate
Sydney Lea
, who cofounded the
New England Review
in 1977 and has taught poetry at various colleges and universities here and abroad, partnered with former Vermont cartoonist laureate and longtime
Seven Days
cartoonist
James Kochalka
on a six-panel project simply called "LEAF." It's published in
Rumpus
, but you also can read it below in its entirety.
This isn't the two artists' first collaboration. In 2013, the
Vermont Arts Council
and the
Center for Cartoon Studies
in White River Junction sponsored a slim, 12-page graphic poem Lea and Kochalka worked on together called
Vermont Double Laureate Team-Up.

Kochalka, who was laureate from 2011 to 2014 (
Edward Koren
picked up the torch last year), says he drew the panels first, then gave them to Lea to add the poetry. He provided him no theme or other guidance. The two "mushroom guys" in "LEAF" are the same as the ones featured in Kochalka's 2014 graphic novel
Fungus: The Unbearable Rot of Being,
an outgrowth of the "Fungus" strip that ran previously in
Seven Days.

Kochalka and Lea were hardly strangers when the two first paired up. Lea's son, Creston, plays in Kochalka's band,
James Kochalka Superstar
. (Incidentally, Kochalka has a new album coming out on October 6 called
Good Morning Glorkian Warrior,
inspired by his Glorkian Warrior video game and graphic novel series.)
Asked about their collaboration, Kochalka says, "I was hoping to get the attention of the more straitlaced poetry crowd, and I think Sydney was looking to get the attention of a hipper crowd. We're both hoping for crossover."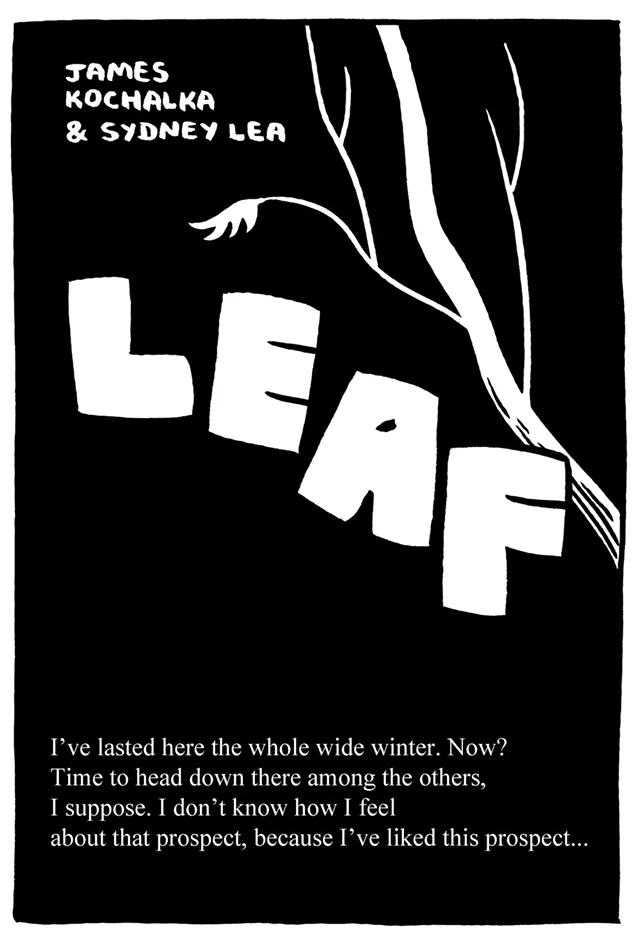 Courtesy of James Kochalka
"LEAF"