Llu Mulvaney-Stanak
Team WBTV-LP producing its Radio Race entry
It's no big surprise that Llu Mulvaney-Stanak is so passionate about the expressive and communicative powers of radio. When she and her twin sister were infants, their mother would bring them with her into the offices of Goddard College's radio station
WGDR
. "She took us in a basket and set us underneath the radio console while she would do her radio shows there," says Mulvaney-Stanak.
Those radio waves must have had a strong impact, as Mulvaney-Stanak has made a career in sound. As
DJ Llu
, she's been spinning tunes for more than 15 years at nightspots all over Burlington. She hosts a weekly show on the University of Vermont's radio station,
WRUV
(and used to host
Seven Days
' podcast "Tour Date with DJ Llu"). And she's the development and outreach coordinator for
VCAM
, Burlington's community media-making organization, where she's involved with audio and video projects of all kinds. But, she says, "My first love is, first and foremost, radio."
Already a fixture on Soundcloud, Mulvaney-Stanak and a small group of like-minded radio enthusiasts have used that website to share a short audio piece that seems like it could be a transmission from the future of radio. Team WBTV-LP (see below for that acronym's significance) — which consists of Mulvaney-Stanak, Rob Henkel and Tiffany Lee — has created a radio piece titled "Tattoo a Unicorn on Your Forehead" as their entry into an online radio competition called the
Radio Race
. You can hear their entry below.
Put on by venerable Los Angeles-area public radio station
KCRW
, the Radio Race challenges participants to write, record, edit and post a four-minute, nonfiction radio story within just 24 hours. The competition is open to radio producers of all skill levels from any country, so long as their stories abide by the chosen theme. This year, that theme was "Time Change," which entrants could interpret as they wished.
Participants were not told the theme until shortly before the competition commenced. When she spoke to
Seven Days
a few days before it was announced, Mulvaney-Stanak sounded anxious but excited. She said she and her team had done some preliminary brainstorming, but could only do so much without knowing the theme. "We want to have something that works well as a story idea," she said, "but will we have time to get that story in 24 hours? … There's been a lot of nail biting."
KCRW also sprung a "bonus challenge" on participants: They had to somehow incorporate a particular quotation into their stories, though not directly. "Let it work its way thematically into your piece," the radio station's Facebook page declares cryptically. Listeners are invited to figure out how Team WBTV-LP incorporated that quote — Blanche DuBois' famous line, "I have always depended on the kindness of strangers," from Tennessee Williams' play
A Streetcar Named Desire
— into their piece.
"Tattoo a Unicorn on Your Forehead" uses interviews, news soundbites and even an audio clip from "The Golden Girls" to relate the coming-out stories of three queer Vermonters — one of whom is Mulvaney-Stanak herself. The piece celebrates the freedom that comes with embracing one's own identity, yet concludes on a note of questioning and uncertainty.
The recent Supreme Court decision that permitted same-sex marriage is to be celebrated, interviewees declare, but has the focus on marriage obscured more important issues in the struggle for equality? For a short piece that was assembled in a single day, "Tattoo a Unicorn on Your Forehead" is nevertheless thought-provoking, warm and sincere.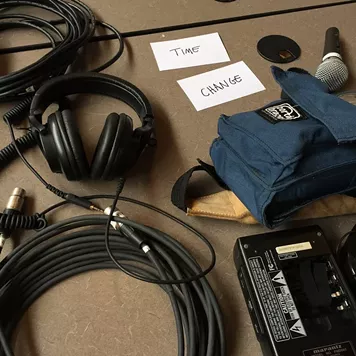 Producing the short piece is one of the first sonic ventures by the creative team of a nascent, low-power Burlington radio station. At the end of 2014, the Federal Communications Commission granted a broadcasting license to
WBTV-LP
. Those last two letters stand for "low power," meaning that the station, once it satisfies federal requirements, will possess a limited wattage: Only radios within the city limits of Burlington or thereabouts will be able to tune it in. (The station will broadcast online, as well.)
WBTV-LP does not yet exist, but it does have a committed team of volunteers, one of whom is Mulvaney-Stanak. At this point, she says, station organizers' chief task is fundraising and community outreach. Though there's plenty of work still to do before final approval (hopefully) comes in 2016, Mulvaney-Stanak is confident that the station will find a place in listeners' eardrums.
"People are just so stoked about it," she says. "Our whole purpose is to diversify what people can hear over the air."
She cites the expression, "If you build it, they will come," which Mulvaney-Stanak says is "very true in radio, especially in a special place like Burlington. There's such a commitment to engagement with the community."
Mulvaney-Stanak anticipates that WBTV-LP will have space for radio programs of all kinds — music, news, fiction and anything else that its hosts dream up. Kind of like the entries for the Radio Race.