Denisismagilov | Dreamstime.com
Oplerno
, the online-only, college-level educational venture founded by South Burlington's Rob Skiff, has been targeting bloat in higher education for two years.
Oplerno
is one of a small number of undertakings that aim to democratize higher education by restoring greater autonomy to faculty members, allowing for greater student choice, and reducing costs by elminating infrastructural metastasis — all while providing high-quality education. In May 2014, Oplerno
received approval
from the Vermont State Board of Education, so its courses can be taken for college credit.
With its upcoming second annual
Woodblock
seminar series, Oplerno is applying the same disruptive model to that bulwark of traditional university life, the academic conference. Woodblock is free for all participants and, since it takes place online, does not require any costly travel or lodging arrangements.
Moreover, though the conference will convene for a daylong session on Tuesday, August 4, it is not circumscribed by time. Its half-dozen multimedia sessions will
live on in perpetuity online
.
Is there value in convening with scholars in one's field? Sure, Skiff says, but traditional conferences exclude participants who can not afford to attend, such as students and adjunct faculty. "A lot of conferences are a bit like a paid vacation, a schmoozefest," says Skiff, "but that misses the point of the academic conference, which is to exchange ideas. At a successful conference, he suggests, "You get people from different backgrounds communicating. When people who are different start to exchange ideas, then things expand. The likelihood of that happening decreases as the homogeneity of the group increases."
The conference has been scaled back to a single day from last year's ambitious five-day event, which was watched live by about 30 people and watched online by a few hundred, Skiff estimates.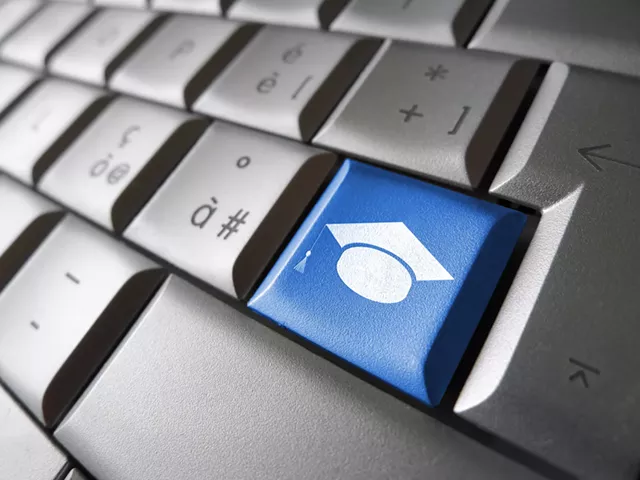 Niroworld | Dreamstime.com
This year's free sessions include such provocatively titled conversations as "Breaking the Poverty of Adjunct Faculty," which will be led by Skiff and Scott Rank, of the blog
The Scholarpreneur
; and "College Disrupted: The Great Unbundling of Higher Education," in which Skiff will lead a discussion along with Ryan Craig, author of
the book of the same name
. Indeed, Skiff says, one of the goals of this year's conference is to be more provocative than last year's.
Skiff, who has nearly completed the dissertation required for his EdD at the University of Vermont, is a principled fellow who is passionate about changing the course of higher education. He has the pedigree to do it, too, as a cofounder of the Vermont Commons School. When he meets
Seven Days
at Burlington's
Maglianero Café
, Skiff acknowledges with a grin the irony of his attaining a "conventional" degree from a "conventional" university. Once it's complete, he intends to publish it for free online, he says.
For Oplerno, Skiff says, the value of (web) hosting the conference comes in the form of spreading the word about the institution, and in community engagement. "But it's also about changing your notion of an educational institution from being brick-and-mortar to being a movement," he says.
Skiff refers to the outrageous costs that traditional colleges incur in recruiting students — costs that, he says, often amount to $2,000 to $3,000 per student, including marketing, advertising and search-engine optimization. "I'd much rather use that two to three thousand dollars hiring someone to get the word out using social media, or having a conference like this," Skiff says.
For those who have been keeping tabs on developments in Vermont higher education, one Woodblock panel may be especially intriguing. "Build Your Own Degree — Without the Debt" addresses the nature of a new collaboration between Oplerno and Burlington College, a school whose financial and academic difficulties
have been well documented
.
Skiff, though, views Burlington College in another light. "I think Burlington College is actually doing everything right," he says. "They are actually, in my opinion, in a whole lot better shape than a lot of higher education institutions in the country, because they're being really innovative in terms of the programs they're creating, like the
self-designed major
. They also owned all this land and this building, and they're selling that to get rid of all that overhead and that debt. And [Burlington College president] Carol Moore is a really phenomenal leader. All of that is good movement. We're really excited to be partnering with Burlington College."
The overall idea of the Woodblock conference — and of Oplerno in general — is to inspire people to change how they think about the identity and purpose of institutions of higher education. In Skiff's opinion, those institutions should be more responsive to student needs and should reward faculty better for their teaching abilities. Oplerno, which started offering classes in May, is still small. And, so far, the number of registered Woodblock participants is less than 20.
But Skiff isn't dismayed. Indeed, he believes institutions such as Oplerno have a better chance of surviving the coming storm than do traditional institutions that rely heavily on federal subsidies.
"This is not a small project," Skiff says. "It's a little daunting how many things we're trying to fiddle with, with a staff of three."