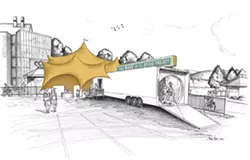 Wake Up to Dying Project
Executive director Nina Thompson's design of a traveling trailer exhibit that can be erected wherever WUTD events are held
It's summer in Vermont, which means it's the season for fairs and festivals around such popular interests as craft beer, classic cars, hot air balloons and … dying?
Yup, you read that right. This week, the
Wake Up to Dying Project
comes to Burlington's Fletcher Free Library from Thursday through Sunday, July 16-19. Its goal is to help Vermonters broach that difficult, painful yet inevitable subject most of us prefer not to think about until it's unwillingly thrust upon us.
These days, even national journalists seem increasingly averse to using the verb "died" in stories, opting instead for the more wishy-washy "passed away." Nevertheless, the subjects of death and dying are generating considerable public interest and attention — and not just among the old or infirm who are nearest to it.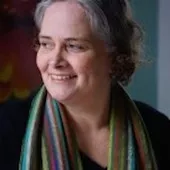 Wake Up to Dying Project
Executive director Nina Thompson
At least, that's been the experience of Nina Thompson, executive director of the Wake Up to Dying Project, a Vermont-based national awareness campaign aimed at encouraging people to discuss the end-of-life process through art, storytelling and other hands-on activities. Since September 2013, when the group incorporated, Thompson has worked with Vermont audio producer Erica Heilman to interview Vermonters — more than a hundred* to date — to "use the power of story" to demystify the dying process. Ultimately, Thompson wants to help people live better lives, with more happiness and fulfillment and less fear and trepidations about the inevitable.
Thompson first introduced Vermonters to Wake Up to Dying at a 2013 county fair in Hardwick, where, she says, "I threw up a tent between the bouncy house and the fried dough." It was a less-than-auspicious beginning, as only 25 stopped by.
Next, for three days in July 2014, Wake Up to Dying held its
first major event in downtown Montpelier
. That one was much more successful, attracting about 550 visitors. As Thompson recalls, "After the Montpelier event a person made a very large donation, and when that happened, it made me think,
I think we're on to something, we should keep going
.'"
Indeed, the data Thompson gathered proved the need and interest for such information. Of the people who visited the listening tent in Montpelier:
● 63 percent said they're more likely to have a conversation with a loved one about end-of-life care;
● 43 percent said they're more likely to seek information about preparing a will and/or advanced directive;
● 67 percent said they're more likely to support loved ones dealing with end-of-life issues; and
● 77 percent said they're more likely to make changes in the way they spend their time and live life.
Following Montpelier's Wake Up to Dying fair, Thompson got a phone call out of the blue from a California foundation (which has asked to remain anonymous) impressed by her "innovative approach" to death and dying. It invited her to apply for a $30,000 grant, which she later received.
Soon, Thompson was lining up other community sponsors for three events this year, including this week's event in Burlington, one held in Brattleboro last month, and a third scheduled for September in Massachusetts. Sponsors include Fletcher Free Library, the University of Vermont Medical Center, Blue Cross Blue Shield of Vermont, BAYADA Hospice, Burlington Health and Rehab, Burlington members of the Vermont Funeral Directors Association and Aaron J. Goldberg, PLC, Elder Law & Trust Group.
This year, the traveling exhibit in Burlington will include informational booths, educational workshops and community discussions around such topics as end-of-life planning, the business of dying, DIY funerals, green burials and "weathering the storm of dementia with humor, love and patience." Grief counselors will also be on hand to help families find ways of discussing death and dying with kids and teens.
"The thing that is so important to me," Thompson explains, "is that we are offering something for everyone. There are many easy points of entry."
Invariably, the centerpiece of the three-day event is the storytelling tent, which, as Thompson notes, seems to garner the greatest interest among visitors, young and old alike. While listening to people talk about their experience with death might sound like a bummer, in fact, many of the stories are touching, inspiring and even humorous.
The most common demographic showing up at Wake Up to Dying events is female baby boomers ages 55 to 65, who, Thompson says, express interest in "getting their ducks in a row for their kids" before they and their partners die.
Yet Thompson says she was also surprised by the number of Millennials — people in their twenties and thirties who showed up, too. Many of them spent much of their time in the audio tent.
Thompson recounts the story of one man who drove from Middlebury to Montpelier last year, only to arrive five minutes before the exhibit was scheduled to close. She says the man had heard about the exhibit on Vermont Public Radio, coincidentally, on the same morning his sister died overseas. Because he couldn't be with his own family, who were all out of the country, he opted to be with others who would understand his grief.
"Even though my family is far away," he told Thompson after listening to the stories, "we're all in the same boat!'"
"As a community, we can explore something that really scares us," she adds, "and we can do it while sitting next door to our neighbor."
For a complete schedule of the Wake Up to Dying events in Burlington, to make tax-deductible donations and/or get more information about the free event, click
here
.
*Disclosure: This story was updated from a previous version. The Wake Up to Dying Project received a $30,000 grant from a California foundation, not a $10,000 grant.
Also, the project has interviewed "more than a hundred" Vermonters, not "hundreds" of Vermonters. The Vermont Funeral Directors' Association was also added as a sponsor.