Cardboard Teck Instantute
PinBox 3000

Ben T. Matchstick
and Pete Talbot brought an unlikely — and much quieter — pinball machine to
Tilt Classic Arcade and Ale House
in South Burlington on Sunday evening. The PinBox 3000 Arcade Pinball System is made of cardboard.
The central Vermont-based founders and self-appointed "professors" of the
Cardboard Teck Instantute
(CTI) allowed customers to try out their latest creation as they celebrated a successful Kickstarter campaign. Matchstick and Talbot exceeded their $10,000 goal, and will use the funds to produce and deliver 300 of the DIY devices.
The 15-by-22-inch PinBox 3000 is a non-virtual-reality gaming device consisting of 12 sheets of recycled, laser-cut cardboard that can be assembled in about an hour, its makers explained. It comes with marbles, rubber bands (the elastic power behind the ball launcher), an idea book and instructions. For extra fun, two PinBox 3000s can be locked together, back to back, for what Matchstick and Talbot call "BattleMode!" Each set comes with two interchangeable play boards that present endless opportunities for customization.
Matchstick and Talbot arrived at Tilt slightly after 6 p.m. on Sunday. Moments after they set down two PinBox 3000 prototypes on the end of the bar, a family that had been heading out the door instead gravitated toward the cardboard fun machines. Emily Guynup, 11, of Plattsburgh, N.Y., couldn't keep her hands off the "Grottoblaster" (so named after the "interactive hip-hop-inspired puppet adventure" the professors produced last year). "I think this game is amazing," she said.
If she had her own, Emily said, "I would put in sheep and paint it gold all over."
Cardboard Teck Instantute
Kids playing with PinBox 3000 at Pintastic New England pinball expo in Sturbridge, Mass.
She wasn't the only person drawn to the PinBox. After Matchstick and Talbot set up in the corner of Tilt, a steady trickle of kids and adults found their way to the games. Although the majority seemed to happen upon the event accidentally, one family had been fervently anticipating the night.
South Burlington resident June Shen-Epstein's 8-year-old daughter couldn't wait to get her hands on a PinBox after seeing one for the first time last week at the
Burlington Artist Market
. "It's a great combination of engineering and art and design," Shen-Epstein said as she watched her daughter locked in a BattleMode! with another young enthusiast.
She wasn't wrong. The PinBox 3000 allows kids (and adults) to engage creatively with tactile materials while learning basic physics and problem-solving skills. Matchstick and Talbot are developing curricula that will bring the device into classrooms. They see it as a perfect bridge between the STEM (Science, Technology, Engineering and Math) and STEAM (Science, Technology, Engineering, Art and Math) movements.
"There's a lot of funding out there for STEM [programs]," said Matchstick from a corner table at Tilt. "[But] we don't have to separate the subject matters. Art can ride along with [science]; these things can all mesh together."
The CTI
professors recognize the importance of creative play in education. Talbot mentioned the prevalence of "open-world building systems" in previous generations — think Erector sets, Tinkertoys, Lincoln Logs, LEGOs and more. But now, "Kids don't have this backlog of experience, so all they know is technology, and they see it as normal to just interact with [phones and computers]," he said.
Talbot and Matchstick hope to change that with PinBox 3000. "It's not like PinBox is the savior of this next generation," Talbot said. "I mean, it totally
is
the savior of this next generation, but people are recognizing the importance of maker culture ... and seeing that you can actually manipulate and create your own fun is so important."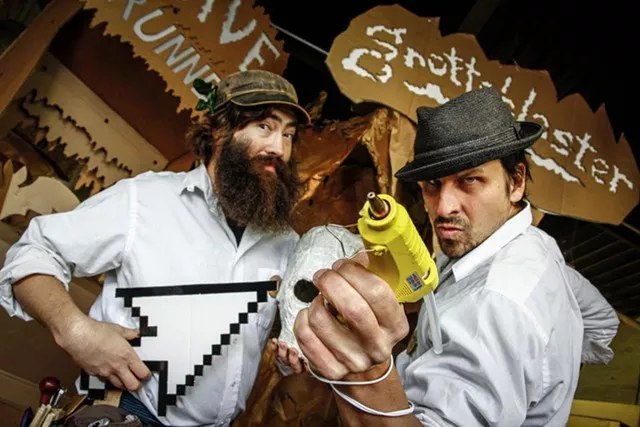 Raychel Severance
Pete Talbot and Ben T. Matchstick of Cardboard Teck Instantute
What's next? Matchstick and Talbot are headed into a final round of "tweaks"with PinBox before production. Using the laser cutter at Burlington's Generator maker space, they plan to turn out 300 PinBox sets that will be shipped to the Kickstarter's backers by Christmastime. Funds may also be used to hire a web designer to create an online space for kids to share their creations and purchase add-ons, such as ramps and other gizmos. From there, these profs will figure out just how much they want to expand.
While Matchstick and Talbot are committed to reclaiming cardboard from the waste stream, not everyone at Tilt was impressed by their choice of materials.
"I'd make it out of something more sensible," commented Guynup as she maneuvered the cardboard flippers of the Grottoblaster. "Like steel."
Matchstick and Talbot bring the PinBox 3000 to Capitol Grounds in Montpelier tonight, July 13, 6 p.m. to midnight.